The Changes Coming to EPCOT at Walt Disney World are many. And if you've visited within the last year, you know that construction seems neverending. While some people cheered at the refreshing new possibilities for EPCOT, one of Disney's more struggling parks, others wept at the complete loss of the Experimental Prototype Community of Tomorrow ( Epcot) that opened in 1982. Walt Disney's original personal vision showcased the Utopian city of tomorrow is changing. And not unlike Walt's personal motto, Epcot keeps moving forward. Of course, who could have possibly imagined the world of tomorrow would look like this? Here are all the changes coming to EPCOT Park.
The Re-Imagining of EPCOT Park at Walt Disney World
While the "old" EPCOT highlighted technological advances and development the "new" EPCOT embraces a different kind of future. One that needs us to include nature in order to survive. And one that thrives on inter-cultural partnerships, discoveries and progress.
Epcot's New Tagline is "The Magic Of Possibility"
Future World is officially removed, allowing the Natural World to take its place as one of Epcot's 4 Neighborhoods
EPCOT's no longer just about technology
Disney characters will be at the core of EPCOT experiences, as Disney infuses family-friendly and recognizable attractions
Culture and honoring all countries is still a focus in the World Showcase
The Changes Coming to Epcot
the Four Neighborhoods are separated across four themes; World Discovery, World Nature, World Celebration, and World Showcase. From cultures to nature to technology and experiences that connect us the goal is to share " The Magic of Possibility."
What's New at EPCOT?
Incredible glass pylons form an entrance fountain right before you arrive at Spaceship Earth. This is done in the scheme of the original Lucite fountain from EPCOT's entrance in the good old days. You will see large obelisks etched with the park logo. And in the foreground of Spaceship Earth. This entrance offers amazing lighting, water displays and a new EPCOT soundtrack.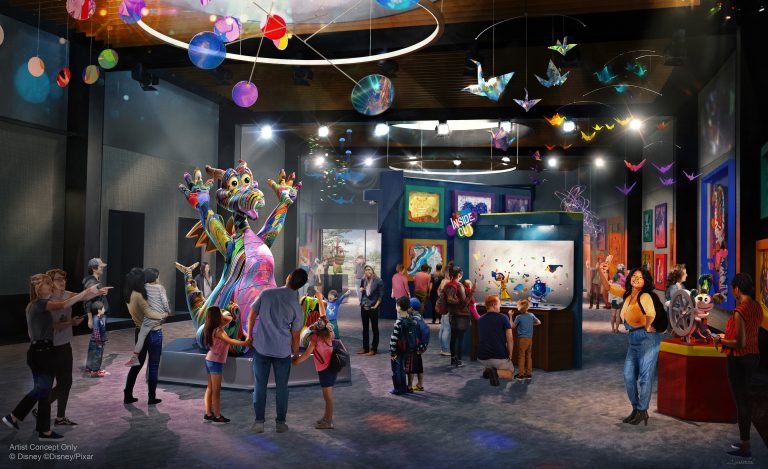 EPCOT Neighborhoods
World Celebration
World Celebration encompasses different experiences that allow guests to interact with the planet, a place for all cultures including performances. Most notable here is the way the space is broken up by green spaces. Part of the goal is to integrate more nature into this central hub area that branches off to the other neighborhoods. Filled with tables, and centered around a central EPCOT logo planter, there are shaded spaces to enjoy. Focused on the festival experience, World Celebration becomes a central hub for everyone, before heading to World Showcase. Opening Fall 2023
EPCOT Gardens throughout the World Celebration space will transform with each festival and transforms at nighttime with lighting and extra magic.
CommuniCore Hall offers up a flexible exhibition and gallery space, with a variety of opportunities to highlight art, live music, and food. This building will also house the demonstration kitchen for foodie festivals. This is also where you can find Mickey & Friends as a Disney Character meet and greet location.
CommuniCore Plaza is the hub for musical performances, both intimate and large scale that allows guests to fill the open garden spaces to watch.
Creations Gift Shop is the newest shop in EPCOT and by far the biggest. This department store layout offers up plush, jewelry, apparel, toys, kitchenware, a pet section, a Disney Dooney and Bourke section, and more.
Connections Cafe is home to Starbucks at EPCOT park, as well as a full-scale quick-service restaurant. We love the extra indoor seating here and the murals on the wall!
Club Cool features sodas from around the world. Known for the Italian soda, Beverly, there are plenty of other sodas to try and all worth the taste. Head into Club Cool for a free sample of these foreign sodas.
Dreamers Point Statue of Walt Disney
World Nature
World Nature connects both The Seas and The Land areas of the parks and adds Moana's Journey of Water to the mix with natural spaces and "magic water." Journey of Water will include waterfalls, water experiences, and a gorgeous soundtrack reminiscent of the film's strong score.
Moana's Journey of Water | World Nature
As part of World Nature, this garden area features waterfalls, fountains, winding trails, trees, plants, and more to help restore your balance with the Earth and its strongest life force, water. Complete with Moana carved rock elements, and a 16-foot Te Fiti garden sculpture, this land is filled with water features. Opening Late 2023
World Discovery
World Discovery takes the place of Future World East. Encompassing all things technology-focused, World Discovery includes Test Track, Mission Space, Space 220 Restaurant, and the Guardians of the Galaxy: Cosmic Rewind Coaster. It's in this area that you can also pass the Wall-E Play Zone for children.
World Showcase
Our favorite collection of cultural experiences, thankfully, stays pretty much the same through the mass construction that will be taking over Epcot park. World Showcase currently has a few new projects in the works including Remy's Ratatouille Adventure, updates to 360 films, a new Beauty and the Beast Sing-Along, and the La Creperie de Paris Restaurant.
New Epcot Rides and Attractions in 2022
Remy's Ratatouille Adventure, France, World Showcase
Our favorite rat, Remy, from Ratatouille just happens to be underfoot in the kitchen and we're along for the ride. Riders take the role of rat dodging all sorts of calamities that happen in the kitchen. As part of France in Epcot, Remy's Ratatouille Adventure joins Frozen Ever After in Norway and the Gran Fiesta Tour in Mexico as the world Showcase's most kid-friendly rides. There is a stand-by queue in place for this ride, that fills up early due to rope drop. We recommend waiting until lunchtime between 12-2 pm when people are either eating or traveling to park hopping.
Guardians of the Galaxy: Cosmic Rewind Roller Coaster, World Discovery
This indoor storytelling coaster launches riders into the galaxy to battle the bad guys and save the universe. By far one of the largest projects, this roller coaster allows riders to turn their car at 360 degrees and be part of the story. Open with Virtual Queue and Lightning Lane. Open
Mary Poppins Attraction, U.K., World Showcase *- Delayed or Canceled
A new Mary Poppins attraction in the UK section of the World Showcase will bring guests into the world of Cherry Tree Lane. This new neighborhood will give guests a glimpse into the world of Mary Poppins. *Indefinitely delayed or canceled.
Moana's Journey of Water, World Nature
This whole new water-focused interactive experience will include waterfalls, sounds, and light that connect guests to the natural environment. With elements we see from the film, Moana, we're sure to have a beautiful soundtrack in this new space inside the World Nature section. Opening Late 2023
New Nighttime Spectacular | EPCOT
Announced for EPCOT is a new nighttime spectacular show replacing Harmonious running through the 50th Anniversary celebrations until March 31, 2023. Then a temporary EPCOT Forever will be shown until this new show is complete. This new show aims to unite guests around the world, with hearts all as one, complete with a wide array of songs from the Disney songbook. The show takes place in World Showcase Lagoon. Opening Late 2023
Spaceship Earth Illuminations Show | EPCOT
Equipped with the points of light from the Beacons of Magic Show, the Spaceship Earth ball lights up with a variety of special shows throughout the year. It has been shared that the 100th Anniversary also includes a new lighting display on this park icon. Set to debut later this year. Opening 2023
Figment Meet and Greet | EPCOT
New to the character lineup is Figment! Coming soon to EPCOT park, this beloved dragon is ready for hugs. Opening 2023
Interactive Play! Pavilion-Delayed or Canceled
The Interactive Play Pavilion offers guests the opportunity to arrive in a digital world and interact with games, spaces, and characters like never before. This experience takes over the Wonders of Life building in EPCOT and is set to also be the home of the new Mark X Monorail attraction. *Indefinitely delayed or canceled.
Spaceship Earth Renovation- Delayed or Canceled
Spaceship Earth is getting a design overhaul. While some much-loved exhibits within the ride may stay intact, riders will now be taken on a journey through history with a little bit of Disney Magic. Following the "Story Light," the new experience will capture humanity's journey through the past and present. *Indefinitely delayed or canceled.
Space 220 Restaurant
As part of World Discovery, the Space 220 Restaurant offers out-of-this-world dining with outer space views that help guests feel as if they are on a spaceship sailing through the galaxy. You can find this restaurant tucked behind Mission Space. There is both a lounge and restaurant and reservations are necessary. Check out the Space 220 Menu
New 360 CircleVision Films
Epcot has updated its film offerings for the Walt Disney World 50th Anniversary. Found in The Land building, Awesome Planet highlights all the wonders of Planet Earth. Over in World Showcase, Wondrous China replaces Reflections of China with an updated new look at China today, and Canada Far and Wide replaces the previous O' Canada show featuring Martin Short.
Changes at EPCOT Park at Walt Disney World
With a lot happening all over Walt Disney World, no one has seen more changes than EPCOT park. And with many more changes still to come, we're sure they're all for the better. With loads of new spaces, nature areas, places for community events, and more, so much is on the way. You can keep tabs on everything happening for the 50th Anniversary in our Most Magical Celebration post, for all the changes.