There's always a steady stream of new Disney Attractions in the parks. Whether you're looking for new shows, experiences, or rides, while Disney World does keep many things the same, every few years they debut something new. And the latest things to be shared are some of the best. A major Magic Kingdom expansion is on the way, a Country Bear refresh and a set of new community spaces at EPCOT. Here is the lineup of everything that is NEW and Coming to Walt Disney World Park.
Coming to Walt Disney World
As Disney's flagship park, Walt Disney World has many things in the works. Including re-imagining of select rides, and attractions, new shows, and new restaurants. Also announced at Destination D23 was a new Encanto-themed land at Animal Kingdom, and lots of changes there. Also, confirmation about the Magic Kingdom Park expansion. And a slew of EPCOT updates. Here are all the new things at Walt Disney World, set to arrive soon and in the next few years.
What's New at Magic Kingdom?
Magic Kingdom Park is the most visited park on the planet. With the most rides of any Disney park, Cinderella's Castle, and the Happily Ever After Fireworks Show, there is a lot to see, do and eat at Magic Kingdom. Here are all the things new things coming to Magic Kingdom Walt Disney World.

Hatbox Ghost at Magic Kingdom | Late November 2023
Finally, we have received a timeline for the arrival of the Hatbox Ghost at Disney's Haunted Mansion in Magic Kingdom. The Hatbox Ghost has a strong lore interwoven with much of the Haunted Mansion storyline. So it will be awesome to see this larger-than-life villain become part of the attraction. This ghost also features a fun technological trick that is showcased in the Behind the Attraction Haunted Mansion episode on Disney Plus. Well worth the watch.
The Hatbox Ghost will appear to guests as they pass the Endless Hallway, welcoming himself inside from the swinging wake in the cemetery and grinning at the Doom Buggies as they set off deeper into the mansion. Guests will soon see temporary barriers materialize as we await his apparition.
Pirates of the Caribbean Tavern at Magic Kingdom | TBD
Peg-Leg Pete from Pirates of the Caribbean returns in a new Pirates of the Caribbean-themed lounge coming to Adventureland at Magic Kingdom Park in Florida. Extending the Pirates of the Caribbean story, and set to be located near the attraction. This first-of-its-kind experience will extend the story of Pirates of the Caribbean. Imagineers are in the design process now and more details are coming in the future.
Country Bears Musical Jamboree at Magic Kingdom | TBD 2024
This fan-favorite attraction in Disney's Magic Kingdom is finally getting an update. One of the Disney Announcements surely to make veteran Disney World vacationers happy, the Country Bears Musical Jamboree Refresh is set to open in 2024. In Classic variety style, this refresh of the Country Bear Jamboree will combine Rockabilly, Bluegrass, and Country Music Style performances.
"The bears will be reinterpreting favorite Disney songs in different genres of country music. Imagineers are envisioning the new experience as a homage to the classic musical revues in Nashville and they're working with Nashville musicians to get the authentic country sound."
Tiana's Bayou Adventure | Magic Kingdom TBD 2024
In a much-needed refresh, Splash Mountain is set to transform into Tiana's Bayou Adventure. This Princess and the Frog re-imagining of Splash Mountain turns this boat ride into a bayou-focused ride featuring Princess Tiana, Mama Odie and friends, opening in Walt Disney World's Magic Kingdom Park. Recreating a New Orleans Mardi Gras experience this ride includes jazz music, bayou culture, familiar faces from Princess and the Frog, and more. This new ride features Tiana, Naveen, and Louis the alligator preparing to host a Mardi Gras Celebration. This ride picks up where the movie left off. Open TBD 2024
Brand-new cast of original Disney characters with distinct names and personalities
Dozens of entirely new Audio-Animatronics figures
Adorable critters with incredible talent, bringing the diverse flavors of musical gumbo found in New Orleans!
New, original music alongside favorite tunes from the film
Do you love beignets as much as Louis? Well, you're in luck because the alluring scent of beignets being prepared for the party will be part of the attraction queue!
Additional talent voices from the film reprising their roles, including Bruno Campos as Prince Naveen, Michael Leon Wooley as Louis, and the one and only Anika Noni Rose as Princess Tiana
Familiar faces from the film such as Princess Tiana, Prince Naveen, Mama Odie, Louis, Eudora, Charlotte, "Big Daddy," the King and Queen of Maldonia and Prince Ralphie
Magic Kingdom Park Expansion | TBD
As part of the Disney announcements of things coming to Walt Disney World, the CCO Disney Imagineering shared that this new Magic Kingdom Park expansion, will be in the scale of a new land. Very early in the development stages, the location for this new land is said to be past the Big Thunder Mountain area of the park, where there is significant land that can be developed. Per the statement below we can expect this space to be on par with the 11-14 acre parcels used for previous new lands at Disney World. As this expansion plan may also be the "largest for the park", we may see something larger than Fantasyland, re-imagined in 2012.
Bruce Vaughn, Chief Creative Officer at Walt Disney Imagineering, is joining Josh for a special "Blue Sky" look at what's possible when dreaming big at Disney Parks. Future expansion plans for Magic Kingdom in Florida are the largest ever for the park, according to Bruce. Imagineers are looking to tell stories "Beyond Big Thunder Mountain" similar in scale to things like Star Wars: Galaxy's Edge and Pandora – The World of Avatar – adding new attractions, restaurants, shows, and more! More details to come in the future.
TRON Lightcycle /Run | Magic Kingdom April 4, 2023
TRON is open at Magic Kingdom. This light cycle roller coaster in the heart of Tomorrowland is perfect for thrill seekers. And much like Flight of Passage in Animal Kingdom, you don't need to know anything about the movie to enjoy this ride. A double bike roller coaster, this one weaves in and out of spaces glowing with light, as Team Blue challenges Team Orange. Part of Disney's Tomorrowland re-imagining.
What's New at EPCOT Park?
EPCOT Park's place as the experimental prototype community of tomorrow is alive and well. Always innovating, EPCOT has new spaces, shows, and meet and greets. As home to Spaceship Earth, the World Showcase, and Guardians of the Galaxy, this park is moving forward to tomorrow.
Figment Meet and Greet | EPCOT September 10, 2023
Everyone's favorite dragon Figment, is getting his place in the sun, at EPCOT park. Available for Meet and Greets inside the Journey into Imagination building at EPCOT, Walt Disney World. Be sure to check the My Disney Experience App for the meet and greet schedule.

Journey of Water Inspired by Moana | EPCOT October 16, 2023
The World Nature area of EPCOT includes the Land and Seas buildings, as well as the new Moana's Journey of Water nature trail. This whole new water-focused interactive experience includes waterfalls, sounds, and light that connect guests to the natural environment. With elements we see in the film, Moana, you can experience the beautiful sights and sounds in this new space inside the World Nature section. Moana's Journey of Water. OPEN October 16, 2023.
Moana Meet and Greet | EPCOT October 16, 2023
In addition to the Journey of Water Inspired by Moana attractions are also NEW Disney World Moana Meet and Greet at EPCOT in a newly designated space just outside the Journey of Water attraction.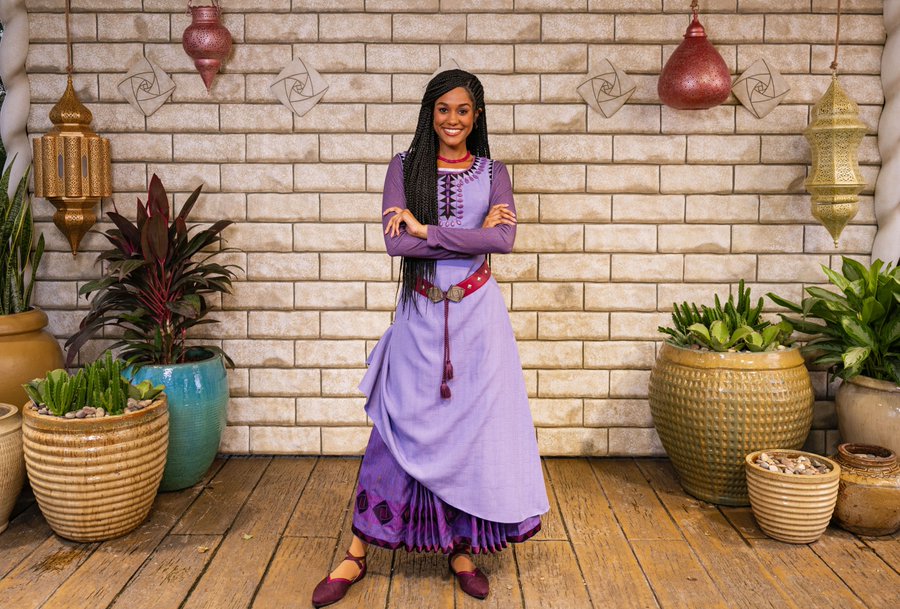 Asha Character Meet and Greet | EPCOT Fall 2023
A new character meet and greet with the new Disney Princess, Asha, from the new Disney animated film "Wish" which is opening soon at EPCOT. Disney's film Wish is set to arrive in theaters on November 22, 2023.
Luminous the Symphony of Us |EPCOT December 5, 2023
Shown on the lagoon at EPCOT a new nighttime spectacular arrives in December. Called, "Luminous The Symphony of Us", this show tells the story of us and includes familiar Disney music celebrating all cultures. This new show debuts on Dec. 5, 2023!
World Celebration | EPCOT December 2023
Set to open in December 2023, EPCOT 's World Celebration Communicore Plaza area encompasses different experiences that allow guests to interact with the planet, a place for all cultures including performances. Most notable here is the way the space is broken up by green spaces. Part of the goal is to integrate more nature into this central hub area that branches off to the other neighborhoods. Filled with tables, and centered around a central EPCOT logo planter, there are shaded spaces to enjoy. Focused on the festival experience, World Celebration becomes a central hub for everyone, before heading to World Showcase.
EPCOT Gardens throughout the World Celebration space will transform with each festival and transform at nighttime with lighting and extra magic.
CommuniCore Hall offers up a flexible exhibition and gallery space, with a variety of opportunities to highlight art, live music, and food. This building will also house the demonstration kitchen for foodie festivals. This is also where you can find Mickey & Friends as a Disney Character meet and greet location.
CommuniCore Plaza is the hub for musical performances, both intimate and large scale that allows guests to fill the open garden spaces to watch.
Dreamers Point Statue of Walt Disney
Test Track Re-Imagining| TBD
In development with Chevrolet, Disney is re-imagining Test Track in the EPCOT World Discovery Area. This fan-favorite ride at Disney World is set to incorporate a variety of inspirations. Test Track features the opportunity to build your own "car" and then race it around the track. We expect this re-imagining to incorporate new technologies, seated in history.
Imagineers along with teams from Chevrolet are reaching back into history for inspiration – from the original World of Motion – and bringing that spirit of optimism to the next iteration of the Test Track attraction! More to come in the future.
What's New at Hollywood Studios?
Hollywood Studios may be the second smallest park at Walt Disney World, but it holds some of the most popular attractions. Star Wars, Indiana Jones, Toy Story Land, and classic Hollywood are all represented here. Having been the home of many changes over the past couple years, things are finally slowing down. Check out what's new at Hollywood Studios.
Ahsoka Star Wars Storyline | Hollywood Studios Spring 2024
Coming to Walt Disney World's Star Tours attraction in Hollywood Studios is a new Ahsoka storyline. Beginning in the Spring of 2024, Ahsoka fans can experience even more of this Disney Plus fan-favorite show as part of the slew of stories told within Star Tours.
Woody's Roundup Rodeo BBQ Restaurant | Hollywood Studios March 23, 2023
This new table service restaurant in Toy Story Land was "built" using Andy's Wild Wild West Playset. Complete with Rodeo, and storefronts, Woody's Roundup Rodeo BBQ Restaurant will include larger-than-life toy decor, a wild west barbecue menu, and Woody and Jessie on hand for rodeo fun. Plus there is a Jesse's Trading Post gift shop as part of the playset in Toy Story Land.
What's New at Animal Kingdom Park?
Animal Kingdom at Walt Disney World is having a moment, with a major project in the works for the DinoLand area and the inclusion of even more Disney IP. Animal Kingdom is set to stick close to its roots with spaces focused on conservation and wildlife. Here are all the things coming to Animal Kingdom.
Encanto in Animal Kingdom | TBD
For the last few years, Disney World's Animal Kingdom has been dismantling the DinoLand area of the park. In this Disney Announcement, it was shared that Encanto is taking over Dinoland. Frankly, we couldn't ask for a better option. This area of the park is set to focus on the tropical Americas region of the planet, highlighting not only Encanto, but also wildlife, and ecosystems in that area. A perfect addition to Animal Kingdom.
New experiences inspired by "Encanto" – the Academy Award winning Walt Disney Animation Studios film – and the fan-favorite adventurer Indiana Jones are being considered for the reimagined land at Disney's Animal Kingdom! Bruce says there's a long way to go and a lot more to discover but Imagineering teams in Florida are up for the challenge.
Indiana Jones in Animal Kingdom | TBD
One of the most likely options for the replacement of the attraction, Dinosaur, is Indiana Jones. Featuring the same track as the Disneyland Indiana Jones ride, this new reiteration of the Indiana Jones ride may, or may not, be integrated into the Encanto area. Either way, Disney is throwing some effort in the direction of the Indiana Jones franchise. No timeline has been set for this re-imagining.
Zootopia Show at Tree of Life Animal Kingdom | TBD
In a push to add more Zootopia to the parks, Walt Disney World is replacing the current Bug's Life show with a Zootopia show in the Tree of Life theater. This theater is tucked inside the Tree of Life and accessible by a pathway alongside the Discovery River. This new show is slated to center around natural biomes. We imagine a mix of educational and fun in the works.
A new show based on "Zootopia" is being created for the Tree of Life theater at Disney's Animal Kingdom! The current concept for the new "Zootopia" experience has guests visiting the different biomes you only glimpse in the film, traveling along with Judy Hopps, Nick Wilde and other characters. Imagineers are currently finalizing the concept and more details will be coming in the future.
What's New at Disney's BoardWalk?
Disney's Boardwalk is home to a variety of restaurants, resorts, and entertainment. Head here to grab some beach time, and a movie on the lawn. You don't need a park ticket, or reservation. Just head to Disney's Boardwalk for a day at Disney World and explore.
The Cake Bake Shop on the Disney Boardwalk | TBD 2024
This "whimsical table service restaurant and bakery" created by Gwendolyn Rogers serves up beautiful cakes in a delightful atmosphere on Disney's Boardwalk. Offering up both a Bakery and a Restaurant you can delight in cakes, tea service, and savory sandwiches with French flair.
What's New at Disney's Resorts?
Walt Disney World has over 25 resorts on the property. However, the DVC Villas are what's been getting attention lately. With current projects happening at select resorts, here is what's happening at Disney Resorts.
Polynesian Village Resort DVC Villas | TBD
Set to open in late 2024 there is a new Disney Vacation Club Villas wing at Disney's Polynesian Resort. Featuring a fresh look honoring elements from the Pacific Islands. Complete with views of the water. Situated in the area of the permanently closed Spirit of Aloha Dinner Show, this addition to the resort is a major project. Therefore, we do expect some modifications of the Pathway from Magic Kingdom to the Polynesian as a result of this project. Open TBD 2024
Fort Wilderness Cabins Re-Imagining| TBD
Disney's Fort Wilderness Resort is re-imagining the cabin designs of the Fort Wilderness Resort Cabins. These cabins are a mainstay in the Fort Wilderness Resorts and Campgrounds offering guests a little more luxury. Well, now, it's going to get even more luxurious! All 350 cabins are being replaced by new energy-efficient cabins, falling under the DVC umbrella. They will, however, be built on the existing cabin footprint to limit environmental impact. Each cabin will sleep up to six adults and include a bedroom, bathroom, living room, full kitchen, and private patio, with a select number of cabins expected to be designated as dog-friendly. Opening TBD 2024
What's New at Disney Springs?
As home to a slew of restaurants, shops, and seasonal activities, Disney Springs is always changing. Nevertheless, you can still find a great array of things to love! If you're headed to Disney World Orlando for a vacation, be sure to stop at this shopping center, to check out everything that's new.
Summer House on the Lake at Disney Springs | TBD
Arriving in 2023 at Disney Springs, Summer House on the Lake, is a casual restaurant that offers up a breezy, beach house environment, and a gourmet spin on easy favorites like avocado toast, pizzas, and more. This restaurant also includes table-service dining, a bakery, as well as an extensive list of wines, beers, spirits, and cocktails. Open Late 2023.
EET by Manheet Chauhan at Disney Springs | TBD
Arriving in Late 2023, a new Indian Restaurant takes on Disney Springs. Sure to be filled with spices and wonderful unique dishes, this restaurant is created by Maneet Chauhan. The acclaimed James Beard Award-winning chef and Food Network star, and Vivek Deora, an international hospitality entrepreneur. Check out the Full Menu for Eet at Disney Springs. Opening Late 2023.
What's New at Walt Disney World?
There you have it! Everything is New at Walt Disney World and everything is on the way! For even more Disney information on each park, and if you're traveling soon, be sure to check out What's New at Walt Disney World in 2023 and What's New at Walt Disney World in 2024.
Rochelle Mariah is a writer, designer and photographer with an MLIS in Information Science and a B.S. in Arch and Design. Determined to make Planning a DIY Disney Vacation easier she makes lots of lists and drinks lots of coffee. When not designing apparel at Polka Dot Pixie Shop, she's watching old movies and planning the holidays. She has been traveling to Disney destinations since 2010.