So much is happening at Walt Disney World this fall. Let's chat about what you can do and why we still love to fall at Walt Disney World. If you're ready to head to Florida for some milder weather, fall decorations, and a reason to celebrate Halloween early, then Walt Disney World is the place to be. Here are all our favorite things happening this fall, from snacks to new rides, shows, restaurants, and more!
EPCOT Communicore Plaza | EPCOT
Set to open in Fall 2023, EPCOT 's World Celebration Communicore Plaza area encompasses different experiences that allow guests to interact with the planet, a place for all cultures including performances. Most notable here is the way the space is broken up by green spaces. Part of the goal is to integrate more nature into this central hub area that branches off to the other neighborhoods. Filled with tables, and centered around a central EPCOT logo planter, there are shaded spaces to enjoy. Focused on the festival experience, World Celebration becomes a central hub for everyone, before heading to World Showcase.
EPCOT Gardens throughout the World Celebration space will transform with each festival and transforms at nighttime with lighting and extra magic.
CommuniCore Hall offers up a flexible exhibition and gallery space, with a variety of opportunities to highlight art, live music, and food. This building will also house the demonstration kitchen for foodie festivals. This is also where you can find Mickey & Friends as a Disney Character meet and greet location.
CommuniCore Plaza is the hub for musical performances, both intimate and large scale that allows guests to fill the open garden spaces to watch.
Dreamers Point Statue of Walt Disney
Journey of Water Inspired by Moana | EPCOT
The World Nature area of EPCOT includes the Land and Seas buildings, as well as the new Moana's Journey of Water nature trail. This whole new water-focused interactive experience includes waterfalls, sounds, and light that connect guests to the natural environment. With elements we see in the film, Moana, you can experience the beautiful sights and sounds in this new space inside the World Nature section. Moana's Journey of Water
Food and Wine Festival | July 27- November 18, 2023
The Walt Disney World EPCOT Food and Wine Festival is back in full swing at EPCOT Park. And with it comes 25+ Food and Wine Festival kitchens, a new lineup of bands at the Eat to the Beat concert series, and a slew of cheese dishes to try for Emile's Fromage Montage Challenge. For tips on the best days to visit the Food and Wine Festival, and everything you can do, check out our Food and Wine Festival page. Or take a look at the Food and Wine Festival Menus ahead of time to get a handle on all the new foods to add to your must-try list. Check out What's New for the Food and Wine Festival.
Halloween at Walt Disney World | August 11- November 1, 2023
There is nothing quite Halloween at Walt Disney World. Halloween at Walt Disney World. Events, decorations, and Disney fall snacks can be found in all four parks! Here's what's new at Walt Disney World for Halloween.
Mickey's Not So Scary Halloween Party
This Halloween party returns to Magic Kingdom for select nights from August 11- November 1, 2023. At the party, you can expect to get exclusive snacks, Halloween overlays of certain rides, the Not So-Spooky Spectacular Fireworks Show, the Hocus Pocus Spelltacular, and more! Check out our Guide to Mickey's Not So Scary Halloween Party.
Cadaver Dans at Magic Kingdom
The Dapper Dans arrive on Main Street USA dressed in their spooky outfits to sing songs and help get you in the mood for the Halloween season.
Halloween Decorations
While you can find Mickey Pumpkin wreaths mostly in Magic Kingdom, the other parks at Walt Disney World all get fun Halloween decorations, snacks, and merchandise too. EPCOT celebrates the Day of the Dead in World Showcase Mexico. Animal Kingdom has spooky bats in their habitats, and Hollywood Studios shows off some of the best creep Halloween decorations from days long past.
Halloween Snacks
All the parks, resorts, and Disney Springs ring in the season with Halloween snacks. Starting mid-August you can plan on apple flavors, pumpkin spice, spooky treats, and even Halloween-themed caramel apples. Check out all the Halloween Snacks at Walt Disney World.
Are you heading to Walt Disney World for Halloween? Read What's New for Halloween at Walt Disney World.
Wine and Dine Half Marathon | November 2-5, 2023
The Wine and Dine Half Marathon is taking on favorite characters this fall! Running November 2-5, 2023 this runDisney event comes with a bunch of things you need to know before you go as running events return to Walt Disney World this fall. Themes this season include Figment, Alice, Cogsworth and Maribel.
Minnie's Halloween Dine at Hollywood and Vine | TBD
Minnie's Halloween Dine features Minnie, of course, in her Halloween best. Plan to see the restaurant and the characters in their spooky seasonal best ready for those photos. Minnie's Halloween Dine and Hollywood and Vine sometimes sell out so grab reservations while they last!
Fall into Magic at Disney Springs
Disney Springs always pulls out all the stops for the fall months at Walt Disney World. You will be sure to find something fun over at the Disney Springs Info Center to add a little Fall Flavor to your Disney Springs day. Head to Disney Springs for Fall into Magic! With new snacks, shows, and merchandise for the Fall into Magic event, you can head to Disney Springs for seasonal fun.
New Disney Fall Merchandise
So many Halloween and Fall things to buy! Another of our favorite reasons to visit Disney World in the Fall is the merchandise. While we are chronic browsers, we rarely buy these goodies, because airlines have luggage weight limits. But that doesn't stop us from staring and wishing and wondering how much shipping it directly home would be. Luckily you can grab loads of the new Fall, Food and Wine, and Halloween Merchandise on shopDisney.com. Check out the latest Disney Halloween Merchandise on the site!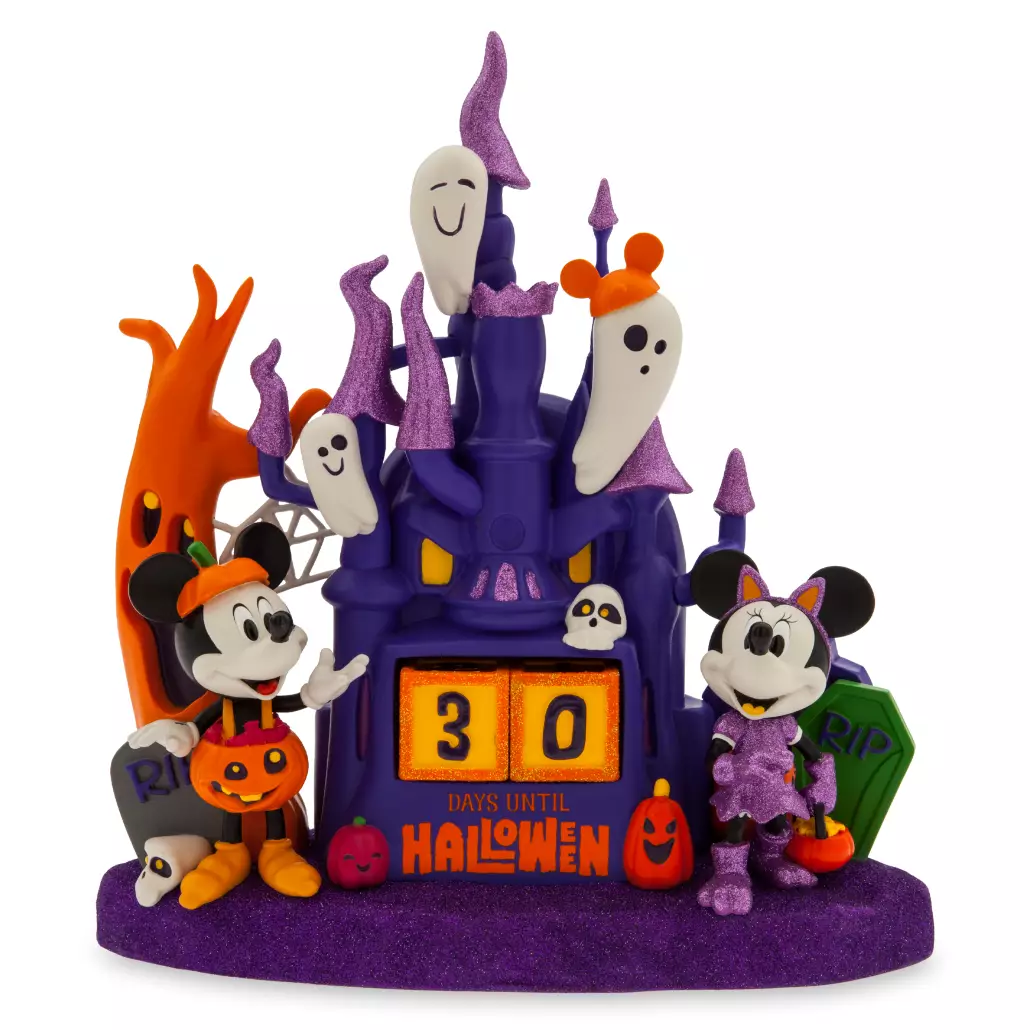 New Disney Snacks in the Fall
Head to any of the Disney parks, resorts, or Disney Springs for new snacks filled with apple, caramel, chocolate, and fall flavors of all kinds. Many restaurants even adjust menus to accommodate fall desserts and entrees. Check out all the New Disney Fall Snacks to help get you in the mood for the season.
Disney Resorts in the Fall
Disney Resorts get into the feeling of the season as much as the Parks! We love browsing the gift shops, scouting out new fall flavors in the dessert cases, and watching the fun Halloween movies on the lawn. Did you know there are even certain Disney Resorts that are better in the fall? From upping the coziness factor to location and the best fall snacks, and Halloween displays, check out all our favorite Disney Resorts for Fall.
Disney Decorations in the Fall
So we've talked about the magic that can happen when it's Autumn at Walt Disney World before. And this Mickey Pumpkin Wreath is the guy we look forward to seeing every fall. You can spot fall garlands, wreaths, decorations, and more all over the Disney Parks. We love to revel in the feelings of Fall even when it's 90 in Florida.
Fall at Walt Disney World 2023
We absolutely love Walt Disney World in the fall. If you're looking for the best time to go to Disney World aim for the second or third week in September. We also love early November when all the fall decorations are still up and the weather is cooler. Hopefully, this post has given you some amazing things to look forward to for your Disney Fall Vacation. Have any favorite experiences we missed? Let us know!