Thinking of vacationing at Walt Disney World in 2023? Well, you may be in luck! We're sharing all that's new at Walt Disney World in 2023. While 2022 felt train wreck at Walt Disney World with a slew of crowds, low staffing issues, ongoing construction, and a pay-to-ride system that leaves much to be desired, 2023 promises to be a little bit better. New rides, restaurants, spaces, and services are on the way as the Walt Disney Company celebrates its 100th Anniversary.
In 2023, many of the larger Disney construction projects are set to be complete, and Disney staffing levels and crowds should begin to normalize. As such, finishing up the 50th Anniversary celebrations early in the year should make for an easier 2023 as regular events like festivals, and parties return to the forefront. Here's a Snapshot of 2023 at Walt Disney World.
What's Happening at Walt Disney World in 2023?
Walt Disney World, along with Disney Parks the world over celebrate the 100th Anniversary of the Walt Disney Company in 2023. Bringing with it new attractions to honor this milestone. Here is everything you can find at Walt Disney World in 2023.
Walt Disney Company 100th Anniversary Celebration
The Walt Disney Company celebrates its 100th Anniversary on October 16, 2023. This event is termed 100 Years of Wonder. Honoring film, characters, music, and the parks, there will be a variety of things we can expect in 2023. New merchandise, snacks, perhaps even new experiences. The Walt Disney Company is set to reveal special exhibits, new shows on Disney Plus, and celebrations at Disney Parks. Be sure to check out everything planned so far for the 100th Anniversary of the Walt Disney Company in 2023.
EPCOT Forever Returns Temporarily
Post Harmonious and the 50th Anniversary of Walt Disney World, Disney's EPCOT Forever show returns to World Showcase Lagoon. For a limited time, this temporary installment is happening in 2023, until the NEW Epcot Nighttime Spectacular is complete.
New Spaces at Walt Disney World in 2023
Undergoing construction projects for the last couple of years, both EPCOT and Magic Kingdom are seeing new areas. In EPCOT, an entirely restructured entrance area is planned. While in Magic Kingdom the TRON rollercoaster is changing the space near Space Mountain, matching the newly renovated Tomorrowland.
EPCOT Neighborhoods | EPCOT
EPCOT is made up of 4 neighborhoods and 2 of those areas' ongoing construction should be completed in 2023. World Celebration encompasses different experiences that allow guests to interact with the planet, a place for all cultures including performances. Most notable here is the way the space is broken up by green spaces. Part of the goal is to integrate more nature into this central hub area that branches off to the other neighborhoods. Filled with tables, and centered around a central EPCOT logo planter, there are shaded spaces to enjoy. Focused on the festival experience, World Celebration becomes a central hub for everyone, before heading to World Showcase. Opening Fall 2023
EPCOT Gardens throughout the World Celebration space will transform with each festival and transforms at nighttime with lighting and extra magic.
CommuniCore Hall offers up a flexible exhibition and gallery space, with a variety of opportunities to highlight art, live music, and food. This building will also house the demonstration kitchen for foodie festivals. This is also where you can find Mickey & Friends as a Disney Character meet and greet location.
CommuniCore Plaza is the hub for musical performances, both intimate and large scale that allows guests to fill the open garden spaces to watch.
Dreamers Point Statue of Walt Disney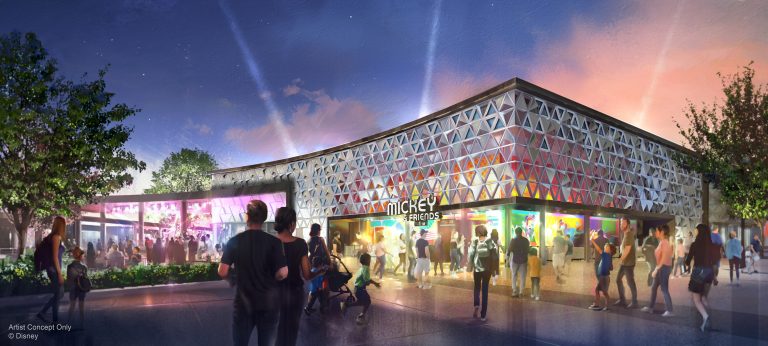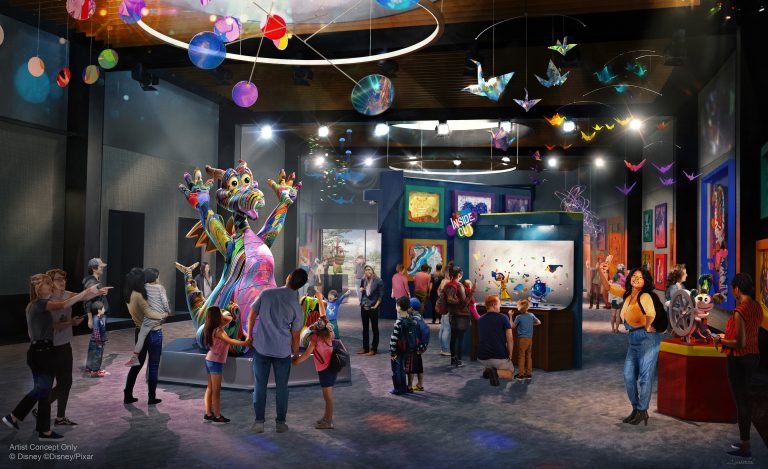 Journey of Water Inspired by Moana | EPCOT
The World Nature area of EPCOT includes the Land and Seas buildings, as well as the new Moana's Journey of Water nature trail. This whole new water-focused interactive experience includes waterfalls, sounds, and light that connect guests to the natural environment. With elements we see in the film, Moana, you can experience the beautiful sights and sounds in this new space inside the World Nature section. Moana's Journey of Water Opening Late 2023.
New Rides & Attractions Coming to Walt Disney World in 2023
2023 at Walt Disney World is not about construction projects. It's about completing the projects that have been underway for the last couple of years. For everyone, this is brilliant news! In addition to being wonderful news, it also means that some of the most popular rides will have fewer crowds. Yay!
TRON Lightcycle Power Run Rollercoaster | Magic Kingdom
TRON Lightcycle Power Run is set to be the best ride ever! With the potential new TRON 3 movie on the way, the franchise is ready for a reboot. Located in Tomorrowland, Magic Kingdom TRON covers a huge space next to Space Mountain. This light cycle ride brings riders over and under spaces within the complex and is filled with blue light, giving it a very futuristic look. A major rollercoaster, TRON is sure to become Walt Disney World's most popular attraction as soon as it opens, so be ready for crowds. We're expecting a Virtual Queue Boarding Pass system to start with, alongside an Individual Lightning Lane Pass option. Open
Ducktales World Showcase Adventure | EPCOT
Replacing Agent P's World Showcase interactive game is Ducktales World Showcase Adventure. This game is available via the Disney Parks Play App and offers guests the opportunity to use their phones to make things happen in certain World Showcase Countries. Check out the Ducktales World Showcase Adventure at EPCOT game post for all the details on how to play and where to find the extra magic! Open
New Restaurants Coming to Walt Disney World in 2023
Walt Disney World has seen its share of new restaurants lately. La Creperie de Paris, Space 220, and Steakhouse 71 are all newer restaurants and are well worth the try.
Shiki-Sai: Sushi Izakaya | EPCOT Japan
A brand new Sushi restaurant arrives in EPCOT Park in the Summer of 2023, featuring a wide array of Sushi choices. Shiki-Sai: Sushi Izakaya is located on the second floor of the Japan pavilion, Shiki-Sai offers stunning views of EPCOT, the World Showcase Lagoon, and, of course, fireworks.
Woody's Rodeo Roundup BBQ | Hollywood Studios
Woody's Rodeo Roundup BBQ is a new table-service restaurant coming to Toy Story Land in Hollywood Studios. This one promises to be a great family-friendly dining experience. Woody and Jessie are said to make appearances here. And the restaurant is filled with Toy Story characters, toys, and everything you would expect to find in a Wild West Rodeo playset. Serving an American BBQ menu, this restaurant is a nice respite from the outdoor dining at Woody's Lunch Box. Open
The Cake Bake Shop by Gwendolyn Rogers | Disney's BoardWalk
This "whimsical table service restaurant and bakery" created by Gwendolyn Rogers serves up beautiful cakes in a delightful atmosphere on Disney's BoardWalk. Offering up both a Bakery and a Restaurant you can delight in cakes, tea service, and savory sandwiches with French flair. Opening 2023
Carousel Coffee Counter at Disney's Boardwalk Inn | Disney's BoardWalk
As part of the refresh at Disney's Boardwalk Inn, guests can now find a cute coffee counter, complete with specialty coffees by Joffrey's, right inside the resort lobby. Carousel Coffee includes a variety of drinks and bites to help you feel right at home on the Boardwalk. Offerings include Pomegranate-Green Tea Lemonade, Crunchy Raspberry Danish, and New Jersey Crumb Cake. Open
Rosa Mexicano | Walt Disney World Dolphin
Replacing the Fresh Mediterranean Market at Disney's Dolphin Hotel, this restaurant will feature a bar and seating area with a Mexican flair. An opening date for this new Mexican restaurant has not yet been shared, but you can count on Margaritas and elevated Mexican dishes. Open
Summer House on the Lake at Disney Springs
Arriving in 2023 at Disney Springs, Summer House on the Lake, is a casual restaurant that offers up a breezy, beach house environment, and a gourmet spin on easy favorites like avocado toast, pizzas, and more. This restaurant also includes table-service dining, a bakery, and an extensive list of wines, beers, spirits, and cocktails.
Walt Disney World 2023 By Month
Are you visiting Walt Disney World in 2023? Things like festivals, anniversaries, special days, and events are all part of the calendar. And you'll want to be sure to avoid high crowd times like holidays and breaks. Check out our Walt Disney World 2023 Event Calendar for detailed information on dates and holidays that may affect your vacation. Here is an overview of the major events happening each month at Walt Disney World so you can know what to expect during your vacation.
January- February 2023
Considered one of the Best Times to Visit Walt Disney, January and February see fewer crowds and lower prices than other time of year. However, you will want to be aware of runDisney weekends this month as they are crowded!
runDisney Walt Disney World Marathon Weekend | January 4-8, 2023
Experience Walt Disney World's 50th Anniversary with this annual race. The runDisney Walt Disney World Marathon features multiple race options for the whole family, new merchandise, and commemorative medals! By far the most popular runDisney Marathon at Walt Disney World, this one fills up fast! Take note of registration dates and plan for a virtual queue!
EPCOT's International Festival of the Arts 2023 | January 13-20, 2023
The International Festival of the Arts returns to EPCOT in mid-January and runs through mid-February featuring artist galleries, artful cuisine at the outdoor kitchen studios, and performances across the park! With Figment's Brush with the Masters Game, The Wonderful Walk of Colorful Cuisine Challenge, and new merchandise, there will be plenty of new things to explore at the Festival of the Arts in 2023. Read more about the Festival of the Arts.
runDisney Princess Half Marathon Weekend | February 23-26, 2023
Join the Disney Princesses in the runDisney Princess Half Marathon at Walt Disney World. Taking place during the 50th Anniversary of Walt Disney World you can count on even more magic across the parks. This race is open to princes and princesses everywhere!
March-June 2023
Considered one of the most expensive times all year to visit, March through June sees Spring Breakers, popular holiday weekends, and a slew of championships and competitions that results in more people in the parks.
Animal Kingdom Park's 25th Anniversary
April 22nd marks the 25th Anniversary of Animal Kingdom. As such we're expecting even more activities, special snacks, and merchandise for Earth Month at Animal Kingdom.
EPCOT's International Flower and Garden Festival |

March 1- July 5. 2023
The Flower and Garden Festival at EPCOT arrives every spring in early March and runs through mid-July, bringing new topiaries, Disney-themed displays, fresh foods at the outdoor kitchens, and more. Performances at this festival include the popular Garden Rocks concert series. Guests can also play Spike's Pollen-Nation Scavenger Hunt for more fun in each World Showcase country. Read more about the Flower and Garden Festival.
runDisney Springtime Surprise Marathon Weekend | April 13- 16, 2023
This runDisney event promises a new theme every year! A wonderful way to keep up with the times, this new event has dates, but limited information. Check the runDisney Springtime Surprise Weekend for all the latest details!
Earth Month at Animal Kingdom | April 17-23, 2023
Celebrating Planet Earth all month long, Disney's Animal Kingdom offers specialty snacks, events, and fun at the Conservation Station. Be on the lookout for animal babies across the park, and special merchandise too! Check out everything happening for Earth Month at Animal Kingdom.
H20 Glow Nights Typhoon Lagoon Park | May 20-September 2, 2023
H20 Glow Nights returns to Walt Disney World's Typhoon Lagoon Water Park this summer. Offered Saturday nights from 8-11 pm, you get 3 hours of fun after the park closes. Complete with low waits, exclusive glow-themed snacks, and free popcorn, select ice-cream treats and beverages to enjoy! This is a ticketed event with limited availability. Grab your H20 Glow Nights at Typhoon Lagoon tickets here.
July- October 2023
Including the hot summer months, this time of year also sees the beginning of EPCOT's most popular festival, and Halloween festivities at Walt Disney World. Meanwhile, if you're looking for low-cost and fewer crowds, September is the best month to visit during this time.
100th Anniversary Celebrations | October 16, 2023
October 2023 marks the 100th Anniversary of the Walt Disney Company and its 100 Years of Wonder. And as the official date the company was established in October 16, 1923, we're anticipating a slew of special things happening in the parks. Special snacks, a button, who knows! Check out our post on the 100th anniversary for all the details we'll be updating as information is released.
Princess Week | August 22- 26, 2023
Disney Parks debuted Princess Week with new merchandise, snacks, and events at the parks in 2022. As such this week in the parks in 2023, will bring more of the same!
EPCOT's International Food and Wine Festival |

July 27- November 18, 2023
The Food and Wine Festival at EPCOT is one of the largest festivals at Walt Disney World featuring over 25 food kitchens, and cuisine from a variety of cultures! Covering the park with foodie opportunities, this festival includes the Eat to the Beat concert series, Emile's Fromage Montage Challenge, and Remy's Ratatouille Hide and Squeak Scavenger Hunt. Read more about EPCOT's Food and Wine Festival.
Mickey's Not So Scary Halloween Party 2023 |

August 11- November 1, 2023
Mickey's Not So Scary Halloween Party returns to Magic Kingdom in 2023, and we are here for it! This event includes special entertainment, fireworks, specialty snacks and merchandise, and unique character experiences along with the Trick or Treat experience. Mickey's Not So Scary Halloween Party is a hard-ticketed event that will require a separate ticket. Guests are usually allowed to enter Magic Kingdom at 4 pm ahead of the 7 pm party start time. Read more about Mickey's Not So Scary Halloween Party.
November – December 2023
It's the most wonderful time of the year to be at Walt Disney World and sometimes also the most expensive! Be wary of holiday weeks this time of year. Both the week of Thanksgiving and Christmas are particularly crowded. Holiday decorations typically arrive at the beginning of the 3rd week in November in both the parks and resorts.
runDisney Wine and Dine Marathon 2023 | November 2-5, 2023
runDisney's Wine and Dine Marathon typically takes place the first week in November and offers an opportunity to really dig into the fun a couple of weekends before the holidays hit. Read all about the Wine and Dine Marathon at Walt Disney World.
EPCOT's International Festival of Holidays 2023 |

TENTATIVE

November 25- December 25, 2023
The Festival of Holidays at EPCOT Park starts in late November and runs through late December. This festival features Holiday Storytellers across the World showcase and holiday kitchens featuring cultural holiday cuisine. Plus, Olaf's Tradition Expedition Scavenger Hunt game and the Holiday Cookie Stroll offer plenty to do at this festival. Read more about the Festival of Holidays.
Mickey's Very Merry Christmas Party 2023 |

TENTATIVE

November 5- December 20, 2023
With holiday fun for families at a more reasonable time of day than an After Hours event can provide. Mickey's Very Merry Christmas Party requires the purchase of a separate ticket. But allows guests access to the evening party as early as 4 pm, ahead of a 7 pm party start time. The party includes a special parade, fireworks, access to specialty snacks, merchandise, and character experiences. Read more about Mickey's Very Merry Christmas Party.
Disney Vacation Planning in 2023
Planning a Walt Disney World Vacation in 2023 will still be somewhat complicated. Thankfully we've rounded up everything you should consider in our Planning a Walt Disney World Vacation in 2023 post. As a snapshot, here are the things you should know for awareness.
Are Disney Park Pass Reservations Required in 2023?
Yes, Disney Park Pass Reservations are still required in 2023. In addition to a valid park ticket, Disney Park Pass Reservations are required for each day you plan to enter a Disney theme park. Be sure to check Disney Park Pass Availability before booking your vacation. Disney Park Pass Reservations are NO LONGER REQUIRED starting Jan 9, 2024, for dated ticket holders. Read ore about What's New at Walt Disney World in 2024.
Transportation to and from Walt Disney World in 2023
If you're flying into the Orlando International Airport then you'll need to make arrangements to get to and from Walt Disney World. Mears Connect, Sunshine Flyer, Uber, Lyft, and traditional taxi services along with car rental are all options for getting to and from the airport to your Disney Resort.
MagicBand+ Updates in 2023
MagicBand+ is the latest version of Disney's MagicBand wristlet and can interact with certain things throughout Walt Disney World's parks. Featuring lights and vibrating action, this MagicBand+ wristlet also interacts with fireworks and connects to the Disney Play app for extra game-playing fun. Regular MagicBands still work across the parks, so while this upgrade isn't necessary, it could be a fun interactive addition to your trip. These are for sale at Disney gift shops and are soon to be available on shopDisney.com
Early Theme Park Entry for Disney Resort Guests
Available to Disney Resort Guests, Early Theme Park Entry is a perk that allows guests to enter the parks 30 minutes before the official park opening time. Early Theme Park Entry Crowds will still be high. So, we recommend getting to the gates at least 30-60 minutes before your early theme park entry time if you're hoping to rope-drop popular rides like Rise of the Resistance or Flight of Passage.
Extended Evening Theme Park Hours
For Disney Deluxe Resort Guests, extended theme park hours are available for a couple of hours after regular park closing. At Magic Kingdom Park this means guests can typically stay from 11 pm to 1 am. At EPCOT guests can stay from 9 pm to 11 pm. Neither Animal Kingdom nor Hollywood Studios are currently included in this benefit. Be sure to check the Extended Evening Theme Park Hours Schedule.
60-day Advanced Dining Reservations
Dining Reservations are able to be made 60 days prior to your vacation. Due to the extremely high crowds expected it is highly recommended that guests reserve all restaurants desired the first day that your reservation window opens. Access to make dining reservations usually come available at 6 AM EST.
Are Disney Annual Passes Available in 2023?
Walt Disney World Annual Passes are intermittently available and in limited quantity beginning late April. Check out our posts to get a look at all the Disney Annual Pass perks and the whether or not a Disney annual pass is right for your family. And keep tabs on the Walt Disney World Annual Passholder page for up-to-date pricing and availability information.
Are Disney Dining Plans Available in 2023?
No, not in 2023. Disney Dining Plans return in 2024. Until then, be prepared to plan your Disney Dining Budget without it. With options for quick service, table service, and snacks across the parks, getting a handle on the $70-100 per person cost of food per day is helpful. Things like prepaid Disney gift cards, and deciding which restaurants to eat ahead of time can help save you from the sticker shock of dining at the most magical place on Earth.
New Disney Snacks for 2023
Hunting down New Snacks at Walt Disney World is one of our favorite pastimes. Found in all four parks, throughout the year, you can count on seasonal snacks, anniversary snacks, and more. We add to our New Snacks posts, whenever new treats arrive, so be sure to check it out if you're hunting down snacks of your own.
Closures and Refurbishments at Walt Disney World in 2023 and 2024
If you're hoping to visit Walt Disney World in 2023, know that several resort pools and rides may be under refurbishment. Be sure to check out the Walt Disney World Refurbishment Calendar for closures that may affect your vacation.
Disney Anniversaries in 2023
Just like every other year, Disney Parks honor a variety of Disney anniversaries by sharing new Disney Dooney and Bourke Bags, New Snacks, New Merchandise, and more. Here are all the Disney Anniversaries happening in 2023.
April 2 – Chip and Dale will celebrate their 80th birthdays.
April 18 – The Disney Channel will celebrate its 40th anniversary.
April 22- Animal Kingdom Park Anniversary
May 15 – ABC will celebrate its 80th anniversary.
October 16 – The Walt Disney Company will celebrate its 100th anniversary.
November 18 – Mickey Mouse and Minnie Mouse will celebrate their 95th birthday
Film Anniversaries
Finding Nemo (20th)
Mulan (25th)
Who Framed Roger Rabbit (35th)
Hocus Pocus (30th)
Tim Burton's The Nightmare Before Christmas (30th)
Halloweentown (25th)
Walt Disney World in 2024
Walt Disney World in 2024 may be one of the best years to visit simply because so many of the construction projects across the park will be completed. Additionally, with major rides like Guardians of the Galaxy and TRON past the opening fervor, your chances of riding these rides improve. We expect too that some of the revenge travel would have died down by 2024, allowing a more normal Disney Vacation with average crowds. However, there are still some projects on the Disney docket for 2024. Head to our post about What's New at Walt Disney World in 2024 for all the details.
Tiana's Bayou Adventure
In a much-needed refresh, Splash Mountain is set to transform into Tiana's Bayou Adventure. This Princess and the Frog re-imagining of Splash Mountain turns this boat ride into a bayou-focused ride featuring Princess Tiana and friends, set to open in Late 2024 at both Walt Disney World's Magic Kingdom Park and Disneyland. Recreating a New Orleans experience inside Splash Mountain is no easy task, and plans incorporate jazz music, bayou culture, and more. This new ride features Tiana, Naveen, and Louis the alligator preparing to host a Mardi Gras Celebration. Get ready for familiar places, and songs. This ride picks up where the movie left off. Opening June 30, 2024
Disney's Polynesian Resort DVC Tower Project
Set to open in late 2024 this new wing features a fresh look featuring elements from the Pacific Islands, with views of the water. Situated in the area of the permanently closed Spirit of Aloha Dinner Show, this addition to the resort is a major project. As a result, we expect the Pathway from Magic Kingdom to the Polynesian will be closed from mid-2023 to opening.
Everything at Walt Disney World in 2023
There you have it. This Walt Disney World 2023 event roundup should help you plan your next Disney Vacation. And give you a glimpse into a year of annual events that are all part of the Disney Experience! You can grab our Walt Disney World Vacation Planning Guide for 2023 for even more tips, tricks, and reviews to help you create the perfect Disney Vacation. Happy Vacation Planning!