We like nothing better than settling into the Halloween season with TONS of spooky and fun seasonal shows to watch! Since we grew up watching the Disney channel we automatically gravitate towards all our favorite episodes from years gone by this time of year. And having a running list of our favorite episodes from our favorite Disney shows means we get to re-watch old favorites while we decorate, bake and get ready for the season. Meanwhile, we always love a Disney Movie Night and having a slew of Disney Halloween episodes means more opportunities for Sally Popcorn and inspiration for spooky Halloween decor!
All images in this post courtesy of Disney Channel/ Walt Disney Company
What to Watch on Disney Plus for Halloween
So, you know we love our Disney Channel Halloween Movies and Episodes. We absolutely can't get enough of seasonal shows when they come around, and being able to find oh so many of these on Disney Plus has been such a bonus!
We're starting this list kinda small, with some shows we know by heart, but never fear- we'll be adding episodes we missed throughout the season. Here are the Halloween episodes we've rounded up so far for our favorite Disney Channel shows. Get ready to pick your favorites and make a Halloween Watchlist for the spooky season!
A.N.T Farm
Season 1 Episode 14 mutANT farm
Season 2 Episode 13 mutANT farm 2
Season 3 Episode 11 mutANT farm 3
Austin and Ally
Season 2 Episode 1 Costumes and Courage
Season 3 Episode 20 Horror Stories and Halloween Scares
Season 4 Episode 15 Scary Spirits and Spooky Stories
Best Friends Whenever
Season 1 Episode 9: Cyd and Shelby's Haunted Escape
Big City Greens
Season 1: Episode 15: Blood Moon Part 1 & 2
Boy Meets World
Season 1 Episode 6 Boys II Mensa
Season 2 Episode 6 Who's Afraid Of Cory Wolf?
Season 5 Episode 5 Witches Of Pennbrook
Season 5 Episode 17 And Then There Was Shawn

Bunk'd
Season 2 Episode 7 Camp Kiki Slasher
Season 2 Episode 8 Treehouse of Terror
Season 4 Episode 7 In your Wildest Screams
Dog with a Blog
Season 2 Episode 3 Howloween
Season 3 Episode 2 Howloween 2: The Final Reckoning
Ducktales ( Reboot)
Season 3 Episode 10 The Trickening

I Didn't Do It!
Season 1 Episode 18: Next of Pumpkin
Jessie
Season 2 Episode 1 The Whining
Season 3 Episode 1 Ghost Bummers
Season 3 Episode 23 The Runaway Bride of Frankenstein
Season 4 Episode 18 The Ghostest With the Mostest
Jonas
Season 1 Episode 17 Tale of the Haunted Firehouse
K.C. Undercover
Season 1 Episode 23 All Howls Eve
Season 2 Episode 19 Virtual Insanity
Kick Buttowski: Suburban Daredevil
Season 2 Episode 12: Kick or Treat
Kim Possible
Season 1 Episode 14 October 31st
Lab Rats
Season 1 Episode 17 Night of the Living Virus
LEGO Star Wars (Disney Plus Original Movie)
LEGO Star Wars Terrifying Tales (2021)
Lilo and Stitch the Series
Season 1 Episode 5 Spooky
Liv and Maddie
Season 1 Episode 5 Kang-A-Rooney
Season 2 Episode 3 Helgaween-A-Rooney
Season 3 Episode 4 Haunt-A-Rooney
Season 4 Episode 3 Scare-A-Rooney
Lizzie McGuire
Season 1 Episode 24 Night of the Day of the Dead
Mickey's Tale of Two Witches (Disney Plus Original Movie)
Mickey's Tale of Two Witches (2021)
Muppets Haunted Mansion (Disney Plus Original Movie)
Muppets Haunted Mansion (2021)

Phineas and Ferb
Season 1 Episode 9 One Good Scare Ought to Do It
Season 1 Episode 22 The Monster of Phineas and Ferbinstein
Season 3 Episode 22 That's the Spirit
Season 4 Episode 19 Druselsteinoween Face Your Fear
Season 4 Episode 18 Terrifying Tri-State Trilogy of Terror Part 1 and 2
That's So Raven
Season 2 Episode 2 Don't Have a Cow
The Replacements
Season 1 Episode 8: Halloween Spirits
The Simpsons
The Suite Life of Zack and Cody
Season 1 Episode 18 Sea Monster Mash
Season 1 Episode 19 The Ghost in Suite 613
Season 3 Episode 12 Arwinstein
The Suite Life on Deck
Season 3 Episode 11 The Ghost and Mr. Martin
Twitches (Disney Channel Original Movie)
Under Wraps (Disney Channel Original Movie)
Wizards of Waverly Place
Season 3 Episode 2 Halloween
ZOMBIES (Disney Channel Original Movie)
Disney Hallowstream October 22
And if you're looking for even more Disney shows to watch, check out the NEW things coming to Disney Plus for Halloween. Plus they've added some old favorites to this list!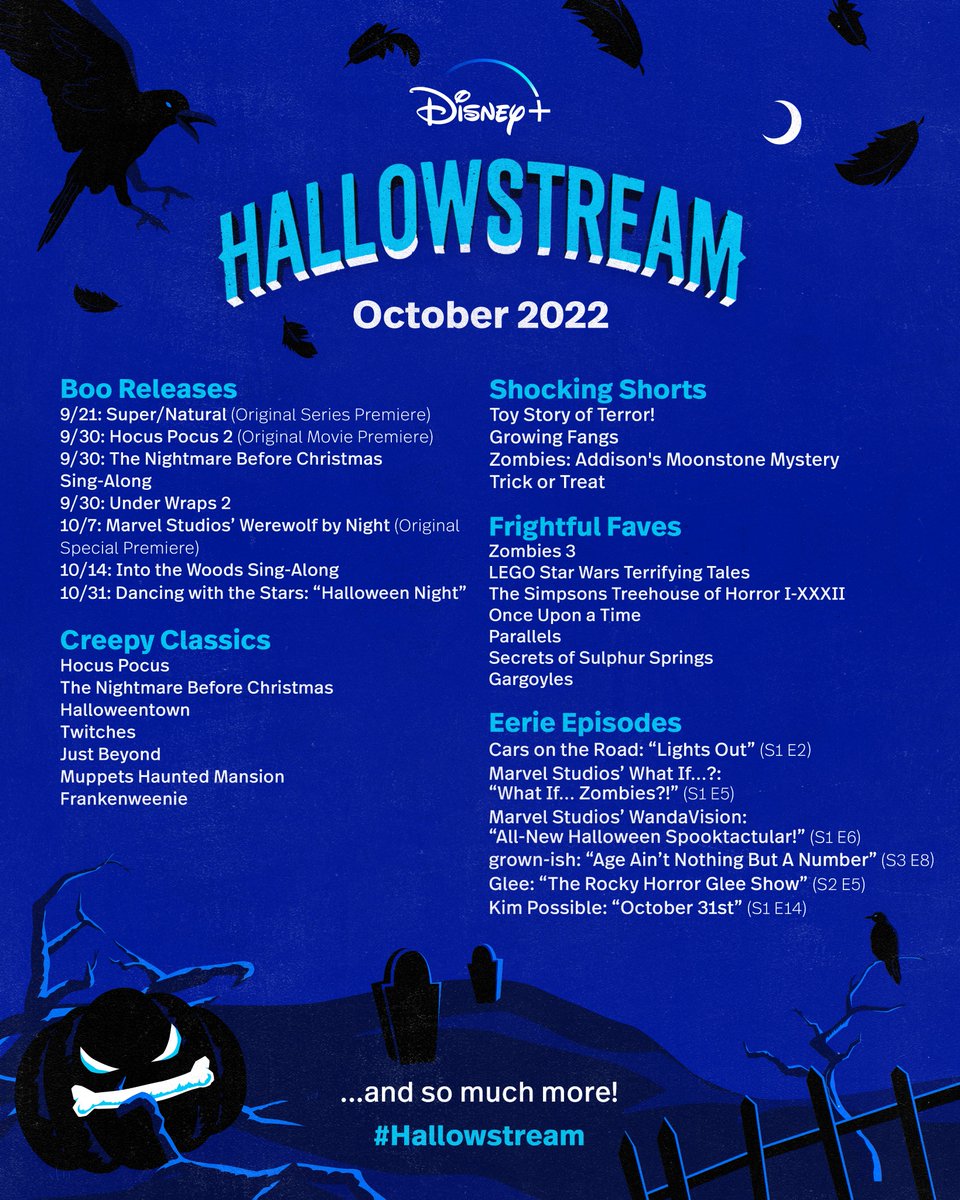 Disney Plus Halloween Movies
If you're looking for even more Halloween movies to watch on Disney Plus you can check out our Disney Halloween Movies list. And while Disney Plus will include EVERY scary movie they have in the "Halloween" section, we're being purists about movies that actually have something to do with Halloween. Here's a quick list of even more Halloween movies on Disney Plus.
Frankenweenie
Hocus Pocus
Haunted Mansion
Nightmare Before Christmas
Spooky Buddies
The Adventures of Ichabod and Mr. Toad
Halloweentown
Halloweentown II Kalabar's Revenge
Halloweentown High
Return to Halloweentown
Girl Vs. Monster
Twitches
Twitches Too
Disney Halloween Shows and Episodes Everywhere Else
Hopefully, you have found some new favorites in this list of Disney Channel Halloween Episodes. You can peruse ALL of the Disney Plus Halloween Episodes on Disney Plus. Or we have a whole lineup of all our Favorite Disney Halloween Movies for you to add to the mix! And if you have access to Freeform, you can stream 31 Nights of Halloween. We'll be adding to this list as we gather more episodes to watch for the season. Happy Halloween!