As every streaming service vies for our money and time, you may be wondering if Hulu should be on your list this holiday season. With so many other streaming options, and some of them free, what Christmas movies does Hulu have that would draw you in? If you already have Disney Plus, then you know that some of your Christmas favorites from last year have now moved to Hulu. And you will need to purchase that separately or add it to your Disney Bundle to access them. So what Christmas Movies does Hulu have? We'll share our favorites, and you can make the call!
Okay, can we be honest? As we stare down the holiday season, with lists of gifts to buy, we're right there with you when it comes to "Do I really need the Hulu streaming service?" Especially, since the number of and kind of, ads on Hulu make us want to scratch our eyes out. Was getting films on DVD from the library really that bad? Or should we give Hoopla another glance when it comes to Christmas movies?
If you're hoping to save your sanity and hard-earned cash, we hear you….but Hulu will not be the place for that. It will, however, be the place for Classic Christmas movies, the Best ABC Family Christmas movies, and cheesy Romantic Christmas Comedies, a la Lifetime, and Nicely, and you're sure to recognize some of your favorite actors from Hallmark holiday films too. Add in some raunchy options, and Christmas horror films and you are on your way! So what are the Best Christmas Movies on Hulu? We're doing a roundup of Hulu Christmas Movies that you can kinda, sorta only get on Hulu, that are worth the watch. Mind you, you may get lucky and score these on DVD, but we'll share what your options are for each film on this list, to help make your season bright.
New Christmas Movies on Hulu 2023
We've covered lots of New Christmas Movies for 2023 in our New Christmas Movies on Hallmark, Disney Plus, Prime, Netflix, and Hulu posts. And of that list of more than 60 films altogether, Hulu offers 2 NEW Holiday films for 2023. Both from Nicely, these Christmas movies will be sure to tug your heartstrings and help you haul out the holly. These are the new movies streaming now on Hulu for Christmas.
A Christmas Frequency
RELEASE DATE: Nov. 1, Hulu
STARRING: Denise Richards, Ansley Gordon, James Hyde, Jonathan Stoddard
SYNOPSIS: "A Christmas Frequency stars Denise Richards as a morning radio show host, who is struggling in both her personal life — secretly separating from her husband (James Hyde) — and at work, with the ratings of her show dropping. When she's set up on a series of blind dates as a way to save the show, things get interesting when one man (Jonathan Stoddard) is both a man she's actually interested in and someone who has also applied to be her date."
Reporting For Christmas
RELEASE DATE: Nov. 1, Hulu
STARRING: Tamara Feldman, D.B. Sweeney
SYNOPSIS: "Reporting for Christmas follows Mary (Tamara Feldman), a serious reporter who's forced to take a break from her political beat when her boss Hank (D.B. Sweeney) assigns her a puff piece about a small-town toy company. While on assignment, she meets the handsome and charming toy manufacturer Blake (Matt Trudeau)."
Christmas Movies Only on Hulu
Ahhh, the joy of Hulu Originals. Like a Santa "exclusivity" Clause that doesn't allow you to watch these shows anywhere else, there are a few Christmas Movies only on Hulu that may help you decide if you're buying Hulu for the holiday months or skipping it. First, If you're a spooky Christmas or a Horror Holiday fan, then you may have just hit the jackpot! Because Hulu has a whole slew of Haunted Holiday Christmas Movies to watch that you can't find anywhere else. As girls who like holly, not horrifying, we didn't add the Hulu horror lineup to this list.
It's a Wonderful Binge ( 2022)
Solar Opposites: A Very Solar Holiday Opposites Special ( 2021)
Candified Home for the Holidays ( 2021)
Madagascar A Little Wild Holiday Goose Chase (2021)
The Happiest Season ( 2020)
Taste the Nation Holiday Edition ( 2021, 4 Episodes)
Christmas Episodes on Hulu
Hulu has a variety of shows that feature Christmas and Holiday episodes. Thankfully, you don't even have to dig through the seasons of your favorite Hulu shows. The holiday episodes for each show are organized on the Hulu Family Holiday Episodes page. Here are the shows with Christmas Episodes on Hulu.
Family Guy
Modern Family
How I Met Your Mother
The Goldbergs
Bob's Burgers
This is Us
The Cleveland Show
Frasier
Everybody Hates Chris
American Dad
Superstore
Black-ish
Fresh off the Boat
American Housewife
Family Christmas Movies on Hulu
If you're looking for Hulu Christmas Movies for the Family, there are quite a few. Elf, The Polar Express, Miracle on 34th Street, and more are all included! If you don't find something you're looking for check out our Family Movies for Christmas post. We'd also recommend Prime Video and Disney Plus.
ELF
Polar Express
Miracle on 34th Street
The Santa Clause series
The Nutcracker and the Four Realms
The Muppets Christmas Carol
Christmas with the Andersons
How to Train Your Dragon Homecoming
Mickey Saves Christmas
My Dad, Scrooge
My Little Pony, a Very Minty Christmas
The Secret of the Nutcracker
A Unicorn for Christmas
Is Home Alone on Hulu?
Home Alone is not available on the Hulu standard plans. So, unless you want to pay for the Starz add-on to your Hulu subscription, you'll have to grab this one on Disney Plus or Amazon. As one of the main Disney Plus Christmas Movies we'd recommend if you also want to see The Santa Clause, to just grab Disney Plus. Otherwise, the "Starz Add-On" with Hulu rings in at an extra $10/ mo. Given that's more than the price of the DVD or Digital copy of Home Alone on Amazon Prime, we'd say just find another way to see it.
Is Elf on Hulu?
YES! You can watch Elf on Hulu. And Elf is also available on MAX. If this is a movie you know you watch annually, you can also grab the DVD or the digital copy of Elf on Amazon Prime.
Is Jingle All the Way on Hulu?
Jingle all the way is only available on Hulu with a live tv add-on. Jingle All the Way is on Disney Plus. If Jingle All the Way is an annual watch for your family, we recommend you get Jingle All the Way on DVD or a digital copy on Amazon Prime.
Is A Christmas Story on Hulu?
No, a Christmas Story is not on Hulu. A Christmas Story is currently available on MAX. If you'd like to watch A Christmas Story online, you can alternatively rent or purchase a digital copy from Amazon. Watch A Christmas Story on Amazon Prime.
Is National Lampoons Christmas Vacation on Hulu?
YES! You can watch National Lampoons Christmas Vacation on Hulu. And it's also available on MAX.
Is the Polar Express on Hulu?
YES! You can watch The Polar Express on Hulu.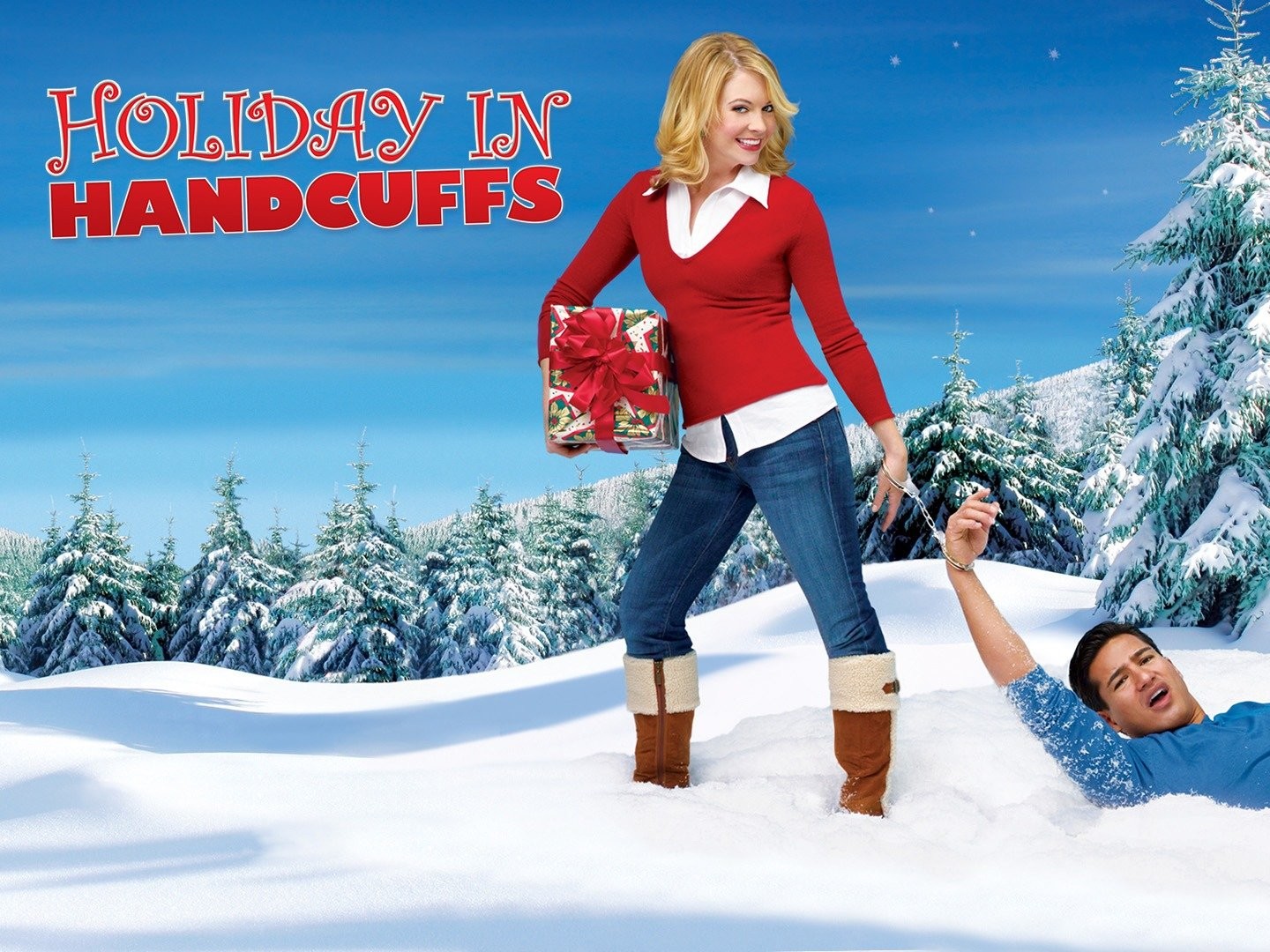 Best Hulu Christmas Movies
What are the best streaming Christmas Movies on Hulu? While you may find holiday films in the Hulu catalog, many will require additional subscriptions or a Live TV addition. As such we're sharing just the films included in the standard packages of ads, or no ads. These good movies on Hulu are perfect for Christmas and will have you feeling festive.
Holiday in Handcuffs ( 2007)
A MUST WATCH Christmas movie, Holiday in Handcuffs stars Mario Lopez and Melissa Joan Hart. When Trudy gets dumped ahead of her family's Christmas weekend, she kidnaps a man to bring home. Only to find out he's engaged to someone else. As she tries to lie her way through the holidays, his fiance calls in the police to find them. The holidays wouldn't be complete without some family drama. A funny holiday film you'll find yourself watching every year.
Four Christmases ( 2008)
Putting on screen what everyone feels now and then, this couple try to skip out on their families for Christmas, and head for an island vacation instead. Only to be spotted on television, from the airport, and made to own up to their lies. Dysfunctional families unite in this holiday film filled with honesty and mayhem. Starring Vince Vaughn and Reese Witherspoon.
ELF (2003)
When Buddy the Elf realizes he may not be an elf at all he travels from the North Pole to the big city to find his father. Filled with the holiday spirit he's tasked with bringing Christmas cheer back to the city just in time to help Santa fly. This Christmas movie with Will Ferrell, Bob Newhart, and Zooey Deschanel is a must-watch film for the season.
National Lampoons Christmas Vacation ( 1989)
This Christmas classic film makes our rewatch list every year. Featuring all the goals of a good old-fashioned family Christmas. Complete with irrational expectations, unwanted relatives, and twinkle lights that don't twinkle. This holiday film is perfect for the family, even with a bit of campy humor. We love it.
Polar Express (2004)
This beautifully animated film hails from the book by Chris Van Allsburg. With the voice talent of Tom Hanks and a memorable composition by Josh Groban, this film hits all the heartstrings. As a train conductor, Tom Hanks can only bring children who hear the bell to the North Pole to see Santa. A story that relishes the idea of believing in the magic of Christmas, we love this one as a yearly reminder to always believe.
The Holiday ( 2006)
A house swap between a woman in LA and the other in England helps with a much-needed change in the lives of both. Helping each to see what they've been missing. Starring Jude Law, Jack Black, Cameron Diaz and Kate Winslet.
A Timeless Christmas ( 2020)
One of our favorite holiday movies, this Christmas romance features a man out of time whose time traveled to the future. Arriving in his home, which is now a museum, he must depend on the museum's director to tell him about the life he left behind, and the legacy he's left. All made possible by a Christmas clock, these two work to figure out the clues along the way to get him back home to his own time before it's too late. A Timeless Christmas on hulu.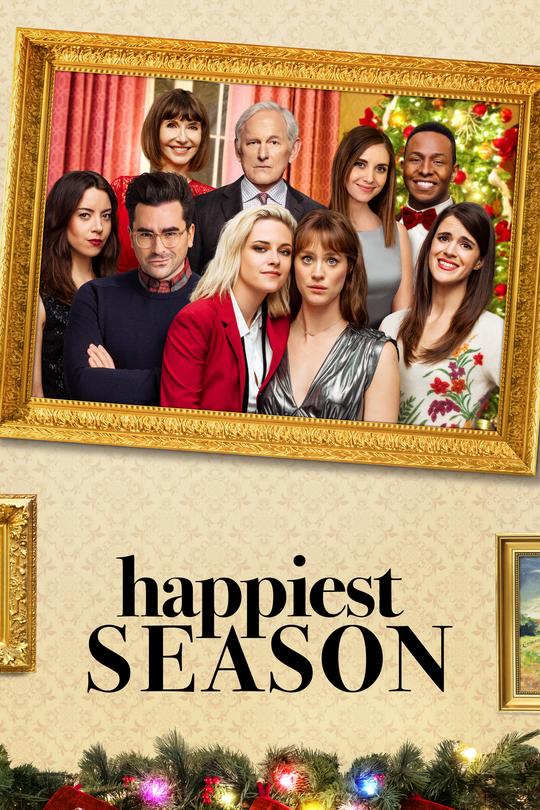 Happiest Season
This rom-com features Kristen Stewart and MacKenzie Davis, as these girls try to navigate their relationship in front of family members who don't know they're together. Luckily, Daniel Levy is on hand as the best friend who can't successfully babysit fish, to help them through it. A tale as old as time, this Christmas romance deals with all the issues and tries to offer up some safe spaces along the way. It's a good film and is a bright and shiny star amongst the LGBTQ+ Christmas Romance genre. If this is the reason you're considering Hulu for the Holidays, note that you can also grab Happiest Season on DVD.
Christmas Cupid ( 2010)
This ABC Family Christmas movie stars Christina Milan and Chad Michael Murray in a Christmas Carol-like story following a workaholic woman and the people she leaves in her wake. It's only when her latest client dies and shows her the way to redemption that she can begin to change her life for the better.
Catering Christmas
There are a lot of New Christmas Movies on Streaming in 2023, and Catering Christmas can be found on a few of them. This Christmas movie stars Daniel Lissing, whom many will know from the Hallmark Movies Channel. And namely the show, When Calls the Heart, and December Bride. This holiday romance is all about mix-ups. When a new caterer is tasked with hosting a fancy party, she needs to make her best impression. Of course, she mistakes the grandson of the client as her new sous chef, and quickly puts him through the paces. More than one misunderstanding arises as they try to get things ready for the party. This film is a fun one to add to your holiday watchlist.
A Merry Christmas Wish
Janie is an NYC advertising executive who returns to her hometown for the holidays to sell her family's farm. But, when she reconnects with a childhood friend at the town's Winter Wonderland festival, she begins reconsidering her life in the big city.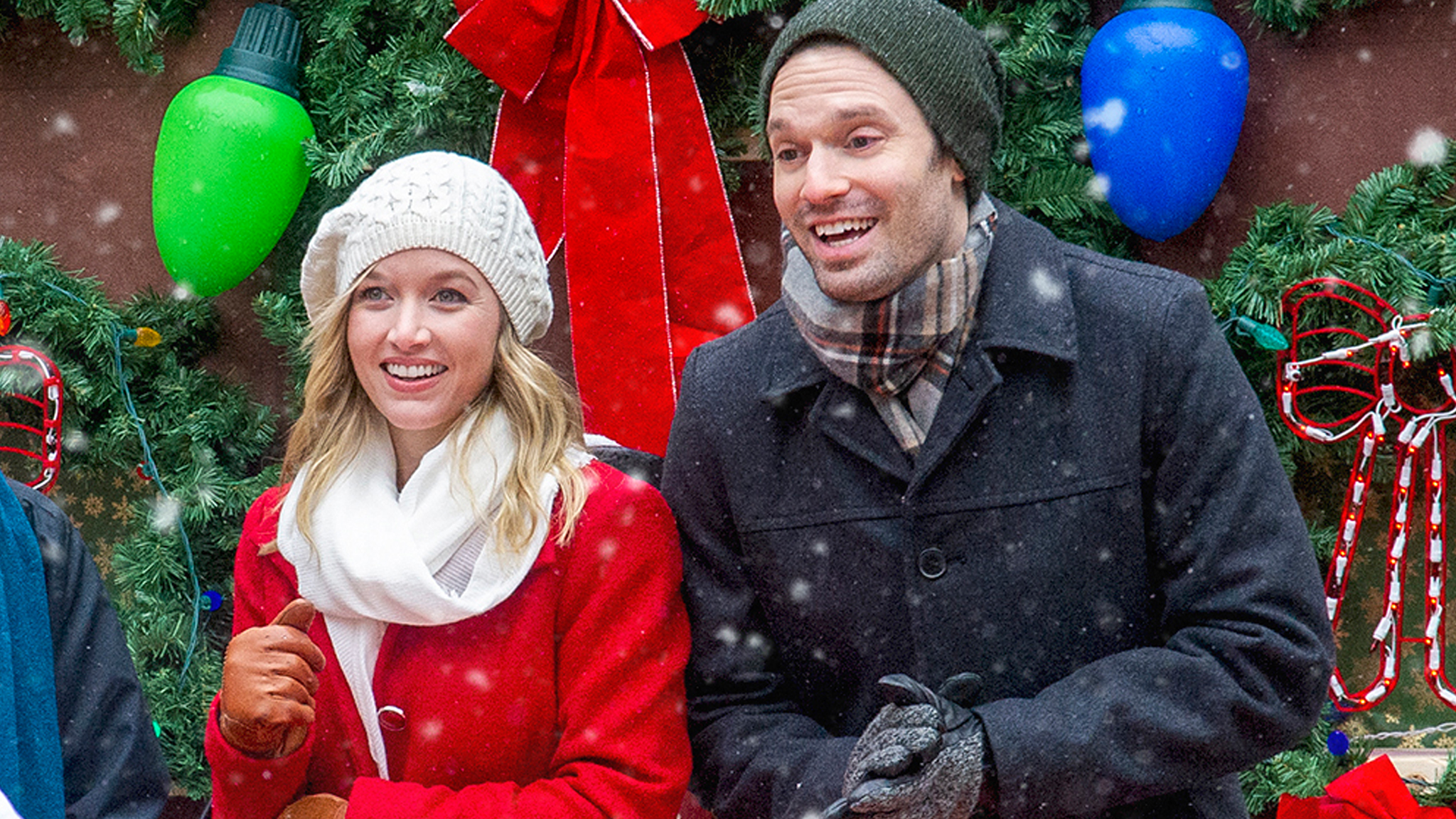 Mistletoe & Menorahs
When a determined toy company executive, Christy, must learn about Hanukkah in a hurry to land a big account, she enlists the help of her co-worker's friend Jonathan, who happens to also be in desperate need of turning his bachelor pad into a Christmas Wonderland to impress his girlfriend's father.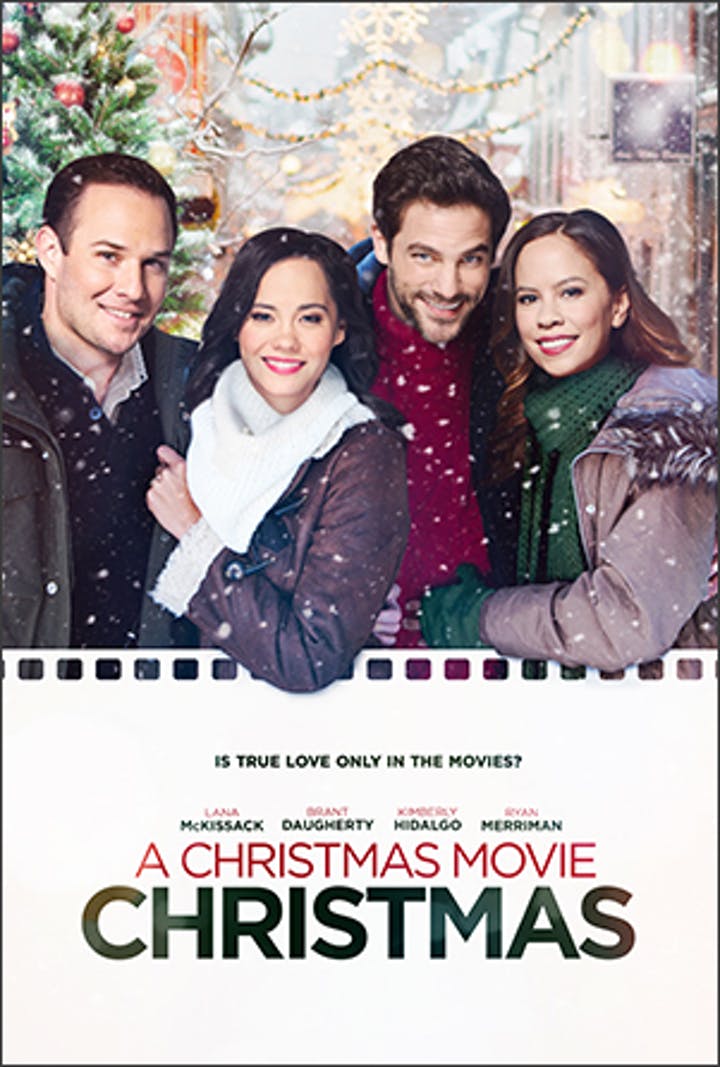 A Christmas Movie Christmas
Making fun of every Christmas romantic comedy trope, a Christmas Movie Christmas transports sisters into a small town that needs saving. Sound familiar? Luckily, with a country star-singing boyfriend, some homemade Christmas cookies from Grandma, and some fancy imported hot chocolate, these girls are on their way to saving Christmas. This is a cute film if not for the reason that you can pinpoint almost easter egg to other holiday films. It's so overdone, and it knows it. A bit of fun that doesn't take itself too seriously, this may be a romantic comedy we watch again. You can also watch this one on Amazon Prime Freevee with ads, rent it, or buy the digital, or DVD. Get A Christmas Movie Christmas.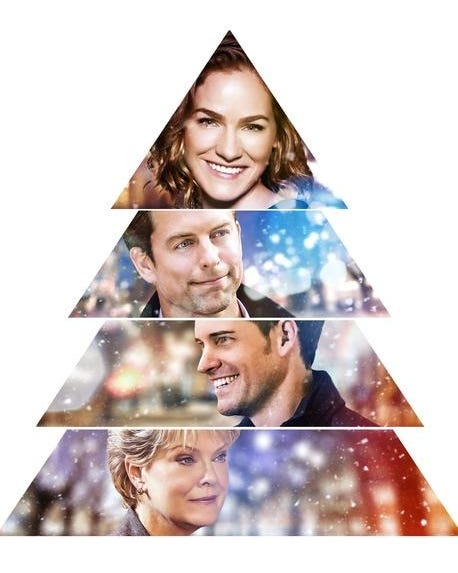 Back to Christmas
This quirky holiday comedy is all about second chances. When Ali and her fiance unexpectedly split, she wishes for a second chance to make things right! Wishing works. Ali gets the chance she wanted to go back to Christmas before she planned her wedding. Until she realizes that getting a second chance isn't easy. And it may not be one that she wants anyway! Luckily, things happen for a reason, and Ali learns it all in this fun Christmas comedy.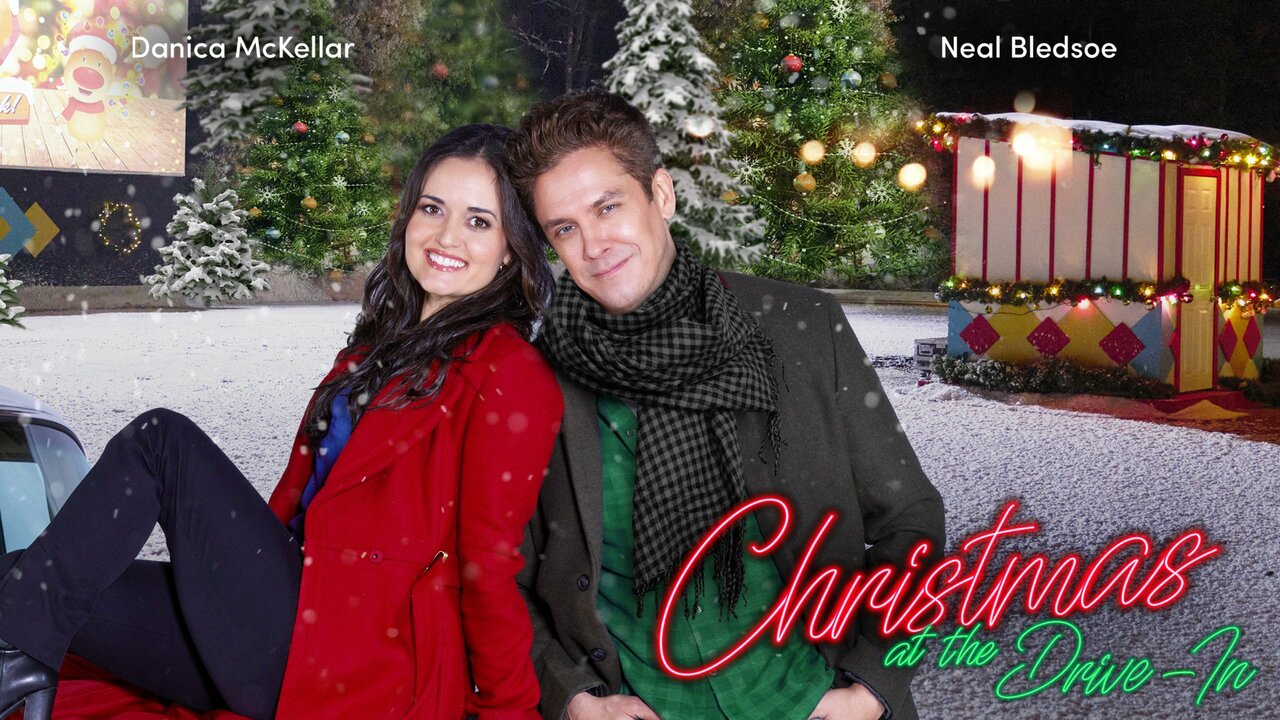 Christmas at the Drive-In
We love Danica McKellar and Dean Bledsoe and putting them together is always a treat. We liked them best in Coming Home for Christmas, but if you have Hulu, you can see them at Christmas at the Drive-In. This story is about a small-town lawyer reuniting with her high school sweetheart, who is back in town to sell his family's drive-in. But losing it will mean the loss of the town's history. Together they are tasked with proving the drive-ins' worth to the town. And of course in the process, realize something else worth saving.
A Christmas Kiss 2
As the follow-up to the Christmas Romantic Comedy Classic, A Christmas Kiss, this one features a fashion assistant who is bent on resisting the playboy brother of her boss. Only to find ignoring that impromptu kiss in the elevator is something she's having trouble forgetting. Can he change his womanizing ways to settle down? Loads of misunderstandings and a few grand gestures make this Christmas romance fun to watch every year. Just try to ignore the heavy-handed Kays Leo Diamond marketing effort at the end. A fun fact is that the lead actress, Elizabeth, Harnois, is the iconic Abbie Granger in Disney's One Magic Christmas.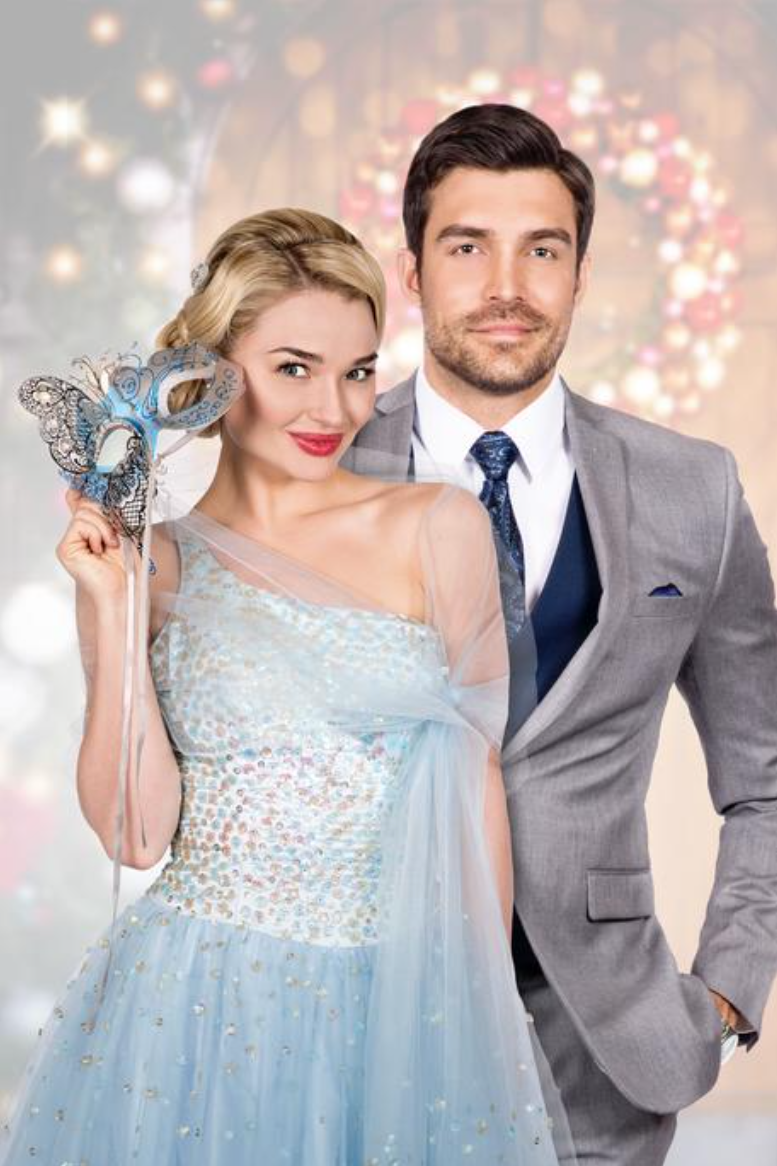 A Cinderella Christmas
Absolutely addicting as a Christmas rom-com, this Christmas Fairytale puts Cinderella in the role of a party planner, great at her job, and caretaker of a pet bunny. Featuring the amazing Emma Catherine Rigby, of Once Upon a Time in Wonderland fame, as Angie. This girl gets the chance to go to the ball and find her perfect match in the form of a billionaire. And of course, since it's a masquerade, lays the framework for a tale of mistaken identities, lots of mix-ups, and a satisfying discovery for everyone in the end. This beautiful Christmas movie is pure fluff, but totally fun.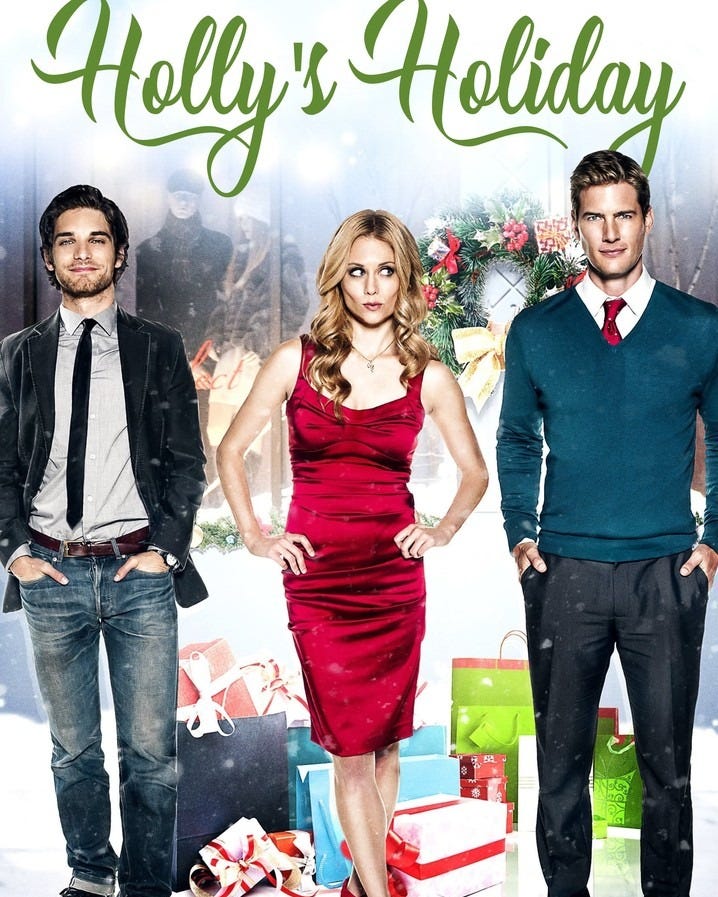 Holly's Holiday
One of our favorite Christmas romances, Holly's Holiday is all about setting up the high expectations for a perfect Christmas and getting it. And then realizing that maybe you didn't want it anyway. Mr. Perfect comes in the form of a mannequin turned perfect boyfriend. And while it takes Holly a bit to realize that perfect may be overrated, the lesson helps her with her ad campaign at work, alongside a cute coworker, who isn't perfect…but may be just what she needs. Funny, romance-y, and a lot of fun.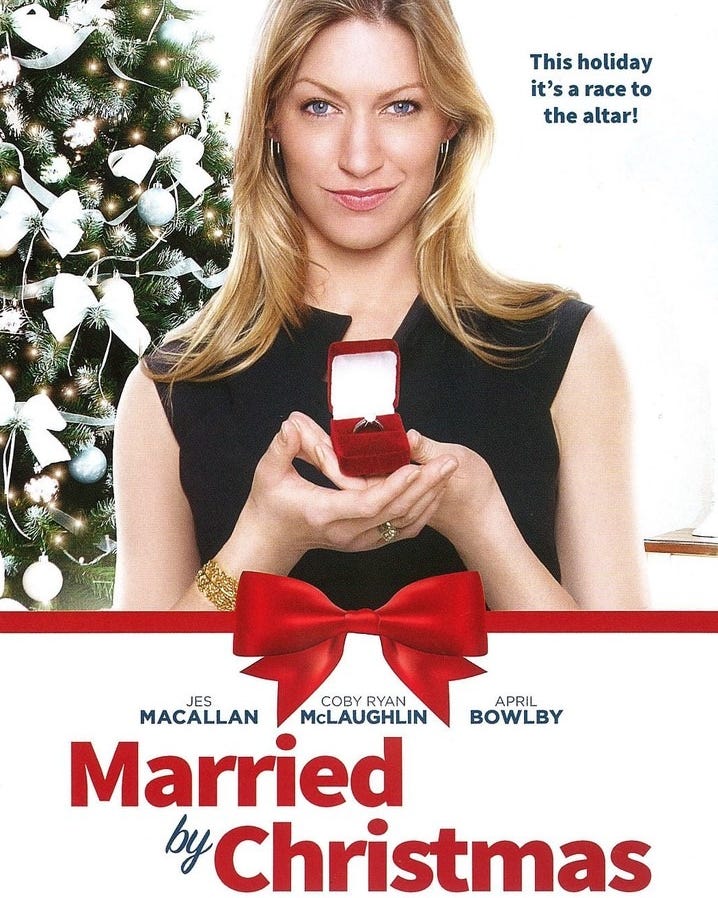 Married by Christmas
A classic rom-com for Christmas this one follows career woman Carrie bent on living her best life as a single lady. That is until she learns that her grandmother's will states that the family company goes to the future husband of the grandaughter who gets married first. This leads to a slew of shenanigans including trying to get married before her sister. A fun cast, this film is all about figuring it out, when everything you thought you had carefully planned, goes out the window.
Christmas Movies for Kids on Hulu
There are quite a few Christmas Movies for Kids on Hulu. Here's the lineup.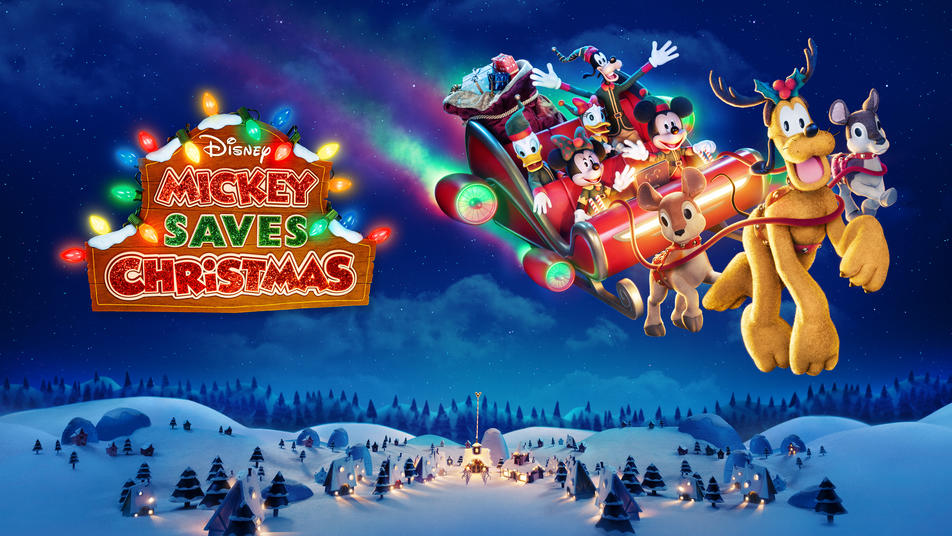 Mickey Saves Christmas
In this stop-motion holiday special, Mickey, Minnie, and their pals attempt to celebrate the perfect Christmas at their snowy cabin. However, when Pluto causes Santa to lose all the presents on his sleigh, the friends travel to the North Pole on a quest to save Christmas and find the true meaning of the holiday. Also available on Disney Plus.
How to Train Your Dragon Homecoming
Taking place just before the emotional epilogue from the last installment of the film trilogy – and 10 years after the end of How to Train Your Dragon: The Hidden World – How to Train Your Dragon: Homecoming opens with Hiccup and Toothless sharing stories of their special relationship with their respective families as they prepare for the Snoggletog Festival. A fun Christmas special for kids.
Christmas Movies For Kids On Hulu 2023
How To Train Your Dragon: Homecoming
How To Train Your Dragon: Snoggletog Log
12 Dog Days Till Christmas
12 Pups of Christmas
5 More Sleeps 'til Christmas
A Christmas Wedding Tail
Curious George: A Very Monkey Christmas
My Dad Is Scrooge
My Little Pony: A Very Minty Christmas
Pixi Saves Christmas
The Secret of the Nutcracker
A Very Brady Christmas
A Very Kitty Cocktail Party
White Elephant Puppy Party
The Nutcracker
Complete List of Hulu Christmas Movies 2023
With over 100 Christmas Movies on Hulu, there is no shortage of things to watch this holiday season. Note that some of these will require the Live TV purchase.
Angels in the Snow
Back to Christmas
Christmas Belle
The Christmas Calendar
A Christmas Carol (2019)
Christmas Crush
Christmas Cupid
A Christmas Hero
Christmas in the Heartland
A Christmas Kiss II
A Christmas Movie Christmas
Christmas on Holly Lane
Christmas Perfection
A Christmas Solo
A Christmas Switch
Christmas With the Andersons
A Cinderella Christmas
Dear Santa
Desperately Seeking Santa
A Dogwalker's Christmas Tale
Every Other Holiday
Ghosting The Spirit of Christmas
Girlfriends of Christmas Past
The Great American Baking Show: Holiday Edition
Happiest Season
The Heart of Christmas
The Holiday
Holiday In Handcuffs
Holidaze
Holly's Holiday
Jingle All the Way
The Jinkx & DeLa Holiday Special
London Mitchell's Christmas
The Man Who Invented Christmas
The March Sisters At Christmas
Married By Christmas
The Mistle-Tones
My Santa
A Nanny For Christmas
A Nasty Piece Of Work
Naughty & Nice
No Sleep Til Christmas
A Puppy For Christmas
Rodeo and Juliet
Same Time Next Christmas
Santa Baby 2: Christmas Maybe
Santa's Little Helpers
Second Chance Christmas
Snow
Snow 2: Brain Freeze
So This Is Christmas
The Truth About Christmas
A Winter Wedding
Miracle on 34th Street
Christmas Vacation
Jingle All the Way
Elf
Santa Baby 2: Christmas, Maybe
The Holiday FixUp
Christmas Movie Magic
A Merry Friggin Christmas
The Enchanted Christmas Cake
All I Want For Christmas
12 Dates of Christmas
Holiday In Santa Fe
Mistletoe in Montana
Saying Yes To Christmas
Secretly Santa
Snowglobe
Streaming Christmas Movies on Hulu
There you have it. Hopefully, this post has helped you find good movies to watch right now. With newly released streaming movies, there is plenty to watch on Hulu. Take a look at all the Hallmark Now Christmas Movies, Hallmark Christmas Movies, Christmas films on Netflix, and more in our New Christmas Movies for 2023 post.
Rochelle Mariah is a writer, designer and photographer with an MLIS in Information Science and a B.S. in Arch and Design. Determined to make Planning a DIY Disney Vacation easier she makes lots of lists and drinks lots of coffee. When not designing apparel at Polka Dot Pixie Shop, she's watching old movies and planning the holidays. She has been traveling to Disney destinations since 2010.