No holiday season would be complete without Disney Christmas Shows filled with Christmas Mishaps, Believing in Santa, and sappy Family Get-togethers that honor the season. And since we pretty much just want a complete lineup of Christmas Shows on Disney Plus to watch, we pulled together all our favorite shows from classic and new Disney Channel Christmas Episodes alike.
All images in this post courtesy of Disney Channel/ Walt Disney Company
What to Watch on Disney Plus for Christmas
So, you know we love our Disney Channel Christmas shows and movies. We absolutely can't get enough of seasonal shows when they come around, and being able to find oh so many of these on Disney Plus has been such a bonus! With a bunch of Christmas crossover episodes, you can find featuring Jessie to our favorite new classic, Duck the Halls, there are TONS of things to watch this holiday season, courtesy of the Disney Channel. So grab our Christmas Movie Bingo and our list of favorite Disney Christmas Movies to watch this holiday and dig into our newest list of Disney things to watch for the holidays. and of course, you can check our quick list of the Disney Plus Christmas Movies to Watch. If you don't have Disney Plus or are debating, be sure to read our Is Disney Plus Worth It? post.
Disney Channel Christmas Shows on Disney Plus
Disney Channel Christmas Episodes originally aired on the Disney Channel feature some of the best characters in Disney Channel history. The Jessie Christmas Episode makes us want to be home with family, while the Suite Life with Zack and Cody makes us want to check in at the Tipton. You can catch holiday episodes of Wizards of Waverly Place, Bunk'd, and even That's So Raven. From the Hannah Montana Christmas Episodes to Duck the Halls with Mickey, we're rounding up all our favorite Disney Channel Christmas classics for your holiday watchlist.
A.N.T Farm
Season 1 Episode 19 SANTa's Little Helpers
Season 3 Episode 15 silANT night
Austin and Ally
Austin and Ally Christmas episodes are all about mishaps and mayhem and misunderstandings!
Season 2 Episode 6 Austin & Jessie & Ally All-Star New Year (Part 1 of 2)
Season 3 Episode 5 Mix-Ups and Mistletoes
Season 4 Episode 18 Santas and Surprises
Big City Greens
Season 2 Episode 4 Green Christmas
Boy Meets World
Boy Meets World Christmas Episodes capture the true spirit of the holidays every time!
Season 1 Episode 10 Santa's Little Helper
Season 4 Episode 11 Easy Street
Season 5 Episode 11 A Very Topanga Christmas
Season 6 Episode 11 Santa's Little Helpers
Bunk'd
Who woulda thought Christmas would happen at Summer Camp? Well, these kids don't let anything ruin the holiday season. Bunk'd can be found on Netflix and the Disney Channel.
Season 1 Episode 9 Secret Santa
Season 2 Episode 11 How the Griff Stole Christmas
Season 4 Episode 15 Summer Winter Wonderland
Chip and Dale Park Life
Season 2 Episode 25 Chip and Dale Park Life Christmas Special *NEW*
Darkwing Duck
Season 1 Episode 41 It's a Wonderful Leaf
Dog with a Blog
Dog with a Blog Christmas Episodes can be found on Disney Channel. Even with a bit of a cult following Dog with a Blog is not yet on Disney Plus.
Season 1 Episode 6 Bark! The Herald Angels Sing
Season 2 Episode 7 Twas the Fight Before Christmas
Season 3 Episode 6 Stan Steals Christmas
Ducktales ( Reboot)
A Ducktales Christmas episode is all we really need to get through the holidays. Add in a little Christmas Carol love and we're sold!
Season 2 Episode 6 Last Christmas!
The Emperor's New School
The Emperors New Groove Christmas Cartoon is a fun watch if you're going through this list and perfect for Kuzco fans.
Season 2 Episode 12 A Giftmas Story
Even Stevens
Even Stevens is one of those classic Disney Channel shows from the olden days that we find oddly hilarious! Check out Shia LeBouf in all his Disney fame in this Even Stevens Christmas Episode.
Season 1 Episode 15 Heck of a Hanukkah
Gabby Duran and the Unsittables
Season 1 Episode 8 It's Christmas Gabby Duran
The Ghost and Molly McGee
Season 1 Episode 10 Festival of Lights / Saving Christmas
Season 2 Episode 18 White Christmess/Perfect Day *NEW*
Girl Meets World
Girl Meets World Christmas Episodes are a staple in our house for the holiday season…just like Boy Meets World, you can always learn a lesson or two.
Season 1 Episode 16 Girl Meets Home for the Holidays
Season 3 Episode 18 Girl Meets a Christmas Maya
Good Luck Charlie
Good Luck Charlie was made in the heyday of Disney Channel being the coolest thing ever. Post Hannah Montana this show even got it's own Christmas movie!
Disney Channel Movie: Good Luck Charlie it's Christmas
Season 1 Episode 24 & 25 Snow Show Part 1 and 2
Season 3 Episode 21 A Duncan Christmas
Hailey's on It!
Season 1 Episode 20: We Wish You a Merry Chaos-mas *NEW*
Hannah Montana
Hannah Montana Christmas episodes bring us right back to being a kid again! With all those middle school feels and weird lessons that get put into Disney Channel Christmas episodes.
Season 3 Episode 5 Killing Me Softly With His Height
Season 4 Episode 5 It's the End of the Jake as We Know It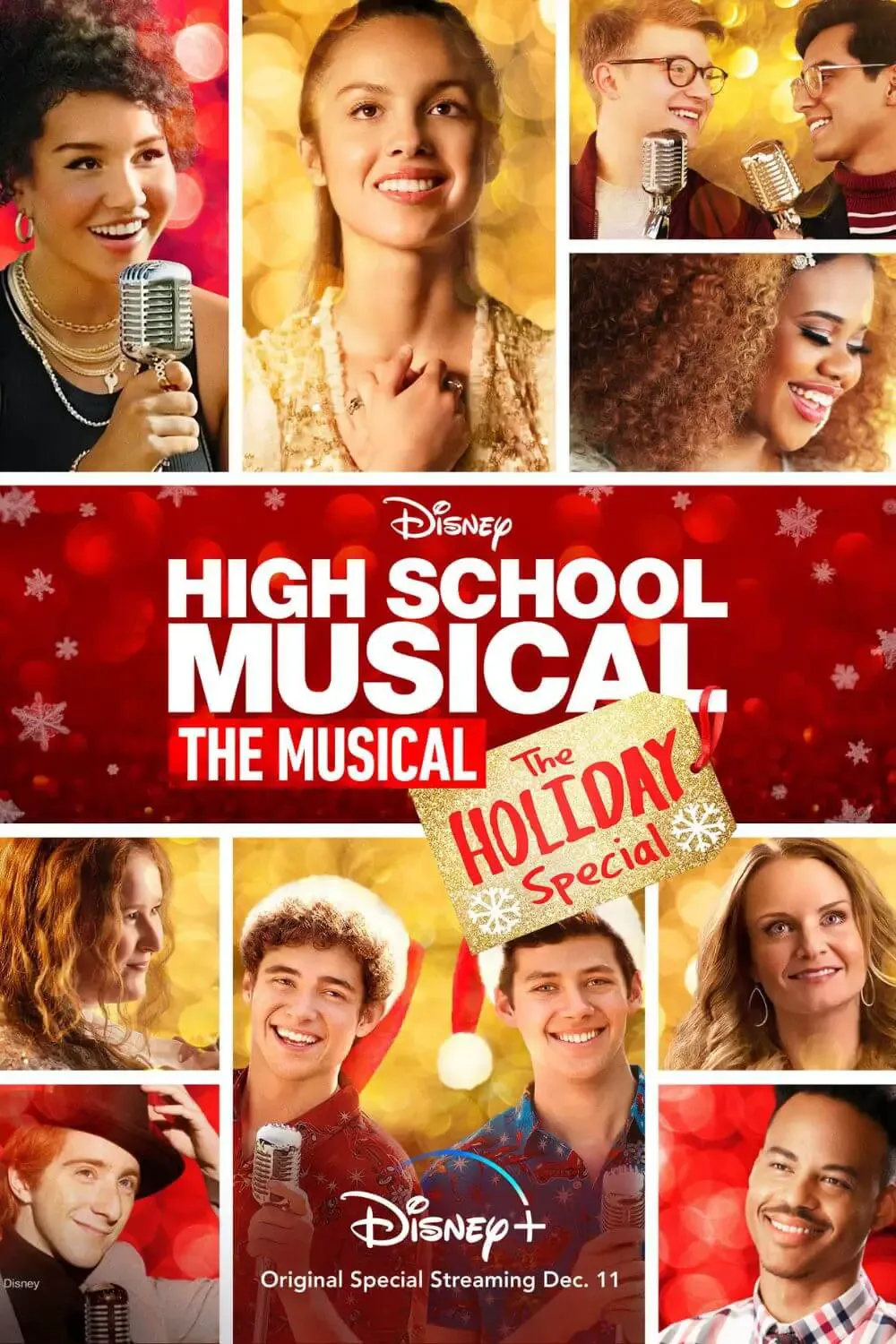 High School Musical The Musical the Series
Season 2 Episode 11: The Holiday Special
Season 2 Episode 1 New Year's Eve
Jessie
Ahhh, loads of Jessie Christmas Episodes with crossovers, of other Disney Channel shows. What's not to like! The more the merrier.
Season 1 Episode 8 Christmas Story
Season 2 Episode 6 Austin & Jessie & Ally All Star New Year Part 2
Season 3 Episode 7 Good Luck Jessie: NYC Christmas
Season 3 Episode 26 & 27 Jessie's Aloha Holiday with Parker and Joey
K.C. Undercover
Nobody does the holidays like Zendaya. Of course in classic Disney Channel style- these ones have some life lessons to remember.
Season 1 Episode 27 'Twas the Fight Before Christmas
Season 2 Episode 22 Holly Holly Not so Jolly
Kickin' It
Season 2 Episode 24 Oh, Christmas Nuts!
Kim Possible
Call me, beep me…Kim Possible gets a Christmas episode, in between saving the world.
Season 2 Episode 13 A Very Possible Christmas
Lilo and Stitch the Series
If you're up for cuteness overload, catch Lilo and Stitch the series on Disney Plus. So cute.
Season 1 Episode 21 Topper
Lizzie McGuire
Season 2 Episode 20 Xtreme Xmas
Liv and Maddie
Season 1 Episode 10 Fa La La La-A-Rooney
Season 3 Episode 9 Joy To-A-Rooney
Season 4 Episode 6 Cali Christmas-a-Rooney
Mickey Shorts
Finally one of our favorite Mickey Christmas shows is avaialble on Disney Plus! Duck the Halls follows Donald Duck, bent on staying with Mickey for the holidays, instead of migrating south with the rest of the ducks.
Season 3 Special Duck the Halls
Phil of the Future
Phineas and Ferb
The Proud Family
Raven's Home
Shake It Up
Sonny with a Chance
Sydney to the Max
That's So Raven
The Suite Life of Zack and Cody
Season 1 Episode 21 Christmas at the Tipton
The Suite Life on Deck
Season 3 Episode 15 A London Carol
Villains of Valley View
Season 1 Episode 20 How the Villians Stole Christmas
Season 2 Episode 18 A Very Villain Christmas *NEW*
Disney Channel Christmas Movies 2023 on Disney Plus
Disney Channel Christmas Movies to watch in 2023 include Christmas Again! and The Naughty Nine. Both are fun films serving up the plight of the modern teen during Christmas Vacation.
Christmas…Again! ( 2021)
After a disastrous celebration, 12-year-old Rowena makes a wish and unexpectedly finds herself reliving Christmas Day over and over again. Can she figure out how to make it stop? You can watch Christmas Again! on Disney Plus!
The Naughty Nine Christmas Movie | November 22, 2023 ( Disney Channel) November 23, 2023 (Disney+ )
This Disney Channel Original Christmas Movie features Winslow Fegley, Camila Rodriguez, Anthony John Joo, Clara Stack, Imogen Cohen, Madilyn Kellam, and Deric McCabe. As a crew of kids who've ended up on Santa's "naughty list," can this group of kids get the presents they deserve? The Naughty Nine on IMDB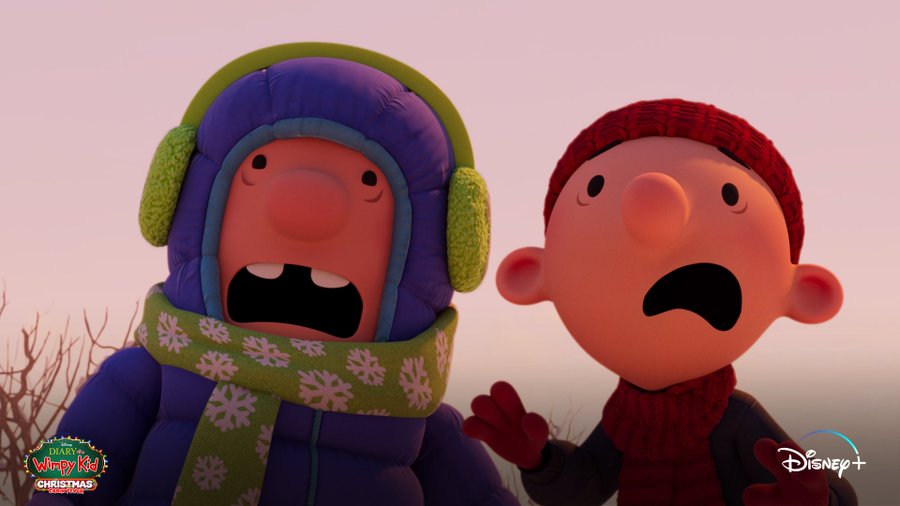 Diary of a Wimpy Kid Cabin Fever | December 8, 2023
The winter holidays are turning out to be especially stressful for Greg Heffley this year. After accidentally damaging a snowplow while making a snowman with best friend Rowley Jefferson, Greg worries he won't get the new video game console he so desperately wants for Christmas. To make matters worse, he gets snowed in with his family, including his grumpy older brother Rodrick and annoying younger brother Manny. Diary of a Wimpy Kid on IMDB.
Disney Plus Christmas Movies
If you've gone through all the best Disney Channel episodes, grab another cocoa and settle in for even more Holiday Movies on Disney Plus! Check out all the best Disney Christmas Movies on Disney Plus, Amazon, and everywhere else. You can check our New Christmas Movies for 2023 post for Streaming Christmas Movies on Amazon, Hulu, Hallmark, and more.
What Christmas Specials are on Disney Plus?
'Twas the Night
A Muppets Christmas: Letters to Santa
Arendelle Castle Yule Log
Babes in Toyland
Beauty and the Beast: The Enchanted Christmas
The Christmas Star
Christmas…Again?!
The Chronicles of Narnia: The Lion, The Witch and the Wardrobe
Decorating Disney Holiday Magic
Disney's Fairytale Weddings Holiday Magic
Disney's A Christmas Carol
Donna Hay Christmas
Duck The Halls: A Mickey Mouse Christmas Special
Ernest Saves Christmas
Frozen
Frozen 2
Full-Court Miracle
Godmothered
Good Luck Charlie! It's Christmas
Guardians of the Galaxy Christmas Special
Hawkeye the Series
High School Musical: The Musical: The Holiday Special
Home Alone
Home Alone 2
Home Alone 3
Home Alone 4
Home Alone: The Holiday Heist
Home Sweet Home Alone (2021)
I'll Be Home For Christmas
Ice Age
Ice Age: A Mammoth Christmas
Iron Man 3
Jingle All the Way
Jingle All The Way 2
Lego Star Wars Holiday Special
Mickey & Minnie Wish Upon a Christmas
Mickey's Christmas Carol
Mickey's Once Upon a Christmas
Mickey's Twice Upon a Christmas
Miracle on 34th Street
The Muppet Christmas Carol
The Nightmare Before Christmas
The Nutcracker and the Four Realms
Noelle
Olaf's Frozen Adventure
One Magic Christmas
Pluto's Christmas Tree
Prep & Landing
Prep & Landing: Naughty vs Nice
Prep & Landing: Operation Secret Santa (Short)
Puppy for Hanukkah
Richie Rich's Christmas Wish
Santa Buddies
Santa Paws
Santa Paws 2
Santa's Workshop
Snow Buddies
The Santa Clause
The Santa Clause 2
The Santa Clause 3
The Santa Clauses
The Small One
The Ultimate Christmas Present
Tim Burton's The Nightmare Before Christmas
While You Were Sleeping
Winnie The Pooh: A Very Merry Pooh Year
What Disney Christmas Shows Have Been Removed from Disney Plus?
If you're lamenting the high price of Disney Plus, and wondering where your favorite Christmas shows have gone, we hear you. While this list is not exhaustive, here are the Christmas movies removed from Disney Plus. Be sure to check the platform before renewing to be sure it has what you're looking for. Check out our Best Christmas Movies on Disney Plus List to see which holiday favorites are still available.
12 Dates of Christmas
Eloise at Christmastime
Have Yourself a Goofy Little Christmas
Recess Christmas: Miracle on 3rd Street
Snowglobe
Snow 1, 2
Disney Channel Christmas Episodes Everywhere Else
Hopefully, you have found some new favorites in this list of Disney Channel Halloween Episodes. Plus, we have a whole lineup of all the Disney Plus Christmas Movies for you to add to the mix! and a Disney Christmas Movie Night to dive into if you're looking for some extra holiday fun! We'll be adding to this list as we gather more episodes to watch for the season. Merry Christmas
Rochelle Mariah is a writer, designer and photographer with an MLIS in Information Science and a B.S. in Arch and Design. Determined to make Planning a DIY Disney Vacation easier she makes lots of lists and drinks lots of coffee. When not designing apparel at Polka Dot Pixie Shop, she's watching old movies and planning the holidays. She has been traveling to Disney destinations since 2010.