Do you have Disney Mom at home just waiting to be pampered on her special day? If so, here are all our favorite things to add to a Disney Mother's Day at home. From a Mother's day tea party to the best Disney Mother's Day gifts. Here is everything you can do to celebrate your Disney Mom on Mother's Day.
Whether you're in the role of mother, trying to make this a fun celebration for you and the family, or in the role of the child trying to find the best ways to make mom feel special. We've got some ideas for you.
A Disney Mother's Day Brunch
Moms are busy. Pretty much all the time! Give your Disney Mom a reason to sit down and take a break. And frankly, the best breaks for us usually include sitting around, with a fancy drink and something tasty. Thankfully, this combination isn't too difficult to pull off. You will mainly just need some of your mom's favorite breakfast foods, and her favorite drinks. And why not make them Mickey-shaped! Check out some of our best Mickey Waffle recipes on the blog to get started.

A Disney Mother's Day Tea Party
Or perhaps a more royal event is more your mom's style. If so then a Mother's Day Tea Party is just as fun! Simply boil some water, grab the best teas, and set up the table. One of our favorite parts about tea parties is the food! And one of our favorite Disney Tea Party recipes comes from the Disney Princess Tea Parties Cookbook. These Bibbidi Bobbidi Blueberry Lemon Blueberry Scones are some of our favorites. Light, buttery, and with real blueberries.
Best Disney Books for Moms
We're always on the lookout for amazing Disney Books. And every Disney mom deserves some tie to dive into a good book. The Meant to Be Novels by Disney Books are fun and frisky and can offer up a true escape to any Disney Mom in need of something fun. Or perhaps your Disney Mom doesn't have time for reading but still needs to take a breather every now and then. Then Winnie the Pooh's Little Things in Life may be exactly what she needs. Knitting with Disney is for any mom looking to add a little more crafting time into life.
But then maybe your mom is more a cookbook collector, in which case there are a few Disney cookbooks we just love! Entertaining with Disney offers up foods and drinks to fill every celebration with a little Disney Magic. Or perhaps a Devilishly Delicious Disney Villains Cookbook is more her style. Both offer up fun foods, inspired by beloved Disney characters and are a great way to add a little more Disney to your Mother's Day. Check out all our favorite books for Disney Adults.
Disney Mother's Day Cards
Grab these PRINTABLE Disney Mother's Day Cards from Disney Australia!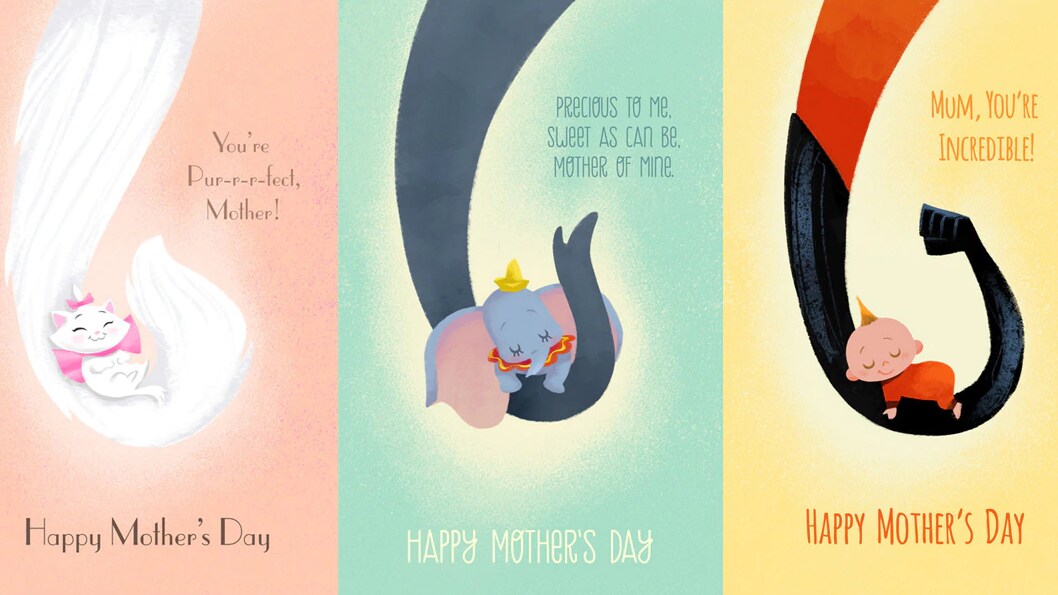 Disney Gifts for Mother's Day
The best Disney Mother's Day Gifts don't have to be complicated. A cute candle, a bracelet, and a homemade mothers' day card. You can even grab Disney Mom Gifts in our shop at Polka Dot Pixie Shop.
Disney Quotes for Disney Moms
We've rounded up the best Disney Quotes from our favorite Disney Moms in Disney films. If you're looking for some inspiration check out our Disney Mother's Day Quotes post.
Here's hoping you have the best Disney Mother's Celebration. And if you're unable to see your mom for the holiday, check out our post on 5 Ways to Celebrate Mother's Day Apart.
Rochelle Mariah is a writer, designer and photographer with an MLIS in Information Science and a B.S. in Arch and Design. Determined to make Planning a DIY Disney Vacation easier she makes lots of lists and drinks lots of coffee. When not designing apparel at Polka Dot Pixie Shop, she's watching old movies and planning the holidays. She has been traveling to Disney destinations since 2010.