In 2023, The Walt Disney Company celebrates its 100th Anniversary. Honoring the birth of everything we know as part of the Disney Legacy today. This celebration is called Disney 100 Years of Wonder. From the early beginnings of Disney's cartoon studio to the creation of Disney Parks, Cruises, and Disney Plus. As a result, we'll be sharing the lineup of anything and everything happening to celebrate 100 years of the Walt Disney Company. Updated September 21, 2023.
The 100th Anniversary of The Walt Disney Company
The world over celebrates 100 Years of the Walt Disney Company in 2023 which promises to be a year of celebration. Likewise, not only to celebrate a century of animation greatness but also to honor all Disney company properties. In other words, don't take your party hat off quite yet. Be sure to keep tabs on all that is happening with #Disney100.
When is the 100th Anniversary of the Walt Disney Company?
The 100th Anniversary of the Walt Disney Company is October 16, 2023, but the Celebration begins on January 1, 2023. Including all franchises currently owned by Disney; Disney Plus, Marvel, National Geographic, Lucasfilm, Disney Parks, Cruises, and more!
Disney 100th Anniversary Social Media
If you're making life more magical with a Disney Vacation, Disney Cruise, or more Disney at home this year, be sure to tag Disney with the 100th Anniversary hashtags below.
All are invited to share their favorite Disney, Pixar, Marvel, Star Wars, 20th Century, and National Geographic memories using #ShareTheWonder and #Disney100. These posts will honor and spotlight the countless memories Disney and its fans have made together over the past century.
Disney100.com Website
Officially the new Disney100 website launches on January 1, 2023. Featuring parks, Disney Plus, movies, D23, news, live shows, and more. Check out the sneak peek now at https://www.disney.com/disney100
Disney100 Once Upon a Studio Special
Disney Once Upon A Studio, a new Original short film, premiering on ABC during "The Wonderful World of Disney: Disney's 100th Anniversary Celebration!" on October 15 at 8/7c.
Disney100 Special Look Super Bowl 2023 Ad
Disney: 100 Years of Wonder ABC Documentary
This Disney company documentary tells the story of Disney from 1923 to today, highlighting the core values and philosophies of the company and all the things that have helped make the Walt Disney Company great along the way.
NEW Oswald the Lucky Rabbit Short
The first new Oswald the Lucky Rabbit Short since 1928, the Walt Disney Company brought in animator Eric Goldberg and produced by Dorothy McKim to help kick off the 100th Anniversary. Check it out on Disney Plus and YouTube!
Disney Character Milestone Anniversaries | 2023
D23 will celebrate several milestone anniversaries with in-person events in 2023 for fan-favorite films, honoring the films here. You can even head to the Hocus Pocus 30th Anniversary Black Flame Ball in Salem, MA.
Finding Nemo (20th)
Mulan (25th)
Who Framed Roger Rabbit (35th)
Hocus Pocus (30th)
Tim Burton's The Nightmare Before Christmas (30th)
Halloweentown (25th)
It all Started, with Alice
While 1923 saw several failures for Walt Disney, including the bankruptcy of his Kansas City cartoon studio. It wasn't until Walt listened to his brother Roy and joined him in Hollywood that things really began to take shape. With hopes of combining animation and live-action, Walt Disney found his first project. The Alice cartoons that launched Walt's career in Hollywood can be found in the Walt Disney Treasures collection. The Disney Rarities- Celebrated Shorts from 1920-1960 includes many of Walt's early works. Surely we'll be getting glimpses of these and more Disney classics as part of the celebrations. But above all, we'll remember that it was actually all started by a mouse.
100th Anniversary Plans for Disney 100 Years of Wonder
What happens when you celebrate a century of the most magical company on Earth? Remembering that it's the entire company and not just the parks, Disney fans can honor almost 800 Disney Films released by the Walt Disney Company. A combination of animation, and live-action, Disney's franchises like Star Wars, Marvel, and Pixar have truly made it one of the greatest companies on the planet. And don't forget its partnership with Studio Ghibli! Here is the lineup of Plans for the 100th Anniversary of the Walt Disney Company.
Disney 100 Logo and New Film Logo
In honor of the 100 Years of Wonder, Disney films feature a new Disney Castle featuring Tinker Bell flying over a riverside village, and up a waterfall to a platinum Disney Castle. This film introduction clip includes a new composition of "When You Wish Upon a Star" by Christophe Beck. This new beginning debuted with Disney's Strange World, released on Thanksgiving 2022. And is to be included in all Disney films throughout 2023.
Disney100 New Year Rockin' Eve Kickoff Event
As the largest global celebration ever honoring the 100th Anniversary of the Walt Disney Company, the official Kick-Off of this event Begins on Dick Clark's New Year's Rockin' Eve with Ryan Seacrest on ABC on January 1, 2023.
Walt Disney Archives Disney Centennial Exhibition
As keeper of the company's history, the Walt Disney Archives is home to memorabilia of all sorts. The Walt Disney Archives will debut a brand new exhibit that celebrates The Wonder of Disney from 1923 to the Present and into the Future at The Franklin Institute in Philadelphia on February 18, 2023. Other North American stops include Chicago, Kansas City, and Munich, Germany. More cities will soon be announced. Featuring art, memorabilia, film props, costumes, and more this exhibit will display and honor "one-of-a-kind treasures" never before seen. All within a 15,000-square-foot exhibit
"It's thrilling to bring Disney's crown jewels – art, memorabilia, costumes, props, and one-of-a kind treasures – to public view – and to explore the story of one of the world's most creative entertainment companies. Many of these objects have never before been seen outside the company's archival, animation, and Imagineering vaults." – Historian and Co-Curator Paula Sigman Lowery
Step in Time Exhibit at D23 EXPO presented by the Walt Disney Archives
Presented at the 2022 D23 EXPO, the Step in Time exhibit highlights important milestones throughout Disney's rich history.
As part of the kick-off to Disney100, this chronological exhibition will showcase Walt Disney Archives historical assets like never before with immersive, themed environments from animated shorts, films, and film premieres, as well as television productions and Disney Parks favorites, including Snow White and the Seven Dwarfs, Mary Poppins, Tron, and Walt Disney World Resort's Haunted Mansion."
Disney's New Film "Wish" | November 22, 2023
Wish is a new "epic original animated musical inspired by the studio's legacy of films. This film features new songs by Julia Michaels and a magical story that looks ahead to the next 100 years of the Disney company. Set in Rosas, a fantasy kingdom where wishes come true, we'll see a variety of animation styles. Check out the Wish release date and all the plans for New Disney Films in 2023 and on Disney Plus.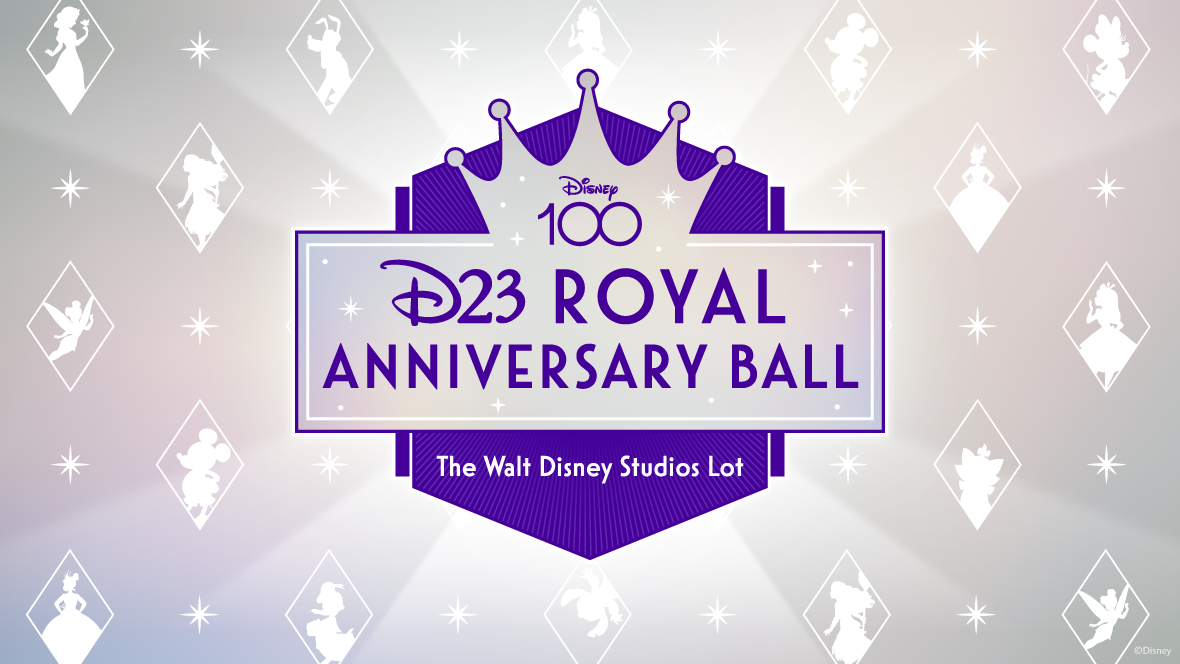 Disney 100th Anniversary Events
Disney100 D23 Royal Anniversary Ball | October 15, 2023 Walt Disney Studios Lot, Burbank California
By royal decree, D23: The Official Disney Fan Club invites the greatest Disney fans in the world to an unforgettable Royal Ball at The Walt Disney Studios—celebrating 100 years of Disney! Gold Member Tickets: $199 (+$7 Processing Fee) per ticket.
Tickets go on sale on Tuesday, September 12, 2023, at 10:00 a.m. PT/ 1:00 p.m. ET in the link provided.
This gilded extravaganza will be the ultimate commemoration of this auspicious anniversary, marking 100 years of magic and enchantment. A royal court of Disney favorites are delighted to host you and your own royal court at the place where the magic is meticulously curated for fans around the world, just like you. On an evening under a sparkling sky, you are invited to look up at the stars as they guide you to a celebration where your fairytale wishes are fulfilled. Register for the Event.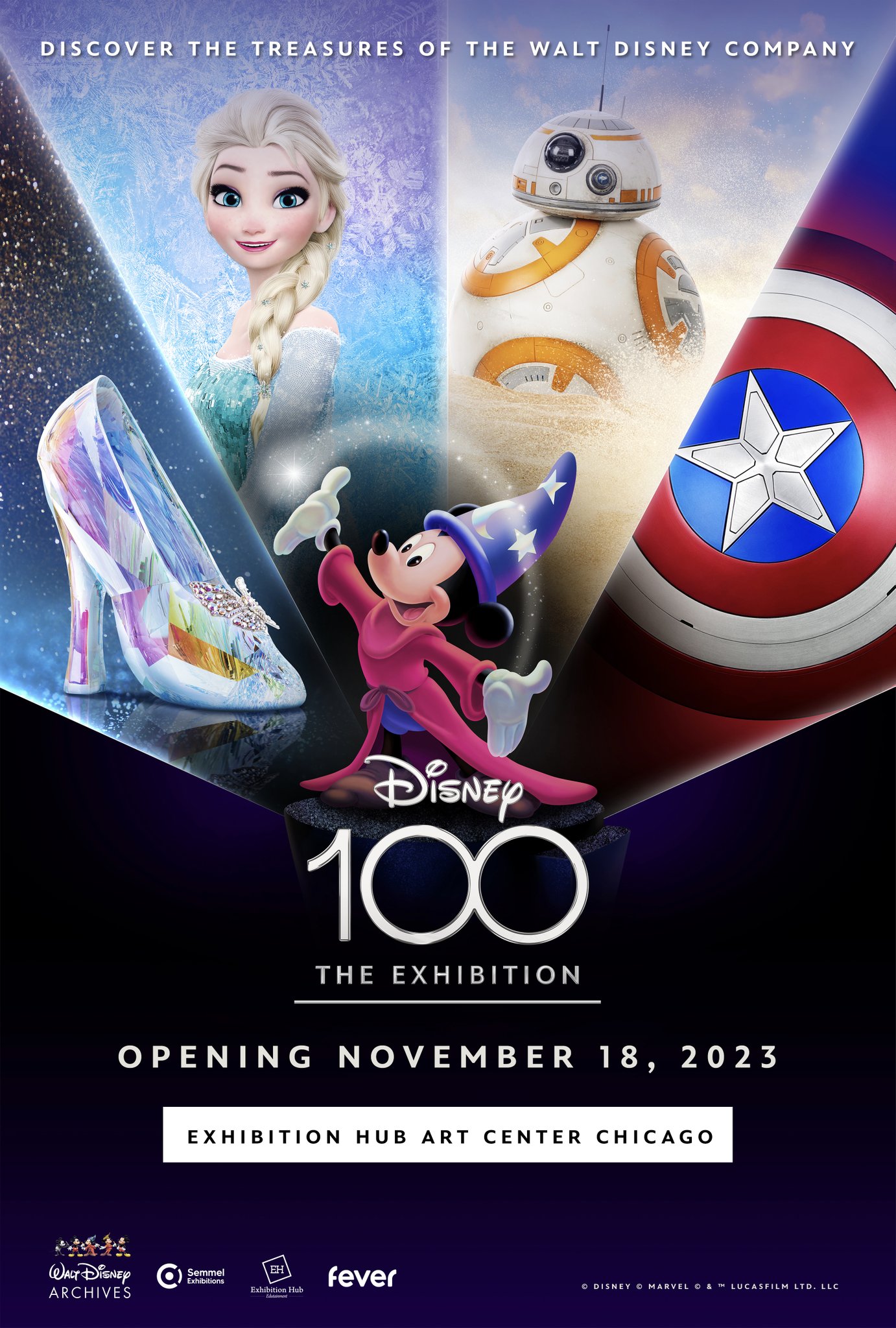 Disney100 The Exhibition | Exhibition Art Hub Center Chicago, Illinois November 18, 2023
The Exhibition is coming to Chicago, Illinois, the birthplace of Walt Disney! The exhibition will open at the Exhibition Hub Art Center Chicago on November 18, 2023! The waitlist is now open and tickets go on sale September 14, 2023! Buy Tickets for the Disney100 Exhibition in Chicago.
DESTINATION D23 | Walt Disney World 2023- SOLD OUT
D23 returns to The Most Magical Place on Earth for the biggest Disney fan event of 2023 at Disney's Contemporary Resort, September 8–10, 2023 to celebrate 100 years of The Walt Disney Company. Fans will be among the first to hear exciting announcements and see sneak peeks from the many worlds of Disney—and relive favorite memories with behind-the-scenes stories, special guests, and so much more at this epic event.
THE WALT DISNEY STUDIOS OFFICIAL TOUR | Presented by D23- SOLD OUT
D23 welcomes guests to The Walt Disney Studios Lot, giving members the opportunity to visit the world-famous studio in Burbank, California. These tours offer fans a unique perspective on historic moments from Disney films, television series, and theme parks—along with the chance to look inside the Walt Disney Archives and draw inspiration from Walt Disney's office suite. Check the D23 Events Website for Tickets.
Disney Hercules The Musical | Begins February 16, 2023
The inspired Disney animated film is now a mythical new musical adventure. HERCULES is the divinely funny story of an honest-to-Zeus hero on a quest to discover who he is and where he belongs. Is love a possibility too? Oh, Hades, yes! The roof-raising score by Alan Menken and David Zippel features all the hits you love from the film, including the Oscar-nominated song "Go The Distance," as well as "Zero to Hero" and "I Won't Say (I'm in Love)," along with new songs written for the stage. Read more.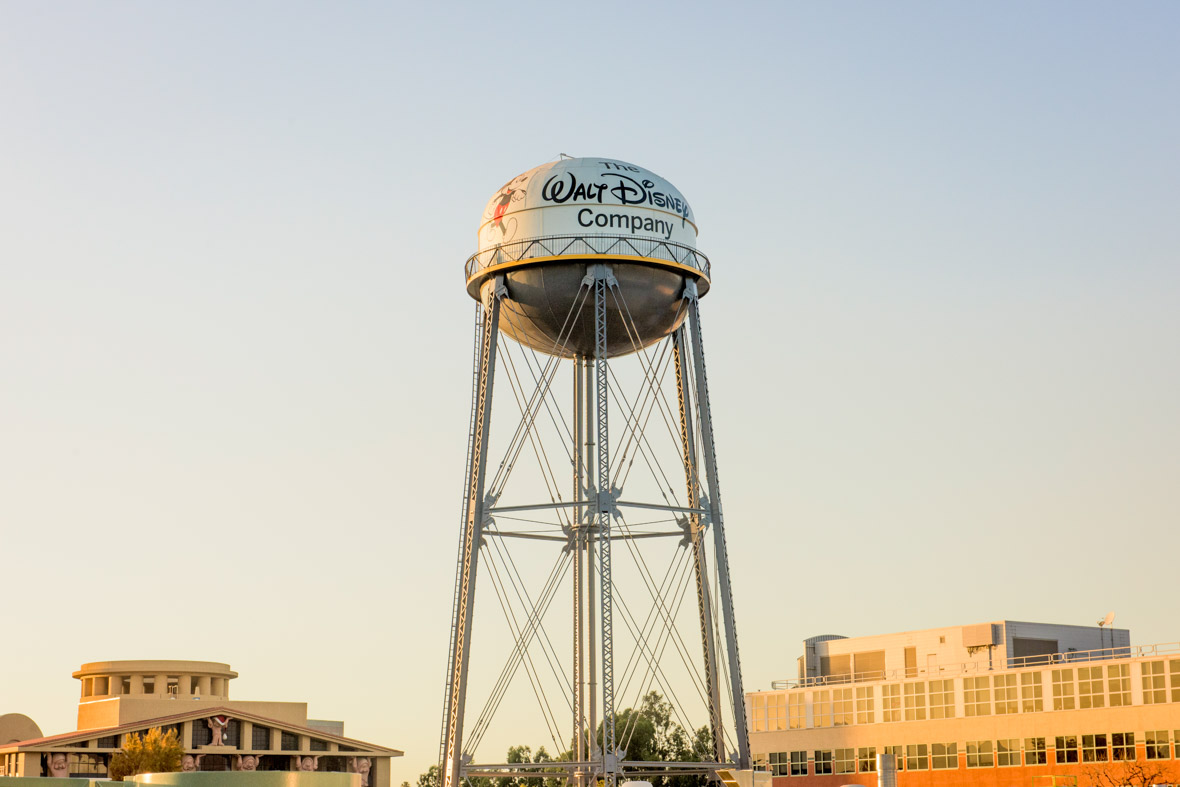 D23 NIGHTS WITH DISNEY THEATRICAL | Select Cities
D23 and the North American tours of Disney's The Lion King and Disney's Frozen are excited to offer D23 Members exclusive theatrical experiences, including special ticket packages and post-show Q&As with cast members. D23 will kick off these dazzling theatrical events in Los Angeles with The Lion King and in Costa Mesa, California, with Frozen, and offer an exclusive experience with the cast during the highly anticipated opening of Disney's Hercules at the Paper Mill Playhouse in New Jersey on March 18. See Details.
Disney Animation Immersion Experience | Select Cities
For a limited time, you can get up close and personal with your favorite Disney characters digitally. Check out the Disney Animation Experience and Select your city to see showtimes.
100th Anniversary Plans for Disney Parks
How are Disney Parks Celebrating 100 Years of Wonder?
Remembering that the Disney Parks are nowhere near 100 years old, the parties in the parks may not be as big as we expect. The 100th Anniversary of the Walt Disney Company will still show up in all sorts of ways in the parks. From new nighttime spectaculars to merchandise and snacks. Here is what's happening in Disney parks across the globe.
Disney's Actual 100th Anniversary is October 16, 2023
The official founding date of the Walt Disney Company, October 16, 2023, is sure to have some hoopla in the Disney Parks. Whether it be with exclusive snacks, merchandise, or even a show, an October 2023 vacation will get you close to the action for this celebration. Check out everything that is happening at Walt Disney World in 2023.

Mickey and Friends Platinum 100th Anniversary Outfits
As part of the celebration, Mickey and friends across the world are sporting Platinum outfits in honor of the anniversary, that match the new Platinum logo. The "Platinum" theme is designed to "reflect the optimism and creativity of Disney."
Disneyland 100th Anniversary Plans
Starting late January 2023 at Disneyland Resort, there are special limited-time celebrations taking place throughout the whole year. Including live entertainment, new snacks, merchandise, and more. In theme with the 100th Anniversary look, you can find platinum-infused décor, and new sparkling looks for Mickey Mouse, Minnie Mouse, and their pals.
Disneyland Castle 100th Anniversary Decorations
Celebrating Wonder and Magic, the Sleeping Beauty Castle hails in the 100th Anniversary year in style. Complete with platinum banners, buntings, and a cabochon featuring the three Good Fairies from Sleeping Beauty. Decorated with pixie dust, the castle also gets two water fountains and a wishing star flying from the tower spire.
Wondrous Journeys Fireworks Show | Disneyland
The newest fireworks show in the works for Disneyland Park is Wondrous Journeys. With a nod to all 60 of Disney's Animation films to date. This magical fireworks show features a brand new song called "It's Wondrous," and replaces Disneyland Forever, which had been running since May 2015. This new show covered Main Street, Sleeping Beauty Castle, "it's a small world", and Rivers of America into a painted canvas throughout the show.
World of Color One | Disney's California Adventure Park
Coming also to Disney's California Adventure is a new nighttime spectacular, special to the 100th Anniversary, to "showcase all new inspiring stories told through new favorite characters." This show features a brand new song called "Start a Wave," sharing the impact a single drop of water can make. A single action. Sure to inspire.
Mickey and Minnie's Runaway Railway Attraction | Disneyland
Opening early, Mickey and Minnie's Runaway Railway is set to open on January 27th in the El CapiTOON Theater! Toontown is still under construction until spring 2023, but special for the anniversary, this ride is opening early! Featuring Mickey and Minnie on their way via train to a picnic, guests can experience all the shenanigans of Goofy the train conductor, and the magical detours along the way.
Magic Happens Parade | Disneyland
Returning in Spring 2023 the Magic Happens Parade floats into Disneyland Park with characters from Sword in the Stone, Moana, Chip and Dale, and more!
New Disney 100th Anniversary Merchandise at Disneyland
Featuring classic Disney characters, you can find a slew of NEW Disney 100th Anniversary merchandise at Disneyland. Including new apparel, a jersey, and a Mickey popcorn bucket. Specially marked with the Disney100 logo for the celebration.
New 100th Anniversary Snacks | Disneyland
Rolling out the 100th Anniversary Snacks in all forms, Disneyland Resort serves up caramel apples, brownies, cookies, purple and silver churros, and more. check out all the Disneyland 100th Anniversary Snacks to try through 2023.
Walt Disney World 100th Anniversary Plans | September 22- December 31, 2023
While Disneyland has been celebrating its 100th Anniversary since January, Walt Disney World gets a delayed start with a late September date. This could be to align with other "Late Fall" surprises like the Opening of Journey of Water and the EPCOT Communicore spaces.
EPCOT to host the Disney100 Celebration at Walt Disney World
As the hub of Disney's 100th Anniversary in 2023, guests can expect a variety of things to be happening over at EPCOT, later this year. As the park that has had the most changes, there are plenty of new things to see for the 100th Anniversary of Disney.
Mickey and Minnie Platinum Outfits | EPCOT
In line with all things platinum, Mickey and Minne get extra sparkles for the 100th anniversary of the Walt Disney Company. This dazzling Disney power couple will be available for meet and greets later this year at Walt Disney World.
Soon to be found at the new Mickey and Friends Meet and Greet building, guests can get photos of Mickey and Mickey and friends in all their platinum splendor. A special offering for the 100th Anniversary of Disney, this experience is only for a limited time. September 22, 2023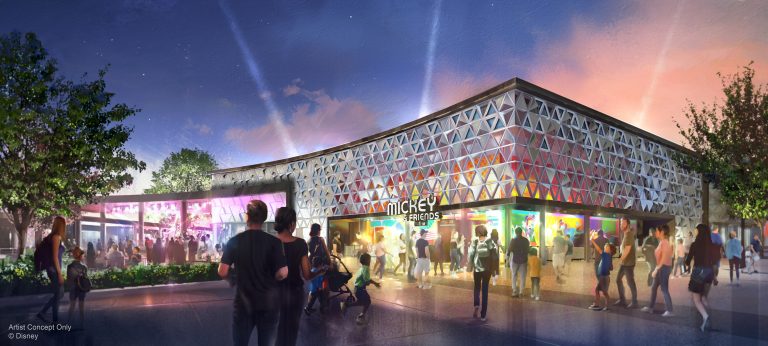 Dreams Point "Walt the Dreamer" Statue | EPCOT
Originally shared at D23 EXPO 2019 as part of the EPCOT re-imagining, this amazing bronze statue features the Walt Disney Company's biggest dreamer, Walt Disney himself. Situated right behind Spaceship Earth, this statue offers a great photo spot and a timeless way to honor Walt during EPCOT Park's 40th Anniversary. Opening 2023
New Nighttime Spectacular | EPCOT
Announced for EPCOT is a new nighttime spectacular show replacing Harmonious running through the 50th Anniversary celebrations until March 31, 2023. Then a temporary EPCOT Forever will be shown until this new show is complete. This new show aims to unite guests around the world, with hearts all as one, complete with a wide array of songs from the Disney songbook. The show takes place in World Showcase Lagoon. Opening Late 2023
Spaceship Earth Illuminations Show | EPCOT
Equipped with the points of light from the Beacons of Magic Show, the Spaceship Earth ball lights up with a variety of special shows throughout the year. It has been shared that the 100th Anniversary also includes a new lighting display on this park icon. Set to debut later this year. September 22, 2023
Figment Meet and Greet | EPCOT
New to the character lineup is Figment! Coming soon to EPCOT park, this beloved dragon is ready for hugs. Opening 2023
Disney100 Mural at World Celebration | EPCOT
Be sure to check out the all-new mural at the heart of World Celebration to see how many of the 100 Disney characters you can find in the incredible scene. This expansive mural located along the walkway to World Showcase will feature some of your favorite characters hidden throughout the various neighborhoods of EPCOT. The rest of World Celebration will also be decked out in Disney100 platinum banners and décor. September 22, 2023
Disney100 Popcorn Bucket | EPCOT
Grab this purple metallic Mickey Balloon Premium Popcorn Bucket available only at EPCOT during Disney100. September 22- December 31, 2023.
Disney100 Backdrop Photo Op | All Four Parks & Disney Springs
Commemorate the celebration with a snapshot of yourself and/ or your family in front of this once-in-a-lifetime photo backdrop. Set up in all four Walt Disney World theme parks, and Disney Springs, this is a great way to grab a Photographic Free Disney Souvenir on your next trip.
Disney100 Character Surprise Visits | Select Disney Resorts
If you see this bus, you may be in for a Disney Character surprise! Popping in at select Disney Resorts, you may see beloved characters ready for hugs and photos. Just another reason we always recommend Staying on Property at Walt Disney World.
New 100th Anniversary Snacks | Walt Disney World
Beginning May 1, 2023, NEW Disney 100th Anniversary Snacks arrive at Walt Disney World. Check out all the New Snacks at Walt Disney World for the master list!
Disney100 Petite Cake at Amorettes Patisserie Disney Springs
Mickey & Minnie Chocolate Covered Apples from the Main Street Confectionary at Magic Kingdom Park
Mickey & Minnie Mousse Dome Cakes from Amorette's Patisserie at Disney Springs,
Vintage Mickey & Minnie Sugar Cookie at Carousel Coffee, now open inside Disney's BoardWalk
Disney 100th Anniversary Popcorn Bucket
This NEW Disney100 Popcorn Bucket features Mickey and Minnie and friends in their platinum best. Complete with refillable popcorn perks. This will be available across the parks.
Disney100 Cinderella Premium Bucket | Magic Kingdom
Exclusive to Magic Kingdom you can grab this Disney 100 Cinderella Carriage Popcorn Bucket for a limited time! Perfect to ring in this dazzling anniversary!
NEW Disney Resort Mugs for Disney 1ooth Anniversary
Finally, the moment we've all been waiting for. NEW Disney Resort Mugs have arrived! Colored in the classic purple and platinum of the season, this mug features Mickey and Friends in their Platinum best. You can grab the Disney100 Resort Mugs at any Disney Resort.
Hong Kong Disneyland 100th Anniversary Plans
Walt and Mickey Statue | Hong Kong Disneyland
As part of Disney's 100th Anniversary Worldwide, Hong Kong Disneyland is installing a brand new statue featuring Walt Disney and Mickey.
Disneyland Paris 100th Anniversary Plans
Polka Dot Day | Disneyland Paris
January 22nd marks a day we all honor Minnie Mouse, Polka Dot Day. And at Disneyland Paris, guests can catch Minnie in a BRAND NEW performance at Walt Disney Studios Park.
Shop Walt Disney Company 100th Anniversary Merchandise
A variety of collections featuring the platinum logo, Disney100, and classic and current designs are part of the celebration. Across all areas of Disney products including Disney Publishing, Disney Games, and Products. Available at shopDisney.com.
Disney Legacy Animated Film Collection | Released November 14, 2023
Today, at the Destination D23 Walt Disney Studio Showcase event in Orlando, Disney revealed details on a brand new "Disney Legacy Animated Film Collection", featuring 100 animated films from Disney, Walt Disney Animation Studios, and Pixar, packaged together in a beautiful hardbound, self-standing three-volume set that unfolds into your own storybook.
As part of Disney's 100th anniversary celebration, a limited number of sets will be available for pre-order only on Walmart.com beginning September 18th, each including a numbered certificate of authenticity. The box set will be coming out on November 14th 2023. The set includes 100 animated titles on Blu-ray, digital codes for each title, and features the original theatrical poster art, a collectible lithograph from Disney Animation's all-new musical comedy Wish, and a collectable crystal Mickey ears hat with exclusive Disney 100 engraving.Check out the Full List of Movies in the Disney 100 Legacy DVD Box Set.
Samsung The Frame- Disney100 Edition
By far the coolest things we've seen this Disney100 Picture Frame TV from Samsung, honors Disney enthusiasts to the max! With three sizes to choose from, this Frame television comes with 100 pieces of art from some of Disney's greatest stories, only on The Frame – Disney100 Edition model. A Commemorative Platinum bezel with the Disney100 logo, is included with every purchase. A Disney's Mickey Mouse-inspired SolarCell Remote. And the ability to Showcase your own digital gallery anytime. through Art Mode. So cool.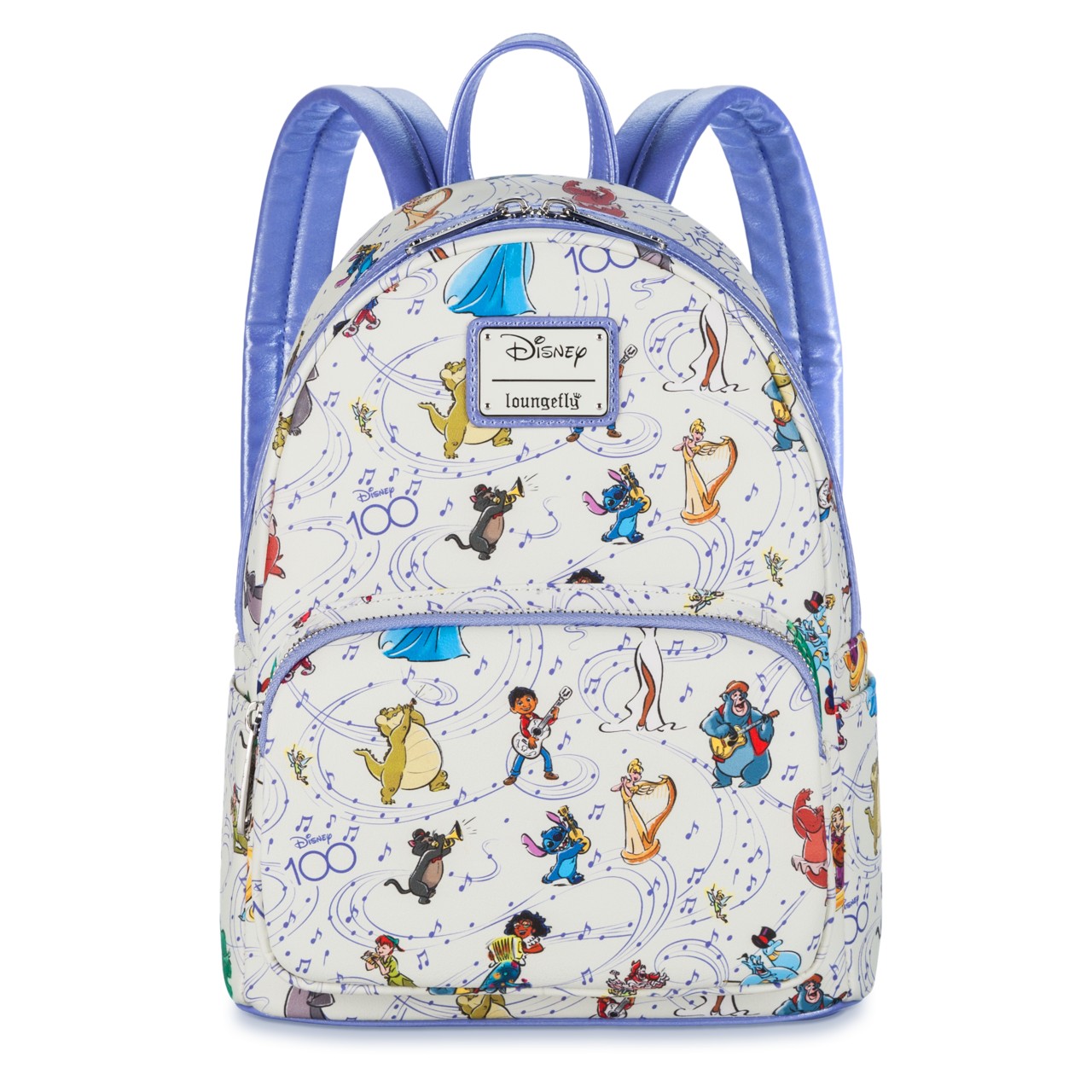 Disney100 Special Moments Collection
New to the Disney100 merchandise lineup, this collection features characters celebrating 100 years of music and wonder. Check out the full collection at shopDisney.com.
Disney100 Vera Bradley Collection
Featuring classic Disney characters on quilted fabric, you can grab all the new Disney100 Vera Bradley Collections on shopDisney.com and at Disney Springs. Shop Disney 100 Vera Bradley.
Disney100 x Tommy Hilfiger Collection
Featuring everyone's favorite mouse in preppy designs, the newest collection is by iconic designer, Tommy Hilfiger. Featuring jackets, skirts, tees and more. Shop Disney Tommy Hilfiger Collection.
Disney 100 Mickey Mouse and Friends Bag by Dooney and Bourke
New to the Disney Dooney and Bourke Collection is the 100th Anniversary Bag celebrating 100 Years of the Wonder with the Walt Disney Company. Featuring an ivory and silver theme, this bag includes Mickey, Minnie, Pluto, Chip and Dale, Donald, and Daisy. Available at shopDisney.com.

Disney Platinum Collection
This collection includes the first Disney100 Mickey ear hat and headband, featuring a platinum drip. This collection has products added to it throughout the year and is available on shopDisney.com. Complete with new ornaments, Loungefly bags, jerseys, tumblers, apparel and more. Shop the Disney 100 Platinum Collection on shopDisney.com.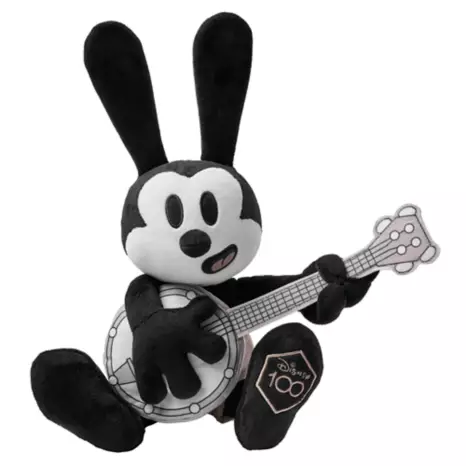 Oswald the Lucky Rabbit Disney 100 Collection
Honoring the bunny who started it all, the Oswald collection features the rambunctious and playful Oswald. Walt Disney and Ub Iwerks first debuted this little guy in 1927 in Trolley Troubles. And of course, quite a bit of the merchandise for Disney100 brings that playful chaos with it. Shop the Oswald the Lucky Rabbit Collection on shopDisney.com
Disney 100 Decades Collection
One of the most fun collection initiatives in the Disney 100 Merchandise space is the Disney 100 Decades Collections. Featuring a new design to honor each decade of Disney's history, a new theme is released each month. Shop the Disney 100 Decades Collections on shopDisney.com Here are the Decade themes so far.
1920s: Mickey Mouse, Steamboat Willie, Minnie Mouse ( Release February 20, 2023)
1930s: Snow White, Three Little Pigs, Clarabelle Cow, Horace Horsecollar, The Band Concert Silly Symphonies ( Release March 20, 2023)
1940s: Pinocchio, Three Caballeros, Fantasia, ( Release April 17, 2023)
1950s: Alice in Wonderland, Cinderella, The Shaggy Dog, 20, 000 Leagues Under the Sea ( Release May 15, 2023)
1960s: The Jungle Book, 101 Dalmatians, Alice in Wonderland ( June 19, 2023)
1970s: The Aristocats, Muppets. Pete's Dragon, The Rescuers, Robin Hood ( July 17, 2023)
1980s: Rescue Rangers ( August 21, 2023)
1990s: Beauty and the Beast ( September 18, 2023)
2000s: The Princess and the Frog ( October 16, 2023)
2010s: Toy Story 4 ( RElease November 20, 2023)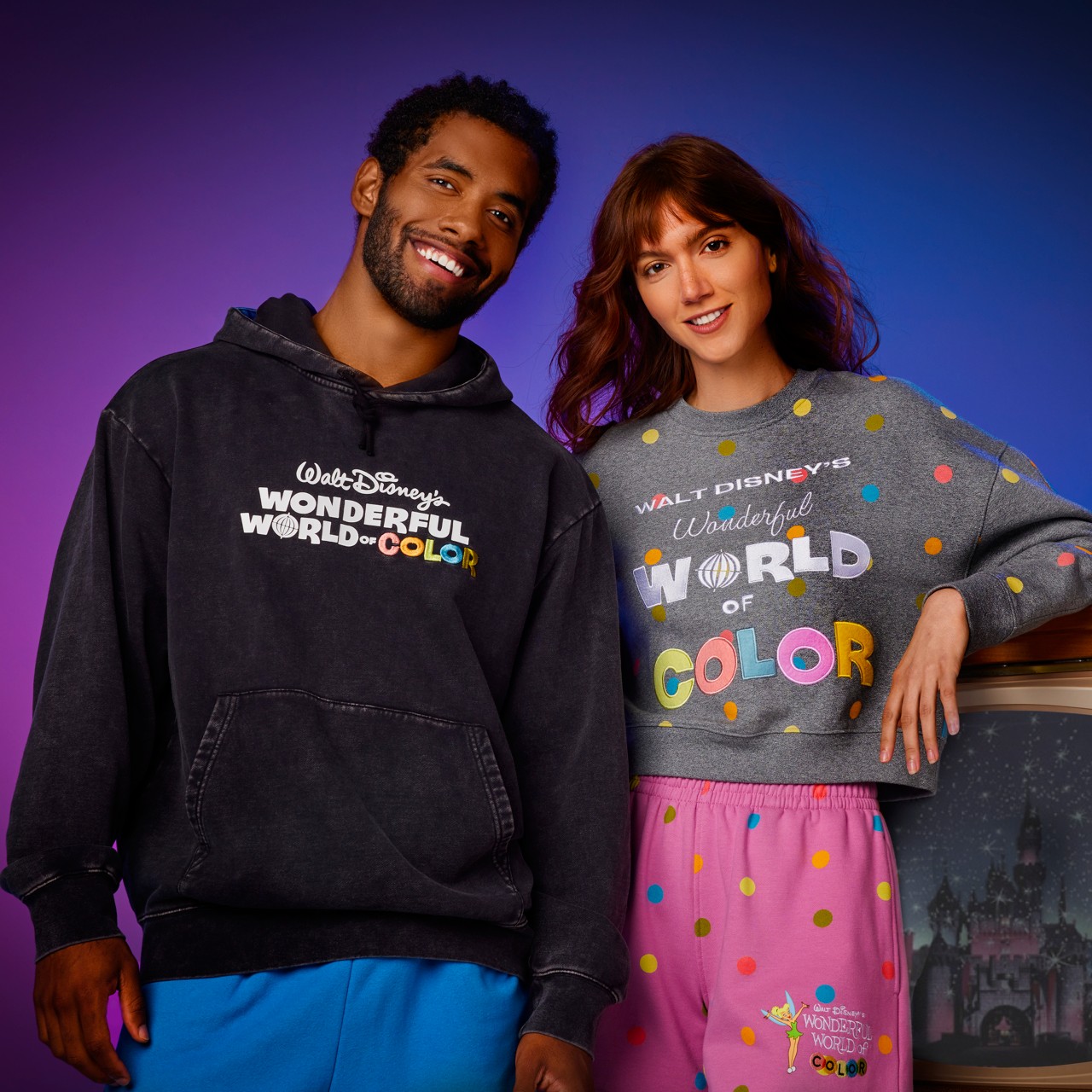 Walt Disney's Wonderful World of Color Collection
Celebrating Disney's television, the Wonderful World of Color, this new collection for Disney's 100th Anniversary features a vintage look and feel with elements of the castle and Tink herself. Shop the Collection.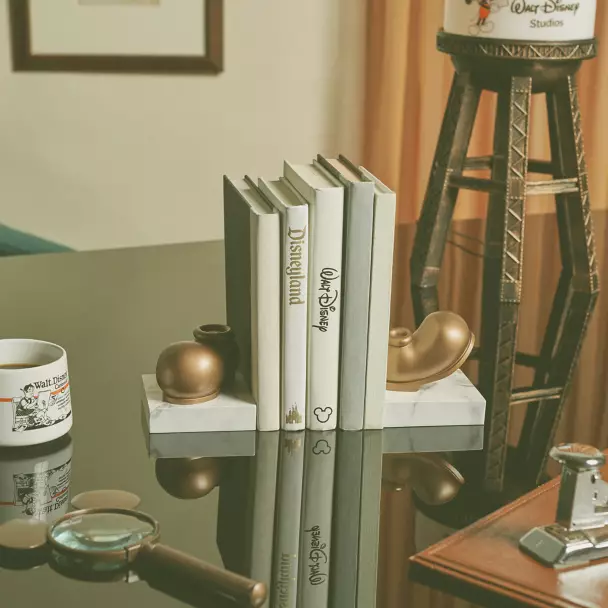 Disney 100 Eras Collection
The Disney 100 Eras Collection leans toward something of an archival sophistication. This collection features very classic Disney studio lot pieces, like bookends, magnifying glass even a small water tower. Expect to find these pieces mostly on ebay, as it was one of the earlier launched collections for the 100th Anniversary of Disney. Shop Disney 100 Eras Collection on shopDisney.com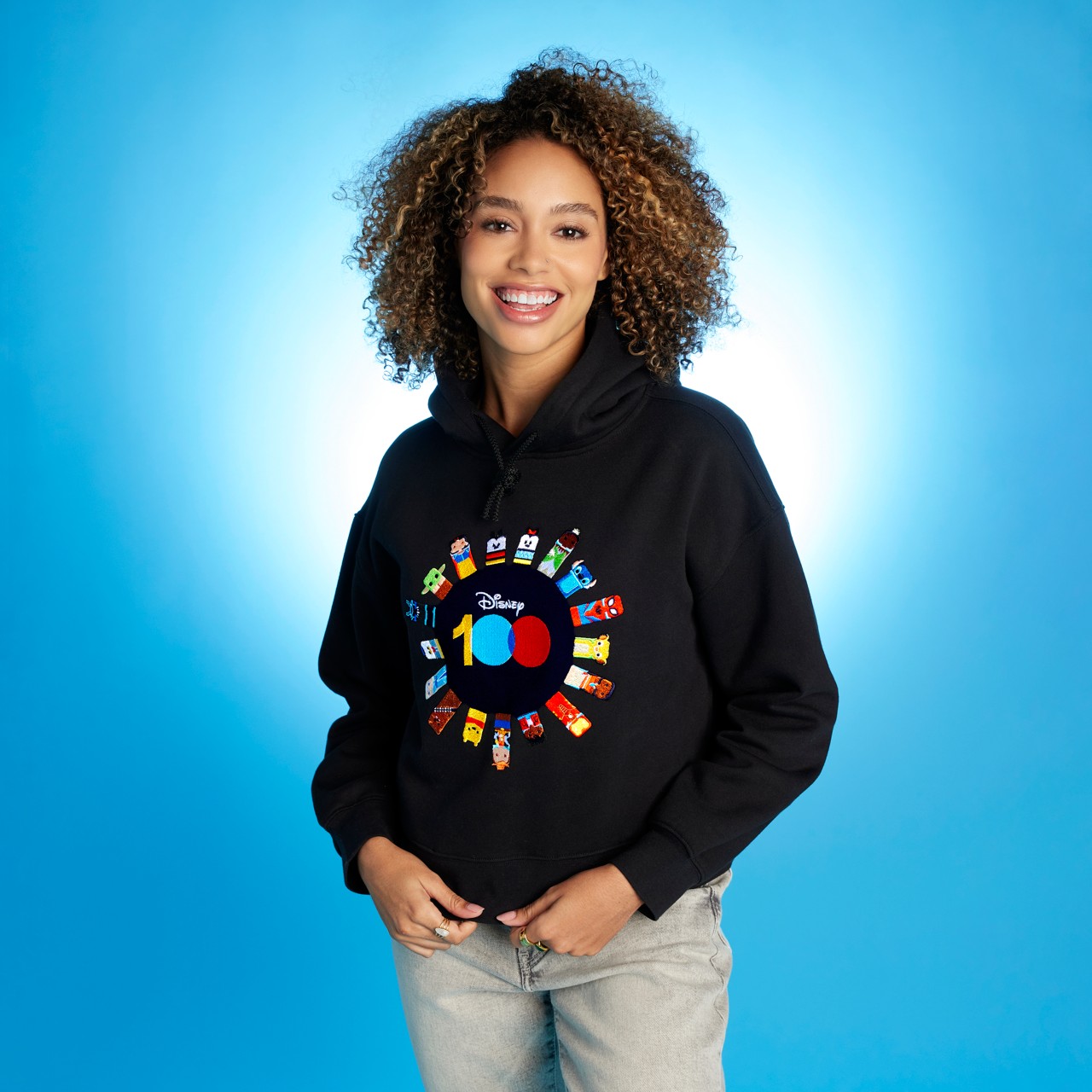 Disney 100 Unified Characters Collection
Keen to show acceptance for all, and running the gamut from Grogu to Spiderman and everything in between, this collection features little block illustrations characterized like many Disney characters. Shop the Disney 100 Unified Characters Collection on shopDisney.com
Disney 100 Shirt by Polka Dot Pixie Shop
Since this is our blog, we thought a shameless plug of our design was well worth the effort! Complete with all the things that have made Disney great so far, we crafted this original design for the 100th Anniversary of Disney. Shop the 100 Years of Wonder design at Polka Dot Pixie Shop. And check out all our favorite collections in the shop.
Disney 100th Anniversary Collections on Amazon
Along with everything you can find in the parks, and on shopDisney.com Amazon will be honoring the House of Mouse with a variety of collectible products from all categories. Shop All the Disney Merchandise for the Disney100 on Amazon.
Disney 100th Anniversary Books from Disney Publishing
Brand new titles honoring the Walt Disney Company are on the way with Disney books for all ages. Some notable titles are highlighted below.
Disney Music Group 100th Anniversary Highlights
The Disney Music Group is also offering a Vinyl Compilation of the Company's musical moments across film, television, and parks, set to release in 2023. Along with other notable compositions shared by the world's greatest musicians.
Walt Disney Company 100th Anniversary on Disney Plus
As Disney's flagship streaming service Disney Plus is home to a plethora of old and new Disney content. We're sure to see new specials, documentaries, and releases in 2023. Therefore, we thought it appropriate to round up the Disney Studio content on Disney Plus so far! Here is everything you can watch on Disney Plus to learn more about the Walt Disney Company as it celebrates its 100th anniversary in 2023. You can be sure there will be even more Disney anniversary shows for the Disney 100 Years of Wonder.
Mickey: The Story of a Mouse Documentary
Exploring what Mickey means to culture and history, this new documentary was released on Disney+ on November 18, 2022.
Walt Disney Company Behind the Scenes Watchlist
Walt Disney Company Archive Film Collections
Looking to learn more about the Walt Disney Company and how it got its start? Check out the Walt Disney Treasures Collections. These special films compile mini collections from the Disney studios that seated their place in Hollywood. From animation to musicals, to live-action and Disney's role in wartime, these films will catch you up. After all, learning more about the man and mouse behind the company, makes this celebration all the more special.
Walt Disney Company Studio Book Collections
Nothing says devoted Disney fan like a Disney Bookshelf. If your days are spent musing over the art in Sword in the Stone, the music in Fantasia or the amazing colors in Frozen, then these Disney books are for you. Here are some of the most important books including the history of the Walt Disney Company to add to your collection.
The Hidden Art of Disney They Drew as They Pleased Collection
With a penchant for Disney animation be sure to browse these Hidden Art of Disney books. Complete with line drawings, colors, sketches, and ideas, this collection is a must-have for any Disney fan who gets wrapped up in the art.
Walt Disney Animation Studios: The Archive Series
Budding filmmakers, this collection is for you. What better way to celebrate the Walt Disney Company than by learning more about how these timeless films are made. Certainly, you don't need to be talked into buying these, but if you're a storyteller or designer, we consider these a must-have collection.
Walt Disney Company 100 Years Celebration
In other words, no matter what your plans are in 2023, there will be a multitude of ways you can celebrate Walt Disney and everything that the Walt Disney Company has created. We can't wait to see how this celebration will add even more magic to the year. Stay tuned. We'll be sharing details as they unfold.