Replacing Agent P's World Showcase Adventure in EPCOT Park, as an interactive park scavenger hunt you can play on your phone, The Ducktales World Showcase Adventure Game is by far bound to be the most fun and exciting yet! Now in full swing at EPCOT park, you can take your time to play the games, master the mission, and uncover secrets in each World Showcase. Here are the things to know about the characters, stories, and how to play!
Ducktales World Showcase Adventure Scavenger Hunt Game
Join forces with Scrooge, Huey, Dewey, and Louie to combat villains from across the globe! Or at least across the EPCOT World Showcase. As part of the Transformation at EPCOT Park, Ducktales World Showcase Adventure arrived on December 16, 2022. Complete with interactive elements across the park that interact with your phone, this interactive scavenger hunt game promises to help you explore the park while completing missions to your heart's delight.
When is the Ducktales Game Open at EPCOT?
Now! Ducktales officially opened at EPCOT on Friday December 16, 2022.
Ducktales World Showcase Adventure is the newest game to arrive at EPCOT and promises to take us around the world with fun and missions to complete. So we'll get many opportunities to hang out with the whole McDuck clan in EPCOT hopefully for years to come!
It's true that here at EPCOT, we believe teamwork and world exploration makes our world a better place. This experience will be the perfect way for the young and young-at-heart to play their way around World Showcase – because life is better when we explore the world around us together!- Kartika Rodriguez, Vice President, EPCOT
What is the Ducktales World Showcase Adventure Game?
Walt Disney World's newest interactive scavenger hunt game is based on our favorite duck trio- Ducktales! "Disney's DuckTales World Showcase Adventure invites guests to join Scrooge McDuck, Donald, nephews Huey, Dewey, Louie, Launchpad, and Webby in search of priceless treasure." The Ducktales World Showcase Adventure Game includes challenges to uncover exciting mysteries, take down thieves, fight villains, and outsmart supernatural guardians of ancient artifacts.
Who are the Ducktales Characters in the Ducktales World Showcase Adventure Game?
The Good Guys
Scrooge McDuck
Huey Duck (in red)
Dewey Duck (in blue)
Louie Duck (in green)
Webby (Webbigail Vanderquack)
Donald Duck
Launchpad McQuack
Mrs. Beakley
Della Duck
The Bad Guys
Toad Liu Hai
Briar and Bramble
Flintheart Glomgold
Magica De Spell
Goldie O'Gilt
Mark Beaks
Ma Beagle
Bouncer Beagle and the Beagle Boys
Black Heron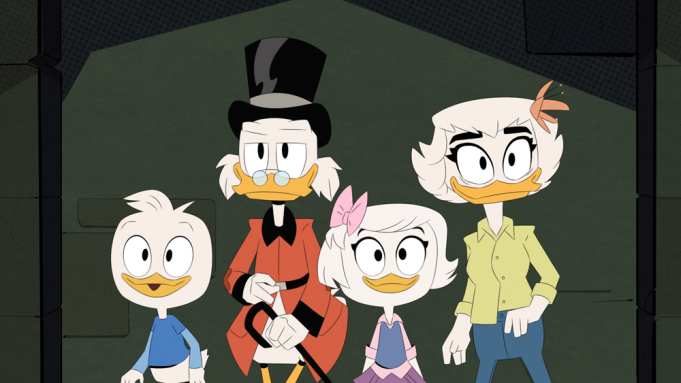 How to Play the Ducktales Game in EPCOT
If you want o get in on the action, just download the Play Disney Parks App for access to the game on your phone. Much like the Star Wars Data Pad App, this game is attached to your Disney Play profile so you can save your work and see your progress as you tackle the challenges in each country.
What World Showcase Countries have the Ducktales Adventure Game?
The Ducktales World Showcase Adventure game promises "exotic destinations" filled with mysteries to uncover. The game utilizes Agent P's World Showcase locations in each country with new characters, villains, and mysteries to solve! So you may recognize certain areas from the previous gameplay experience. Here's where you can find the challenges across EPCOT World Showcase.
Mexico
Norway
China
France
Germany
Japan
United Kingdom
How do you play Ducktales World Showcase Adventure?
Disney is utilizing the infrastructure from Agent P's World Showcase so you can plan to see the same kind of interactives used in each country. The way it works is as you're following through on the game on your phone, certain physical elements within the countries will respond to your phone. So be on the lookout! The game will instruct you where to go to unlock, uncover or reveal something that has been hidden.
Do you Win anything for playing Ducktales World Showcase Adventure?
Just the joy of winning! Much like the other interactive app games at Walt Disney World, you will most likely collect badges, points, or gameplay status as you work through the challenges in the app.
Can You Still play Agent P's World Showcase Adventure?
No, unfortunately not! Agent P's World Showcase Adventure officially closed on February 17, 2020, to make way for the new game. While this is heartbreaking for all you Perry fans, and as it was one of our favorite fun and free Disney Games, we're certain this Ducktales version will be better than ever.
Ducktales Game in EPCOT Park
And if you're in the mood to get a head start on the fun, head to Disney Plus for the original Ducktales and Ducktales (Reboot) to learn the characters. We LOVE Ducktales, in all its iterations, and cannot wait for this game to show us even more ways to help our favorite duck family take down the bad guys.
Ducktales World Showcase Adventure Game
There you have it! Everything to know about the Ducktales game at EPCOT, World Showcase. The fun and free games at Walt Disney World are absolutely one of the best ways to take in all that Disney magic that sometimes gets pushed off your Disney must-do list. Be sure to make some time for this one!