During the holidays we love watching Christmas movies. Old movies, new movies, and of course our tried and true favorites. A Muppets Christmas Carol is one that we watch every year, multiple times. And since this year we find ourselves staying home more, we decided to add some fun Disney Christmas Recipes to the lineup. Everything you need for that Muppets Christmas Carol Movie Night!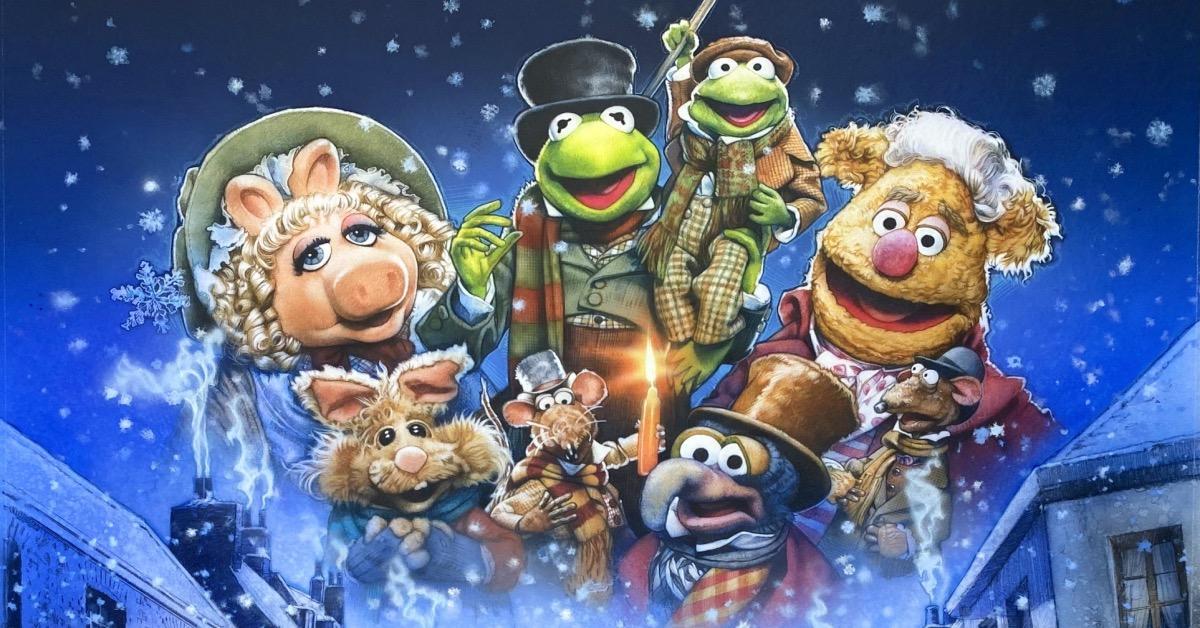 A Muppets Christmas Carol Movie Night
While we could take any Christmas Movie on Disney Plus and make a movie day out of it, we just couldn't resist honoring the muppets! Complete with treats and activity, we loved creating this Muppets Christmas Carol movie day and we hope it inspires you to have some fun creating memories at home this year!
Where to Watch Muppets Christmas Carol?
Currently, you can watch Muppet's Christmas Carol on Disney Plus. This version on Disney Plus+ includes the Extended Edition which includes the Muppet's Christmas Carol missing song, "When Love is Gone." Note, that you can only get to the Extended Version of Muppet's Christmas Carol, by going into the app, and choosing EXTRAS on the main Muppets Christmas Carol title page. From here you can scroll to find the Full Length Version of the film.
Featuring one of the most important parts of Scrooge's story, this song features Michael Caine and Meredith Braun. As both characters realize they can no longer go on as they are, with Scrooge choosing wealth over love, and the pain this choice causes both. This extended version, including the song " When Love is Gone," is available in the Disney Plus app. You can also watch the Muppets Christmas Carol including the When Love Song song on the 20th Anniversary Muppets Christmas Carol DVD by choosing to play the Full Screen Version.
A Muppets Christmas Carol Story
Probably one of the most popular Muppets Christmas Movies is The Muppet Christmas Carol. Michael Caine stars as Ebenezer Scrooge in this musical re-telling of Charles Dicken's A Christmas Carol. With ghosts following Scrooge through the past, present, and future to teach important life lessons, we love the extra humor we get from Miss Piggy as Mrs. Cratchit and Gonzo as Charles Dickens himself. This is a classic holiday film we watch every year, and have even made a Muppets Christmas Carol Shirt to match for your next Muppets Christmas Movie Night or watch party.
Muppets Christmas Carol Movie Night Treats
Nothing says Muppet's Christmas Carol, like good old-fashioned English Christmas, courtesy of Charles Dickens, or in this case, Gonzo. Not as scary as it looks, this sticky toffee pudding is like a British Christmas pudding, and well worth a try. Add a special tea, perfect for the holiday, and you have a cozy Christmas Movie night of your very own.
Sticky Toffee Pudding
We wanted to create a British theme around the treats for The Muppets Christmas Carol movie night, so we leaned on the queen of British baking, Mary Berry. Her cookbook, Baking With Mary Berry, provided us with the recipe for sticky toffee pudding, which was so delicious and very easy to make. It may not have been what they were eating in London in the early 1800s, but we thought it was the perfect match to this movie, because just like A Christmas Carol, it makes you feel warm and fuzzy. And of course, we used our Mickey ramekins to add a touch of Disney magic.
Earl Grey Creme Tea
Keeping with the English theme we added a classic Earl Grey Creme tea, British style. To make this tea all you need is cream and brown sugar. Add ingredients to your preferred taste, and voila, a traditional English tea. There are of course other teas that would also do as well. An English breakfast tea, mixed with milk and honey works well. Or you can grab Twining's Winter Spice or Harney and Sons Christmas Tea, all set the mood for an extra cozy movie night.
[show_shopthepost_widget id="4309798″]
Muppets Christmas Carol Shirts
As Disney fans, we're always thinking up shirt ideas for just about all things Disney. And Muppets Christmas Carol is absolutely one of our favorite movies to watch through the holidays, so it's no surprise that we have some Muppets Christmas Shirts in our shop at Polka Dot Pixie Shop. Here's what we have so far!
We hope you love adding the Muppets Christmas Carol Movie Night to your holiday plans as much as we do. With wonderful music, a timeless lesson, and memorable characters, this film is perfect to help ring in the season. If you don't have Disney Plus, you can grab the Muppet's Christmas Carol on Amazon. Happy Holidays!