Universal Studios Orlando, home to the Wizarding World of Harry Potter, has a lot going for it lately. With some excellent ticket deals, bonafide hotel guest perks, a DreamWorks-themed land in 2024, and Epic Universe opening in 2025, there are some reasons to start considering this theme park for your next Orlando vacation. Sure, Universal Studios Orlando may have some dated attractions, but they're working on that. If you're headed to Universal Studios Orlando, here's a quick guide to planning your vacation.
Universal Studios Orlando Vacation Planning
If you're looking to start adding Universal Studios Orlando to your Walt Disney World vacations, or just looking for another great place to visit, Universal Studios Orlando may be just the ticket. With similar theme park vibes as Walt Disney World, we often find fewer crowds, and easier ride options with the express pass than Disney's Genie+. And if that doesn't sell you, take a look at the Universal Studios Orlando Annual Pass Program. At one-third the cost of Walt Disney World's season pass, you may want to consider the savings if you plan on visiting more than once. But, we're getting ahead of ourselves. Let's dive into Planning a Universal Studios Vacation and everything you need to know before you go.
How Many Days Do You Need at Universal Studios Orlando?
While vacation time preference differs for everyone, we typically recommend 1 full day for each park you're visiting on your Universal Studios Orlando Vacation. So, if you're visiting both theme parks and the water park, and then hoping to do some shopping as well, we'd say 4 days should do it. And once Epic Universe opens in 2025, there will be even more to do.
However, remember that Universal Studios Orlando theme parks may not actually warrant full days for you. If you're mainly going for the Wizarding World attractions, well you can do those in one day, when you strategically plan, even though it's across two parks.
Also, remember that unless you have Jimmy Fallon fans, horror movie fans, or Minions fans in your travel group, you may be able to cut a typically 4-day vacation down to 2 days with some planning. Plus, save some money on tickets.
How do You Get to Universal Studios Orlando?
If flying into Orlando for a Universal Studios Orlando Vacation, we recommend flying into the Orlando International Airport ( MCO). Once at the airport, there are a variety of ways you can get to your Universal Resort. Uber, and Lyft, are typically about $30 for the car ride to Universal, plus a tip. Or you can take the Universal SuperStar Shuttle, at about $40 per person. Or you can rent a car if you're traveling to other Orlando locations. So, you do have options.
Universal Studios Orlando Tickets and Packages
At Universal Studios Orlando, the more you buy, the more you tend to get free. For example, a current deal is Get 3 days FREE with a 2-Park, 2-Day Ticket. Additionally, you have the option to get Park-to-Park Tickets, which allow you multiple parks on a single day, and provide the only way to do the Wizarding World of Harry Potter in One Day. This type of ticket is also REQUIRED if you hope to ride the Hogwarts Express Train, which transports you to both parts of the Wizarding World, spread between the two parks. Check out all the options for Packages and Tickets at Universal Studios Orlando.
Universal Studios Orlando Parks
Universal Studios Orlando has three parks, one water park, eight hotels, and a shopping district. You'll note that the Wizarding World of Harry Potter is NOT on this list, because it is not a designated theme park on its own. Instead, there are parts of the Wizarding World strewn across the parks. See below for the different "lands" in each park, so you can choose which you'd like to visit.

Universal Studios Florida
This park offers thrill rides and themed lands. The main attractions here are The Simpsons Ride, Harry Potter Escape from Gringotts, Race through New York with Jimmy Fallon, Men in Black Alien Attack, E.T. Adventure, and Revenge of the Mummy: The Ride. You may also want to grab a Big Pink Donut from the Springfield Simpsons area or head to the Hello Kitty Store. The Hogwarts Express Station is also located here, but you will need a Park to Park Ticket to ride it to Hogsmeade. You'll find this park separated into the following lands.
*NEW* Land 2024 ( DreamWorks Animation)
Production Central ( Featuring Minion Land 2023)
New York
San Francisco
Hollywood
Springfield Simpsons Area
World Expo
Wizarding World of Harry Potter-Diagon Alley
DreamWorks Animation Themed Land Coming 2024
Located in Universal Studios Florida this new land features spaces including Gabby's dollhouse, Shrek, Trolls, and Kung Fu Panda. Rides, eateries, and meet and greets are all part of the plan for this new area coming to Universal Studios in 2024. This new land replaces the footprint in the park previously occupied by the KidZone Attractions that included Woody Woodpecker's Nuthouse Coaster.
"As guests step into this new land, their imaginations will run wild as they take in the vibrant colors, sights and sounds that surround them,"

Universal's Islands of Adventure
Islands of Adventure is all about stories. As such you can find a variety of great film-based attractions here. Must Do Rides in this park at Jurassic World VelociCoaster, Harry Potter and the Forbidden Journey, Hagrid's Magical Creatures Motorbike Adventure, Harry Potter and the Escape from Gringotts, The Incredible Hulk Coaster, Jurassic Park River Adventure, and The Amazing Adventures of Spider-Man. Be sure to grab a Butterbeer in Hogsmeade. We have a Copycat Butterbeer Recipe if you need one to hold you over. You'll find this park separated into the following lands.
Port of Entry
Marvel Super Hero Island
Toon Lagoon
Skull Island Reign of Kong
Jurassic Park
Lost Continent
Suess Landing
Wizarding World of Harry Potter-Hogsmeade

Universal's Volcano Bay
This waterpark comes with its own waterproof wearable that holds your place in a virtual line for the rides of your choice. It's called TapuTapu and keeps things orderly. While filled with waterslides, you can also just lazily innertube on the Kopiko Wai Winding River or head to the wave pool at Waturi Beach.
Rainforest Village
River Village
The Volcano
Wave Village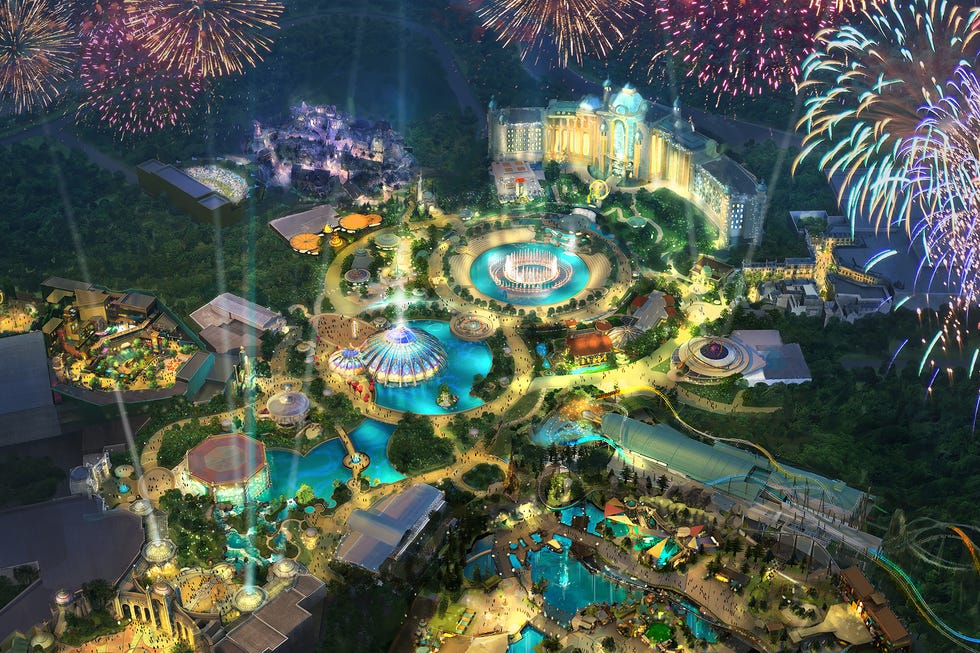 Epic Universe Coming 2025
While details are still in development for Universal Studios Orlando Epic Universe, we'll share the confirmed and the rumored rides to help give you an overview of what may be ahead. Confirmed rides for Epic Universe include Mario Kart: Koopa's Challenge, Yoshi's Adventure, and Donkey Kong's Mine Cart Coaster. Rumored rides are Frankenstein's Manor, How to Train Your Dragon Coaster, How to Train Your Dragon Sky Fly, Ministry of Magic Adventure, Constellation Carousel, and Starfall Racers. Epic Universe will also be adjacent to three newly themed hotels, including the Grand Helios Hotel (Premier Hotel) as well as 2 Prime Value hotels, rumored to be named Stella Nova Resort and Terra Luna Resort. As you can see there is consistent theming here featuring the Sun God ( Helios) and the Sun and Moon-themed resorts respectively. The following areas are speculated.
Universe Hub
Super Mario World
Dark Universe
How to Train Your Dragon
Wizarding World of Harry Potter/Fantastic Beasts -Ministry of Magic London/ Paris

Universal CityWalk
This shopping and dining area comes complete with amazing gift shops, and upscale restaurants. You can head to Margaritaville, Hard Rock Cafe, the Toothsome Chocolate Emporium, and more. Check out hours and the interactive map to everything at Universal CityWalk if you're up for a late night, any night of your vacation. This area is free to visit, but parking costs between 30-50 dollars if you're driving. For us, this was a big factor in helping us choose to stay at Loews Portofino Bay Hotel, as they have a walking path and free boat to get you back and forth to CityWalk and the parks.
Universal Studios Orlando Hotels
Universal Studios Orlando Hotels are by far the best option, most of the time, due to the hotel perks included. As guests of any Universal Hotel get Early Park Admission at Universal Studios Orlando, which is a huge deal and gets you ahead of the crowds by allowing you into the park 1 hour earlier than opening.
Premier Hotels
Our favorite tier, and the most expensive, is Universal Studios Orlando Premier Hotels. These hotel guests not only get Early Admission but also a COMPLIMENTARY Universal Express Pass. And if you're planning to stay awhile check out the Loews Hotel Perks for even more benefits.
Our favorite hotel at Universal Studios Orlando is Loews Portofino Bay. As a premier hotel, it can be pricey, but there are also deals to grab throughout the year, so be sure to keep your eye out. Check out our Loews Portofino Bay Hotel Universal Studios Resort Review for all the details on why we think this is the best Universal Studios Orlando Hotel to stay at, and all about the Walking Path from Portofino Bay to Universal Studios, so you can skip the transportation, and just walk, or take the boat.
The Hard Rock Hotel at Universal Orlando is another resort that has about a 5-minute walk to the park gates. So proximity to the parks is great. The look and feel of the Hard Rock Hotel is very much what you would expect. With an array of rock music memorabilia, palm tree-lined swimming pools, and live music.
Loews Royal Pacific Resort at Universal Orlando brings the sights and sounds of the South Seas to the forefront of this hotel experience. Featuring a lagoon-style swimming pool, white sands, and a classic luau, if you're looking to escape this resort can help. The cheapest resort in this tier, if you're looking to get within walking distance of the parks and CityWalk, this is a great choice.
Preferred Hotel
This resort tier at Universal Studios Orlando sits happily just about $200 a night to start. Offering water taxi service to the parks, you also get to forego paying for parking, or transportation, which is a bonus.
The Loews Sapphire Falls Resort at Universal Orlando includes waterfalls, tropically-themed grounds, and an island-time vibe. Filled with ruins, passageways, and pools, this resort is themed to the islands of the Caribbean. And also includes a variety of Caribbean-themed dining options.
Prime Value Hotels
Value hotels are Universal Studios Orlando are some of the best, and perfect if you're on a budget, or planning to spend all day in the parks.
Travel back in time at Universal's Cabana Bay Beach Resort featuring a 1950s and 60s look and feel. Complete with mid-century modern everything, this resort also has a bowling alley, winding river, and swimming pools galore. Plus, also within walking distance of the parks!
Closest to Volcano Bay, Universal's Aventura Hotel has its own dedicated walkway to the water park. As such, if you know you're mainly going for fun in the sun, this is a great hotel to book. Featuring a simple exterior, this resort is all about calm, and relaxation. With views of all three theme parks, this hotel offers expansive views of Orlando and loads of room in the pools.
Value Hotels
The Value hotels at Universal Studios Orlando can be found at Universal's Endless Summer Resort. These two resorts sit directly across the street from each other and each features its own theme. You can choose from the Surfside Inn and Suites or Dockside Inn and Suites. Often less than $100 a night, these are great options that also get you the Early Admission benefit.
The Surfside Inn and Suites resort features bright colors, open spaces, and a large central pool. Bringing a surfer feeling to the table, everything is easy and relaxed, and themed to the surf lifestyle.
Dockside Inn and Suites bring the feeling of the coast. With rooms themed to the seaside, sunrises, and sunsets included, this hotel feels easy and breezy. Much like you would find in a seaside retreat along the boardwalk.
Universal Studios Orlando Tips
If you're visiting Universal Studios for the first time, or just haven't visited in a few years, these tips are sure to help.
Save Time at Universal Studios and Buy Tickets in Advance
There's no reason to wait in the ticket line if you know you're visiting the parks. And buying them online can often be cheaper! So, head to the website and grab your tickets ahead of time.
Visit When Crowds are Lowest
A no-brainer, pick the Best Times to Visit Universal Studios Orlando by choosing wisely. Weekdays are best, and typically before 4 pm, as locals and pass holders frequent the parks often. Avoid holidays and weekends if you can. September is by far one of the best months to visit and is our recommended time to visit Walt Disney World as well.
Stay at a Universal Studios Resort
The perks and amenities and proximity of Universal Studios Orlando Resorts cannot be beaten. The benefits of Early Admission and Express Pass ( when staying at Premiere Hotels), are worth the stay. And these are just some of the best resorts. Did we mention that Loews Portofino Bay even has a Starbucks onsite? Yes. The perks are endless.
Pay for the Park to Park Ticket
If you're having a shorter vacation, 3 days or less, and trying to fit it all in, we highly recommend grabbing the Park to Park Ticket. While it's easy to spend a full day in each park, you can save money by going fewer days if you know what you want to see, do, and eat ahead of time. And as it's also the only way to get a ride on the Hogwarts Express, you can't skip this if you're a Harry Potter fan.
Head to the Parks BEFORE They Open
Peak wait times at Universal Studios parks happen at mid-day. So, you're more likely to be able to knock out important rides, like Hagrid's Motorbike or VelociCoaster before the regular parkgoers arrive. If you have Early Admission be sure to take advantage of that, and if you don't, just be at the gates when the park opens.
Plan Extra Time for Parking and Security
If you're not staying at a Universal Resort within walking distance and need to park, getting through the toll, parking garage and security takes time. Plan for about 30 minutes extra to get through everything before you arrive at the gates.
Bring a Water Bottle and Small Snacks
While Universal Studios Orlando Parks have a plethora of great snacks- Butterbeer anyone?- lines can get long and snacks are expensive. You are allowed to bring in a water bottle and things like granola bars into the parks, and they're a great treat to have while watching a show or grabbing some downtime.
Choose Your Shows and Plan Around Them
If you're committed to seeing the Frog Chorus in Hogsmeade, or the Cinematic Celebration, be sure to find out the times ahead of time, and plan your day around them. While some shows are offered throughout the day, you could miss them if you don't plan ahead.
Have Lunch at Off Meal Times
Universal Studios Orlando has mobile order, which is so helpful, but they also have lines at the restaurants they have within the parks. AS such, we recommend planning for mealtimes outside of regular eating hours. Aim for an early or late lunch or dinner. Or head outside the parks to CityWalk instead. With more restaurants and variety, the CityWalk restaurants are not as full during the daytime hours.
Download the Universal Orlando App
Be sure to have the Universal Studios Orlando App on your phone for easy access to wait times, show times, menus, and more. A time saver, you can also the interactive map on the app and hop onto chat if you have an issue.
Wizarding World of Harry Potter
And for those of you visiting Universal Studios Orlando primarily for the Wizarding World of Harry Potter, here are the main things you need to know before you go. From how to save some money, to doing it in one day, to where to stand on your First Visit to make your wand do magic in the parks. Be sure to read the posts below. We LOVE Harry Potter everything and it is the main reason we visit Universal, so we've done a deep dive into those sections of the park.
Planning a Universal Studios Orlando Vacation
Hopefully, this post has helped you get a handle on the planning ahead. While Universal theme parks are easy to navigate, and the resorts easy to book, it can save you money when you're strategic about how many days you need and what you're hoping to tackle while you're there.
Rochelle Mariah is a writer, designer and photographer with an MLIS in Information Science and a B.S. in Arch and Design. Determined to make Planning a DIY Disney Vacation easier she makes lots of lists and drinks lots of coffee. When not designing apparel at Polka Dot Pixie Shop, she's watching old movies and planning the holidays. She has been traveling to Disney destinations since 2010.