If you're heading to Walt Disney World to celebrate the holidays, you're in for extra Christmas magic around every corner. But what about Mickey's Very Merry Christmas Party? Should you break the bank for this extra party ticket? To make your Holidays at Walt Disney World extra special? Here we share the Top 10 Things to Do at Mickey's Christmas Party so you can make the most of this Christmas Party at Magic Kingdom.
When is Mickey's Very Merry Christmas Party?
Mickey's Very Merry Christmas Party returns on select nights from November 9- December 22, 2023. Be sure to read all about Mickey's Very Merry Christmas Party for all the details on entertainment, snacks, and more.
Are you adding a Mickey's Very Merry Christmas Party Ticket to your Disney Vacation? This extra ticket is pricey!!! But, if you're bent on taking in the extra holiday magic, then consider skipping the park ticket for the day and investing in a Mickey's Very Merry Christmas party ticket instead. Ticket holders can get into Magic Kingdom Park as early as 4 pm, for a 7 pm party start time. And while this party typically only lasts 5 hours ( 7 pm-12 am), you can extend that time by getting into the park a little earlier. Because, frankly, if you're spending this much on a party ticket you should maximize your time to the fullest.
To level set, we've shared some of Mickey's Very Merry Christmas Party Pros and Cons before that may well be worth a look. Especially since ticket prices have increased every year, and you don't necessarily need to be at this party to experience the Best Things for Christmas at Disney World. And if this is your first Mickey's Very Merry Christmas Party then read up on everything you can do, see and eat as part of the event. Just check out our Beginners Guide to Mickey's Very Merry Christmas Party for all the details. Okay, let's dive into the top 10 Things to do at Mickey's Very Merry Christmas Party.
A Frozen Holiday Surprise
Time: 6:15 PM and 8:15 PM
Since Magic Kingdom is still open at 6:15 pm, you will have the regular park-goer crowds to contend with for the early show. But, given that seeing the castle lit up before you start your journey around the park to various rides, lines, and snacks, is a nice way to start the evening, we highly recommend aiming for the early show.
A Frozen Holiday Surprise includes Queen Elsa transforming Cinderella Castle into a magical scene filled with snow, as she readies the park for the party. Kristoff, Anna, and Olaf all join her in the journey to bring winter to Magic Kingdom for the night. This delightful new offering can be seen during regular park hours and during Mickey's Very Merry Christmas Party.
Mickey's Most Merriest Celebration
Time 7:40 PM, 9:25 PM, 10:30 PM, 11:55 PM
Start, or end, your night at Mickey's Very Merry Christmas Party with this show on the Cinderella Castle Stage. Filled with music, fun, and Mickey and friends, you'll kick off the night with a bang! Filled with performers, and characters joining in songs for the holiday season, this show helps get you into the mood and ready for the party night ahead. Be sure to check the party map for times, as the spots in front of the castle fill up fast! Our best advice here is to grab a spot just to the side of the castle. With great views, you have a better chance of seeing the performance without having to save your spot too far ahead of time.
Minnie's Wonderful Christmastime Fireworks Show
Time: 10 PM
As part of Mickey's Very Merry Christmas Party, you get to see a special Christmas-themed Fireworks show. This show is newer and features Minnie herself leading the festivities. Watch for holiday digital projections on the castle and a gorgeous 360° fireworks show filled with holiday colors and songs. Showtimes for these fireworks are …
Our best tip for getting the best spot for fireworks at Magic Kingdom is to save your spot early! We most like the Hub Grass locations on either side of the castle. These spots are sometimes reserved for the fireworks dessert party guests, which requires an additional paid ticket. So, be sure to ask the cast members nearby these areas if they are free. While you don't want to spend the whole evening waiting in a spot, you definitely should plan at least 30 minutes before showtime. For us, the best location to watch the show is just close enough to see the projections, but far enough back to see the castle. Be aware of areas where someone may be able to stand in front of you last minute. Since this happens at almost every public gathering in the park, aim for areas near a railing, tables at Plaza Restaurant or Caseys, or a bridge spot. All these offer areas that are in good view of the castle.
Mickey's Once Upon a Christmastime Parade
Time: 8:30 PM and 11 PM
By far the biggest MUST-SEE of the evening is the Once Upon a Christmastime Parade. This parade runs twice a night at 8:30 pm and 10:30 pm and features the song, "Once Upon a Christmastime." This parade is filled with Mickey and Friends, the Princesses, favorite Disney characters, and of course Santa Claus himself. Main Street USA gets "snowfall" and beautiful lightning for the party, and that is best seen during the Once Upon a Christmas Time Parade.
We recommend you aim for attending the 10:30 pm parade since the second parades are always less crowded. And the best spot for the Once Upon a Christmastime Parade is on the green by the Main Street Christmas Tree facing the Castle. This is by far the MOST popular spot to watch the parade, as it gives you the beautiful castle in the background.
Cookies and Cocoa
While Mickey's Very Merry Christmas Party Top 10 comes with loads of perks, nothing beats free. Because at Mickey's Very Merry Christmas Party you get complimentary select cookies and cocoa across Magic Kingdom park. True, you did pay for a ticket, but these are technically included. Available at select locations you can grab free cocoa and cookies as you make your way around the park. Each select location has a specialty cookie so you won't be eating the same cookies all night.
While we love FREE, know that getting all the free cocoas and cookies is not your mission here! So grab them while you're heading from ride to ride, and be sure to enjoy the Christmas fun across the park along the way. Here are the 2019 Cookie and Cocoa Locations for Mickey's Very Merry Christmas Party.
Snickerdoodle Cookie, Hot Chocolate, and Fanta | Pinocchio Village Haus
Snowman Pretzel | Storybook Snacks Car
Peppermint Cookie | Miner's Cove
Chocolate Chip Cookie| Friar's Nook
Ginger Molasses Cookie and Apple Cider | Lunching Pad
Peppermint Cookie, Hot Chocolate, and Apple Cider | Cosmic Ray's Starlight Café
Ginger Molasses Cookie | Jungle Cruise
Snowman Pretzel and Fanta | Tortuga Tavern
Snickerdoodle Cookie | Golden Oak Outpost
Chocolate Chip Cookie and Eggnog | Diamond Horseshoe
Exclusive Mickey's Very Merry Christmas Party Snacks
A major perk of the party is getting access to the EXCLUSIVE Mickey's Very Merry Christmas Party Snacks. From festive flavors to Christmas-designed treats, there are specialty snacks at a variety of counter-service restaurants throughout the park. The biggest draw for these specialty snacks is that you can't get them in the parks unless you're at the party. While there are many seasonal snacks across Walt Disney World, these exclusive snacks are usually top-notch. And do cost extra. They are not included in your party ticket cost, like the complimentary snacks. Check out all the Mickey's Very Merry Christmas Party Snacks for 2022.
Disney Characters in Christmas Costumes
The main reason many attend Mickey's Very Merry Christmas Party is to see the characters in their Christmas outfits. Plus, this time of year brings out rare characters as well! Mickey and Minnie, Jack and Sally from The Nightmare Before Christmas, and even Scrooge McDuck as Ebenezer Scrooge sometimes make an appearance. If you're looking for some special photo moments, be sure to make a plan ahead of time. Character lines can get long and knowing who is worth the wait makes planning your party night easier. there are 16 spots across Magic Kingdom to see characters dressed in their holiday best. Here was the lineup for the 2019 Character Locations for Mickey's Very Merry Christmas Party. Note that some character lines are available BEFORE the party time begins, so getting there early is key.
Jack Skellington & Sally/ Mickey Mouse | Town Square Theater
Santa| Candy Cane Garden
Nick & Judy | Tomorrowland
Winnie the Pooh and Friends | The Many Adventures of Winnie the Pooh
Ariel & Eric | Across from Ariel's Grotto
Belle | Gaston's Tavern
The Seven Dwarfs | Pete's Silly Sideshow
Donald & Scrooge McDuck / Daisy & Minnie| Storybook Circus
Santa Goofy | Storybook Circus
Tweedledee and Tweedledum | Mad Tea Party
Cinderella & Prince Charming / Elena | Princess Fairytale Hall
Aurora & Prince Philip / Snow White & The Prince | near Pinocchio Village Haus
Mary Poppins & Bert / Princess Tiana and Naveen | near Ye Olde Christmas Shoppe
Jasmine & Genie / Aladdin & Abu | The Magic Carpets of Aladdin
Moana | The Enchanted Tiki Room
Jack Sparrow/ Red | Pirates of the Caribbean
A Totally Tomorrowland Christmas
Time: 7:45 PM, 8:35 PM, 9:25 PM, 10:45 PM, 11:35 PM
This popular stage show takes place over on the Tomorrowland Stage, just behind the PeopleMover line. Featuring Buzz Lightyear, Stitch, and Mike Wazowski, we've seen the Incredibles join in on this jam too. Singing Holiday songs, in festive variations, these Disney characters take to the stage for 15 minutes, 5 times during the Christmas Party. So be sure to stop when the time works for you. This is a fun show to watch and since so many cookie stops are in Tomorrowland an easy one to see.
Christmas Ride Overlays
Another exclusive as part of attending Mickey's Very Merry Christmas Party is the chance to see some of the rides dressed up for the holidays! Tomorrowland Speedway, Space Mountain, and Mad Tea Party Cups all get a festive soundtrack. And you can get a front-row seat to Monsters Inc. Laugh Floor for the holiday version of the original. And then, of course, you can also add Jingle Cruise to the list of rides. But, given that the Jingle Cruise is offered throughout the holiday season at Magic Kingdom, and you don't need to be at the party to ride it, you may want to add that to another Magic Kingdom day instead. As a Mickey's Very Merry Christmas Party Top 10 item, we recommend taking advantage of these special experiences on the rides during the party.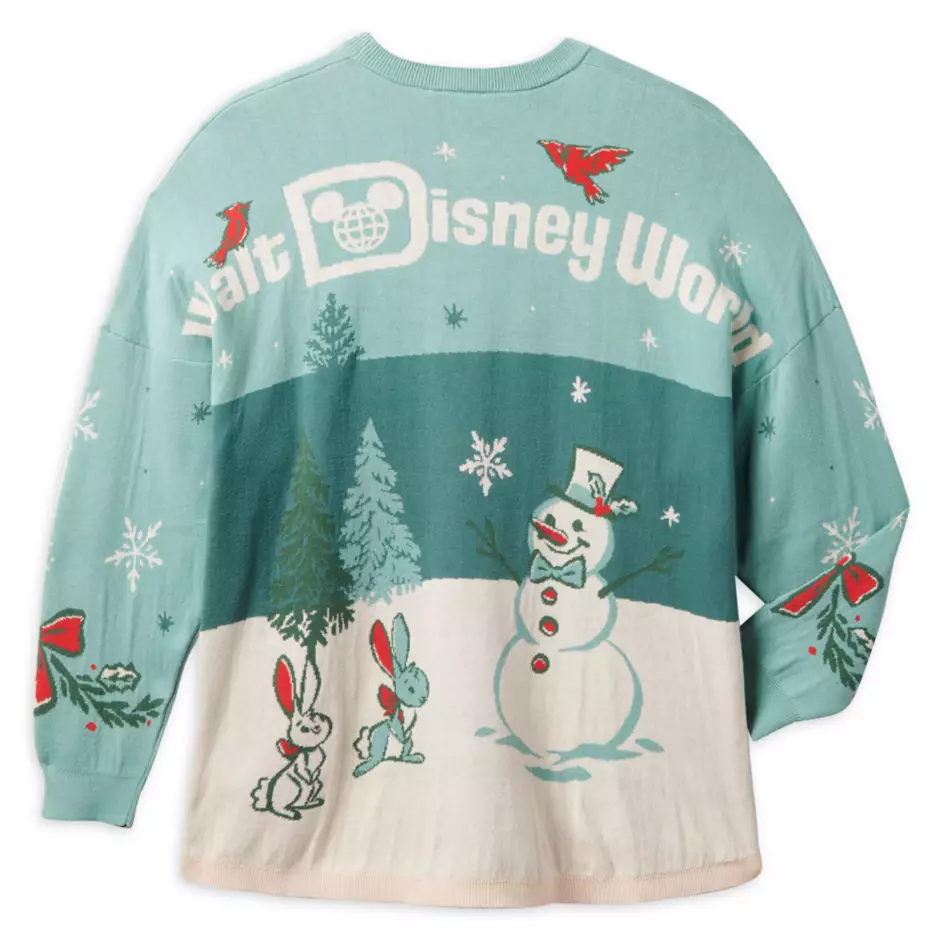 Exclusive Mickey's Very Merry Christmas Party Merchandise
And then of course one of the best things about going to Mickey's Very Merry Christmas Party is getting access to EXCLUSIVE merchandise only available at the party. From apparel to special ears, to mugs, there are things you simply cannot get if you don't attend. Check out the Disney Holiday Collection at shopDisney.com for even more fun holiday things to add to your Disney Home this Christmas.
Mickey's Very Merry Christmas Party Top 10
In addition to this Mickey's Very Merry Christmas Party Top 10, you can also count on low ride waits at many of your favorite rides. While the entertainment, snacks, and characters are the headliners, if you're looking for a way to maximize your Magic Kingdom park time, then a party ticket may be your best bet to get on the rides, without the need to purchase Disney Genie+ or Lightning Lane passes. And available not only at the party, Jingle Cruise and The Christmas Shoppe can add even more festive to your evening. Be sure to take some time to watch the snowfall on Main Street USA, this soapy snow flutters throughout the night on Main Street, much like it does on Sunset Boulevard for Christmas at Hollywood Studios.