If you're heading to Disneyland in 2024, then you're in for a treat. From new things in the parks to years' worth of events, there is plenty you'll want to know before you go! Whether this is just another Disneyland trip or your annual family vacation, here are all the things happening at Disneyland in 2024.
What's Happening at Disneyland in 2024?
Disneyland Resort in 2024 promises a year full of events as usual. Along with the arrival of the Princess and the Frog attraction, and restaurant, comes a newly refurbished hotel, Pixar Place Hotel. The return of the runDisney marathon, and a variety of After Dark events offers loads of reasons to head to the parks in 2024.
Is 2024 a Good Year to Visit Disneyland?
Disneyland Resort's biggest project in 2024, Tiana's Bayou Adventure, isn't set to complete until the end of 2024. That said, there shouldn't be too much construction to conflict with a Disney vacation in 2024. As such, 2024 is set to be a good year to visit, with new snacks, and plenty of opportunity to experience the new areas of the parks, like San Fransokyo Square and the new Swiss Family Robinson Treehouse.
runDisney Returns to Disneyland in 2024
Returning to Disneyland in 2024 comes the chance to run a half marathon, complete with runDisney medals and a Coast to Coast Challenge for those also attending the Walt Disney World marathons. Check out the Disneyland Half Marathon happening January 11-14, 2024.
New Rides & Attractions at Disneyland 2024
Ahsoka Star Wars Storyline | Disneyland Spring 2024
Coming to Disneyland's Star Tours attraction is a new Ahsoka storyline. Beginning in the Spring of 2024, Ahsoka fans can experience even more of this Disney Plus fan-favorite show as part of the slew of stories told within Star Tours.
runDisney Halloween Half Marathon | September 5-8, 2024
Runners at Disneyland can get in on the action in a NEW Halloween Half Marathon fir for a spooky weekend in the parks! Check out all the runDisney events, and tips on how to register in our runDisney Events Calendar post.
Club runDisney Registration: Feb 6, 2024
General Registration: Feb 13, 2024
Register on the runDisney website
Tiana's Bayou Adventure | Disneyland Park Late 2024
In a much-needed refresh, Splash Mountain is set to transform into Tiana's Bayou Adventure. This Princess and the Frog re-imagining of Splash Mountain turns this boat ride into a bayou-focused ride featuring Princess Tiana, Mama Odie, and friends. Recreating a New Orleans Mardi Gras experience this ride includes jazz music, bayou culture, familiar faces from Princess and the Frog, and more. This new ride features Tiana, Naveen, and Louis the alligator preparing to host a Mardi Gras Celebration. This ride picks up where the movie left off. Opens Late 2024
Brand-new cast of original Disney characters with distinct names and personalities
Dozens of entirely new Audio-Animatronics figures
Adorable critters with incredible talent, bringing the diverse flavors of musical gumbo found in New Orleans!
New, original music alongside favorite tunes from the film
Do you love beignets as much as Louis? Well, you're in luck because the alluring scent of beignets being prepared for the party will be part of the attraction queue!
Additional talent voices from the film reprising their roles, including Bruno Campos as Prince Naveen, Michael Leon Wooley as Louis, and the one and only Anika Noni Rose as Princess Tiana
Familiar faces from the film such as Princess Tiana, Prince Naveen, Mama Odie, Louis, Eudora, Charlotte, "Big Daddy," the King and Queen of Maldonia and Prince Ralphie
New Haunted Mansion Area Expansion | TBD 2024
Featuring a brand new gift shop and garden area, the Haunted Mansion Expansion project begins construction in January 2024. Each of the new gardens will feature a unique element ranging from a water fountain and gazebo to themed statuary and landscaping. A new space will allow for guests to see the greenhouse where the groundskeepers for the Haunted Mansion grow their plants, from the queue line. The pet cemetery and horse-drawn funeral hearse will continue to reside on the attraction's grounds.
Local legend suggests the manor known today as the Haunted Mansion was first built by a prosperous sea captain. To this day, the mansion's staff faithfully maintains the happy haunting grounds. The expanded queue will tie into these stories and more, including new gardens inspired by Master Gracey, Madame Leota and the one-eyed cat.
Avengers Campus Expansion | Disney's California Adventure Park TBD
Plans for a new ride, an extended multiverse, and guests getting the chance to battle villains are all on the docket for this expansion of Avenger's Campus at Disney's California Adventure. Plan to see Thanos at his worst, in what could be the most amazing ride yet.
At Disney California Adventure Park, a new world-jumping vehicle is coming to the next attraction in Avengers Campus to help transport Super Heroes into the Multiverse. This ride vehicle features a design that combines elements of Tony Stark's time-suits with Xandarian jump points and Wakandan technology.
New Disney Resorts at Disneyland in 2024
Disneyland Resorts has undergone some major refurbishments this past year. Including the major project of the new Villas at Disneyland Hotel project. As such, there are no plans at present for new resorts or re-theming in 2024. Be sure to check out our reviews on Disneyland Hotel, and Disney's Grand Californian Hotel and Spa. And catch up on the news of the newly refurbished Pixar Place Hotel, previously Paradise Pier.
Pixar Place Hotel | January 30, 2024
Fresh from refurbishment, the Pixar Place Hotel takes its place as the only Pixar-themed hotel in the U.S. Complete with fully themed rooms, restaurants, gift shops, and more. Check out all the details on what you can find inside the NEW Pixar Place Hotel at Disneyland Resort. Open January 30, 2024.
New Restaurants at Disneyland in 2024
With the newest restaurant, Tiana's Palace at Disneyland open now, it will no doubt be the talk of the town and enough to hold guests over, since dining reservations will likely still be hard to get through 2024. But if you're looking for what's new in 2024 at Disneyland, look no further than Downtown Disney.
Parkside Market
Parkside Market is a new, curated collection of diverse culinary concepts brought to life by Levy, with all four offerings under one roof as part of the expansion on the west end.
Seoul Sister is a fast-casual modern eatery that will serve a Korean-forward menu based on bibimbap (Korean rice bowls) with a California twist. Executive Chef Kelly Kim will showcase bold Korean flavors through marinated meats, colorful vegetables and savory sauces over rice, noodles or salad, plus appetizers, an Asian-inspired breakfast menu, and hand-crafted drinks.
Sip & Sonder, from founders Amanda-Jane Thomas and Shanita Nicholas, is a Black women-owned brand that has been recognized as one of the best cafés in L.A. by the Los Angeles Times. Guests in the district can expect to enjoy Sip & Sonder's signature lattes, as well as fresh treats, frozen drinks and Caribbean-inspired bites.
GG's Chicken Shop, from Boka Restaurant Group, was founded by James Beard Award-winning restaurateurs Rob Katz and Kevin Boehm, alongside Michelin Star Chef Partner Lee Wolen. Affectionately named after Wolen's mother Geri, the shop will serve a family-friendly menu of chicken sandwiches, salads, and classic dinner table sides. The first brick-and-mortar GG's Chicken Shop opened earlier this year in Chicago and this new location in Downtown Disney District will be its first on the West Coast.
A second story bar will be an al fresco spot offering great views to sip signature craft cocktails and mocktails from mixologists who infuse, muddle, stir, shake and swizzle the freshest mixes using local ingredients and artful garnishes. Refreshing selections will include frozen lemonades, frozés, espresso martinis, shareable cocktails and spirit-free elixirs.
Din Tai Fung
Head to Downtown Disney's west end for the world-renowned Chinese restaurant known for its soup dumplings and noodles.
Paseo
Serving Masterful Mexican cuisine from Michelin-starred Chef Carlos Gaytán we don't what the menu looks like yet, but it promises to be new and exciting.
Céntrico
Also by Chef Carlos Gaytán comes another Mexican restaurant, an open-air Mexican bar and restaurant to be exact, taking up the previous location of the Uva Bar.
Porto's Bakery and Cafe
Everyone's favorite pastry arrives at Downtown Disney serving California-Cuban cheese rolls and pastries sometime in 2024.
Disneyland 2024 Events By Month
Are you visiting Disneyland in 2024? Things like festivals, anniversaries, special days, and events are all part of the calendar. And you'll want to be sure to avoid high crowd times like holidays and breaks. Check out our Disneyland 2024 Event Calendar for detailed information on dates and holidays that may affect your vacation. Here is an overview of the major events happening each month at Disneyland so you can know what to expect during your vacation.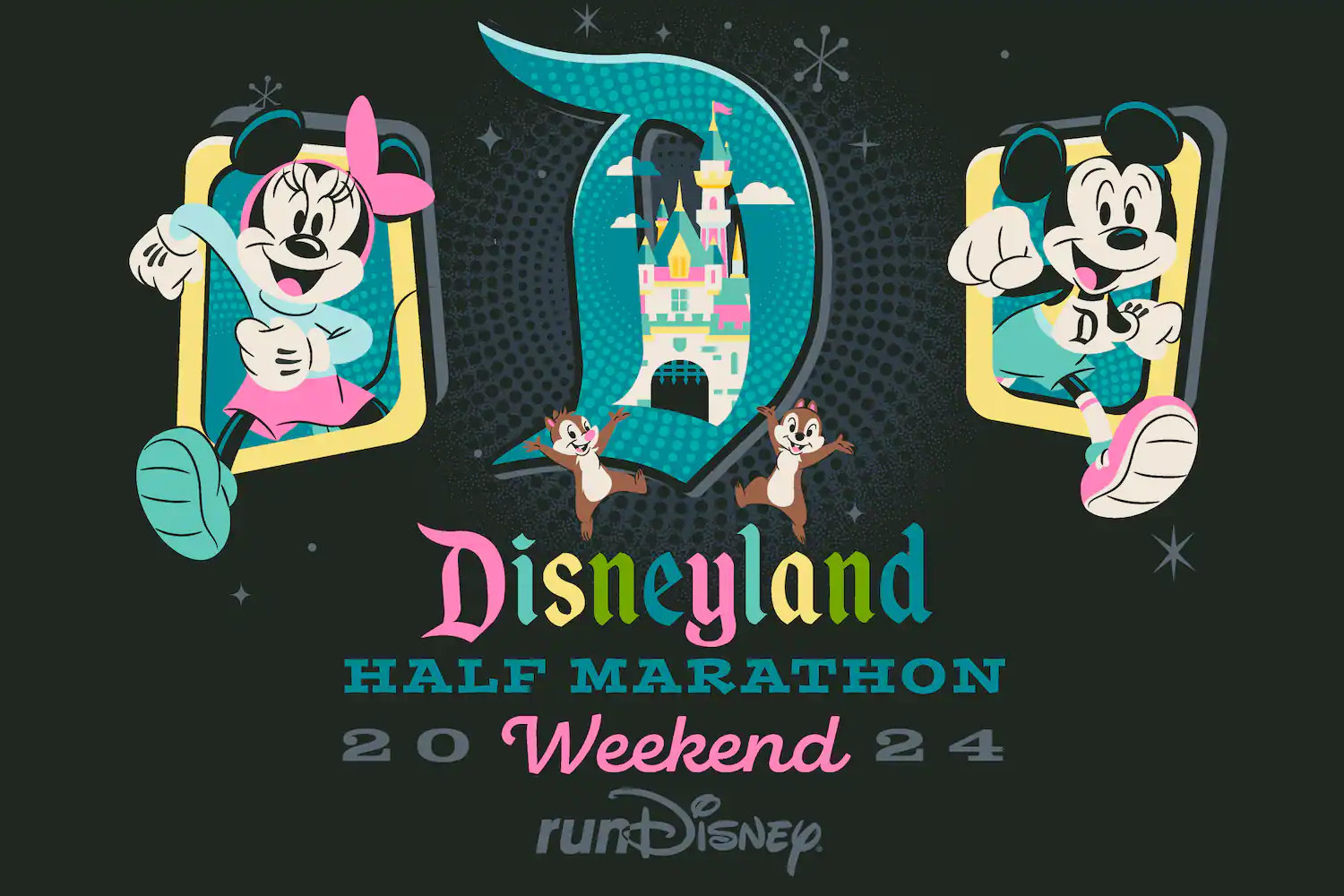 January- February 2024
runDisney Disneyland Half Marathon Weekend | January 11-14. 2024
Disneyland Resorts is hosting the runDisney Half Marathon for four days. Runners can run a 3.1- mile, 6.2 miles, or 13.1-mile race. This 2024 event weekend includes a brand-new offering of early morning yoga inside Disneyland. Check out all the details about the runDisney Disneyland Half Marathon Weekend.
Disneyland Lunar Celebration | January- February
Celebrate the Lunar New Year at Disneyland between January 20 – February 15, 2023. Complete with special performances, activities, merchandise, and more. The 2022 New Moon brings the Year of the Tiger and features Mulan and Mushu as part of the popular Mulan's Lunar New Year Procession. Mickey, Minnie, Raya, and Three Little Pigs are also part of the festivities. Be sure to check out all the Asian marketplaces, the Lucky Wishing Wall, and specialty Lunar New Year snacks for the festival. And head to the Paradise Garden Bandstand for performances throughout the festivals. Check out our Disney Lunar New Year at Home post for more ideas on how to honor the Chinese New Year!
Disneyland After Dark Sweetheart Nite | February
Disneyland hosts Date Nite! Partygoers can get into the park as early as 5 pm, for an 8 pm Party start time. This event features a variety of special events and activities and Does Not require a park pass reservation. Limited Availability
Celebrate Soulfully | February
Celebrate the history of Gospel Music with live choir performances, offered on select days in February.
March-June 2024
California Adventure Food and Wine Festival | March- April
One of Disneyland's most popular festivals returns this spring with new flavors, performances, and crafts. With 12 festival marketplaces, culinary demonstrations, and a variety of seminars, this event is one to attend for the year. You can grab a Sip and Savor pass to keep your Disney budget in check and explore the delicious fare of the region.
Disneyland After Dark Princess Nite | March
This after-dark party features character experiences, photo ops, specialty entertainment, specialty snacks and menus, attraction overlays, and more! Admission begins at 5 pm for an 8 pm party start time. Limited Availability.
Disneyland After Dark Throwback Nite | April
This after-dark party features character experiences, photo ops, specialty entertainment, specialty snacks and menus, attraction overlays, and more! Admission begins at 5 pm for an 8 pm party start time. Limited Availability.
Dapper Day EXPO and Spring Outing | April 6-7, 2024
The Dapper Day Spring Outing and EXPO bring loads of classy fun, tailored outfits, and a reason to head to the parks dressed to the nines. Check out everything to know about Dapper Day at Disneyland.
Disneyland After Dark Star Wars Nite | May
Claim your allegiance at Disneyland After Dark: Star Wars Nite! Galactic and fantastic, this event offers you the opportunity to live your own epic Star Wars adventure. Admission begins at 5 pm for an 8 pm party start time. Limited Availability.
Disneyland Grad Nites | May- June
Designated Grad Nites pop up at Disneyland between the end of May and early June every year.
Disneyland After Dark Pride Nite | June
This After Dark event honors Pride Month in June, featuring themed food, specialty entertainment, and more. This after-dark party features character experiences, photo ops, specialty entertainment, specialty snacks and menus, attraction overlays, and more! Admission begins at 5 pm for an 8 pm party start time. Limited Availability.
Black Music Month | June
Live performances at Downtown Disney for Black Music Month span select nights throughout June. Dates and performers to be announced.
July- August 2024
As the park gears up for Halloween time, the events and activities during the summer are minimal. There are an array of special activities, new snacks, and more, that typically pop up in Downtown Disney if you're looking for something special to add to your trip.
Princess Week | August 18-24, 2024
Disney Parks debuted Princess Week with new merchandise, snacks, and events at the parks this week is all about the ladies.
D23 EXPO 2024 at Anaheim Convention Center | August 9-11, 2024
Not specifically Disneyland, you can expect crowds and crowds of people pouring into the park this weekend, as they visit the convention center in Anaheim for the D23 Disney Fan event D23 EXPO 2024 at Anaheim.
September- October 2024
Welcome to the busiest time of year! Halloween time at Disneyland draws loads of crowds with new experiences, ride overlays, parties, and snacks. Check out everything on the docket for Disneyland Resort between September and October.
Halloween Time at Disneyland Resort | September- October
Set to include the Oogie Boogie Bash and new outfits for Mickey and Minnie, there is loads of Halloween fun at Disneyland this time of year.
Pluto's Pumpkin Pursuit Downtown Disney| September – October
This scavenger hunt happens at Downtown Disney and requires finding decorated pumpkins across the shopping area. Grab a board game with stickers to track your progress. Typically 9.99 each, these games offer you the chance to learn the areas of Downtown Disney, find cute pumpkins, and win an exclusive prize, when you've completed the game.
Oogie Boogie Bash | September – October
By far one of the biggest events of the year, the Oogie Boogie Bash at Disneyland during Halloween Time offers special performances, characters in costume, music, snacks, and more. Tickets are limited and typically sell out, so if you're hoping to attend be sure to follow Disney's social channels during their Halfway to Halloween event in late April.
Plaza de la Familia | September- November
Celebrate the Everlasting Bonds of Family and the Spirit of Día de Los Muertos in Disney's California Adventure Park.
Memory Wall and the Mexican Árbol de la Vida

Miguel Meet and Greet

Paradise Gardens Decor and Crafts

A Musical Celebration of Coco
November – December 2024
Say hello to an even more busy time of year at Disneyland Resort Park. The Christmas season in the parks and at Downtown Disney is FILLED with fun, activities, events, and more. Be sure to check out everything happening for Christmas at Disneyland.
Holidays at Disneyland Resort | November- December
From Holiday Tea at the Disneyland Hotel to everything you can do for Christmas at Disneyland. We love that so many of the holiday activities at Disneyland Resort are FREE. Keep an eye out for specialty snacks, merchandise, and characters in costume!
Disney Vacation Planning in 2024
Planning a Disneyland Vacation is much more simple than a Disney World vacation. But of course, there are still things to know before you go. Be sure to check out the 8 Things We Wish We Knew About Planning a Disneyland Vacation to get a glimpse of everything to consider.
Transportation to and from Disneyland in 2024
There's a variety of transportation options around the Disneyland Resort. If you are driving be sure to check out the parking options. There are, however, a variety of other options. Hotels within Walking Distance of Disneyland are plentiful, and considering Staying a Disney Hotel On or Off Property will come into play depending on what your transportation plans are.
Disney Genie+ at Disneyland Resort
If you're visiting Disneyland Resort for just a few days you will want to make the most of your time in the parks. To do that you may want to add Disney Genie+ to your plans. This service comes at an extra, variable, cost, but is worth it if you're visiting during crowded times or looking to fit all the rides in during a short period.
Early Theme Park Entry for Disney Resort Guests
Available to Disneyland Resort Guests staying at one of the three on-property hotels. Early Theme Park Entry is a perk that allows guests to enter the parks 30 minutes before the official park opening time. You can check out all the details about Disneyland's Early Admission to add it to your planning.
60-day Advanced Dining Reservations
Dining Reservations are able to be made 60 days prior to your vacation. Due to the extremely high crowds expected it is highly recommended that guests reserve all restaurants desired the first day that your reservation window opens. Access to make dining reservations usually come available at 6 AM EST.
Disney Anniversaries in 2024
Just like every other year, Disney Parks honor a variety of Disney anniversaries by sharing new Disney Dooney and Bourke Bags, New Snacks, New Merchandise, and more. Here are all the Disney Anniversaries happening in 2024.
June 9: Donald Duck's 90th Birthday
Film Anniversaries
Sleeping Beauty ( 65th Anniversary)
Tarzan ( 25th Anniversary)
The Lion King ( 30th Anniversary)
Mary Poppins ( 60th Anniversary)
20,000 Leagues Under the Sea ( 70th Anniversary)
Disneyland in 2024
There you have it, everything happening at Disneyland in 2024, so far. We'll be adding to this post as news and dates are announced! Happy vacationing!
Rochelle Mariah is a writer, designer and photographer with an MLIS in Information Science and a B.S. in Arch and Design. Determined to make Planning a DIY Disney Vacation easier she makes lots of lists and drinks lots of coffee. When not designing apparel at Polka Dot Pixie Shop, she's watching old movies and planning the holidays. She has been traveling to Disney destinations since 2010.