Mickey's Not So Scary Halloween Party arrives at Walt Disney World every fall. As one of the best times of year to visit Walt Disney World, you can find fewer crowds and lower prices. The weather starts to cool down, decorations pop up and new Halloween treats arrive. Attending this Walt Disney World Halloween party is one of our favorite fall traditions and we're here to share everything you need to know to make the most of it.
When is Mickey's Not So Scary Halloween Party at Disney in 2022?
Running select nights from August 12 – October 31, 2022, Mickey's Not-So-Scary Halloween Party at Magic Kingdom is CONFIRMED for 2022.

When are the Mickey's Not So Scary Halloween Party Dates for 2022?
Mickey's Not So Scary Halloween Party is from Aug. 12 through Oct. 31, 2022.
August: 12, 16, 19, 23, 26, 30
September: 2, 5, 9, 11, 13, 16, 18, 20, 23, 25, 27, 29, 30
October: 2, 4, 6, 7, 10, 11, 13, 14, 16, 18, 20, 21, 23, 25, 27, 28, 30, 31
How Much Does the Mickey's Not So Scary Halloween Party Cost?
With this being a hard ticket event, meaning that you have to purchase a separate Halloween ticket to get in, a lot of people tend to ask if it's worth it. At between $109 and $199 dollars a person, this is a valid question. You will pay $100+ dollars per person to get into the party, and that is in addition to any other park tickets you may need to buy that day. Obviously, as we have been going for years, we do believe that Mickey's Not So Scary Halloween Party is very well worth it. You're in Magic Kingdom, surrounded by gorgeous fall decorations, and special character meets and greets you won't find anywhere else. You also get access to exclusive Mickey's Not So Scary Halloween Party Snacks and merchandise. There's so much to see and do during Mickey's Not So Scary Halloween Party that it's hard to fit it all in before the clock strikes midnight!
When Can I Buy Tickets to Mickey's Not So Scary Halloween Party?
Tickets for Mickey's Not-So-Scary Halloween Party may be purchased online beginning May 18. Guests of select Walt Disney World Resort hotels can begin purchasing tickets as early as May 12. Walt Disney World Annual Passholders and Disney Vacation Club members may purchase specially priced tickets for select dates.
How Do I Get My Mickey's Not Scary Halloween Party Tickets?
For guests not staying on the property if you're visiting the Mickey's Not So Scary Halloween Party or don't have a Magicband, then you can print your tickets after purchase. Once printed, or pulled up on your phone, bring them to the will-call window at the Magic Kingdom front gates to get your ticket there. If you're visiting Magic Kingdom for the day, you'll be able to just stay all day through to the Mickey's Not So Scary Halloween Party. The cast members do a really good job of "sweeping" the park at 7 p.m. to make sure that only Halloween Party attendees are the only ones left at the park when the party officially begins.
There are wristband stations throughout the park where you can get your party wristband so be sure to have your ticket ready. If you've bought these tickets in your My Disney Experience app or Disney account, then it is automatically linked to the magic bands you have associated with the account. If you get in line to meet a character with a really long queue and forget to get your wristband beforehand, it's possible that you may be booted from the line in order to get your wristband, so just be sure to do that before you commit to any of the party offerings!
Is Mickey's Not So Scary Halloween Party worth it?
Ok, so we'll just get this question off the table first. We believe, Yes, this party is worth it. While this $109 – $199 dollar per person ticket feels like a lot, it's not as expensive as Mickey's Very Merry Christmas Party. And it's much less expensive than Disney's After Hours Boo Bash, or Disney's Merriest After Hours. Cost aside, this party includes specialty snacks and merchandise, the Disney Villains Spelltacular show, Mickey's Not So Scary Fireworks, and the Boo to You Parade. And frankly, there isn't any other party or event throughout the year, that gives you this much for this cost. So, yes, we think it's worth it.
What Time Does the Disney Halloween Party Start?
This party starts at 7 pm, but you can plan to enter as early as 4 pm with Mickey's Not So Scary Halloween Party Ticket. We always recommend making this your only park ticket for the day so you save some money. That way you can skip the Magic Kingdom park ticket, for the day.
Do you Need a Magic Kingdom Ticket for the Halloween Party?
No. Although not heavily advertised, the Mickey's Not So Scary Halloween Party (MNSSHP) ticket will get you in as early as 4 p.m. Since you don't need to get a park ticket to get into Magic Kingdom if you have the Halloween Party ticket, your party day is a good day to visit a water park. You can also save money by just doing free things at Disney instead. Spend the morning at Disney Springs, resort hop, or (especially) if you have small children, just hang at your resort for the first half of the day. Especially, as this can end up being a pretty late night for party-goers.
Mickey's Not Scary Halloween Party in 2022
We are super excited about the new things happening at Mickey's Not So Scary Halloween Party. But we're even more excited to see favorites return! Halloween is a chance to dress up, try all the snacks, learn the Boo to You Parade Lyrics and see the Disney Halloween Fireworks show. Get ready for a whole lotta Halloween Magic at Walt Disney World. Favorites like the Hocus Pocus Villains Spectacular, trick or treat trail, the Boo to You Parade, and unique character meet and greets are on the way. Here are all the Disney Halloween events, attractions, and activities that are happening at Walt Disney World Mickey's Not So Scary Halloween Party.
What's Included in the Mickey's Not So Scary Halloween Party?
Early Party Access to Magic Kingdom at 4 pm, for a 7 pm party time.
Exclusive Mickey's Not So Scary Halloween Snacks
Exclusive Mickey's Not So Scary Halloween Merchandise
Hocus Pocus Villain Spelltacular! Watch 3 sinister sisters bewitch and bedazzle the residents of Magic Kingdom park.
Disney's Not-So-Spooky Spectacular—a wickedly wild fireworks display featuring some of your favorite Disney Characters and hosted by Jack Skellington from Tim Burton's The Nightmare Before Christmas.
Disney Junior Jam at Storybook Circus—featuring some favorite friends from Disney Junior shows.
Mickey's Boo-to-You Halloween Parade
Halloween Ride Overlays at select rides
Trick-or-treat Trail featuring all your favorite candy, included.
Disney Characters in Halloween Costumes, and rare Character Visits
A Spooky and Enchanting atmosphere in Magic Kingdom park during this limited-capacity event.
Disney Halloween Party Character Visits
Speaking of special Character meet lines, these are some of the best(and longest!) Disney Character Meet and Greets you will see all year. This is where you can meet Jack Skellington and Sally, the Seven Dwarves, and Pooh, Piglet, Tigger, and Eeyore in their Halloween Costumes (at the regular Pooh meeting place at 7 p.m.) While these are the most popular characters to meet during the party, you can also meet others like Abu, Jack Sparrow, the Queen of Hearts, Tweedle Dee, and Tweedle Dum.
Halloween Meet and Greet Strategy
The best way to tackle the meet and greets is to come up with a game plan beforehand. You can spend a lot of time in these lines. The characters take a lot of breaks(or sometimes fewer but longer breaks). And since these are rare experiences, some of the guests spend a LOT of time interacting with the characters. Note that inclement weather can delay the start of the meet and greet.
A 2-3 hour wait to meet Jack and Sally, is average. With Pooh and Friends, the average wait time is closer to an hour. As a strategy, you can easily meet Pooh, the Seven Dwarves, and the Queen of Hearts all in one night due to their proximity to each other. And there are lots of other meets and greets available throughout the party, just be sure to look for them! Just decide before you go how you're going to spend your night and if that affects your party activities throughout the night.
Mickey's Not So Scary Halloween Party Planning
We find the character meet and greet part of the party more a prioritizing thing than a planning thing because it is hard to say how long each character line will take. If you're bent on meeting someone, choose the most important characters and see them first! At the same time, you and your family will want to discuss a few things regarding this party to make the most of the time you have.
Which characters do you want to see?
Do you want to walk the whole trick-or-treat trail or do the rides with low wait times instead?
Which special party snacks are a must-try?
Which Boo to You Parade do you want to see? The early one or the late one?
Are you staying for the Fireworks?
Do you want to see the Hocus Pocus Villains Spectacular?
All of the information you will need ahead of time to plan for your Disney Halloween party will be online ahead of the party and on this blog. But be sure to grab a map when you enter the parks on your party day. The map will have locations of characters, the trick or treat trail, the treats offered, and times for the shows.
Disney Halloween Party Entertainment
Ok, so onto the entertainment! While there is trick or treating here, we don't recommend wasting much (if any) time doing this. We always stop at a station or two just so we can get in our "trick or treating on Main Street" experience. Aside from that, the lines are just too long, and simply put, its candy and you can get that anywhere. The treat stations are pretty well lit and are also marked on the map so they're pretty easy to locate. Be sure to maximize your time if you do plan to trick or treat and plan your route to avoid wasting foot traffic.
Disney Junior Experiences at the Halloween Party
If you have little ones, Storybook Circus will also be hosting a Disney Junior Jam, a dance party featuring some of the most beloved Disney Junior Characters! This is a great way to help little ones shake their sillies out in the Dumbo area of the park.
Trick or Treat at Magic Kingdom with Monsters Inc.!
Get ready to mingle with the monsters as you trick or treat around the Monsters Inc. Laugh Floor in Tomorrowland, Magic Kingdom. The New Treat Trail Encounter with Monsters Inc.! is an interactive part of your trick-or-treat experience. There's no telling where these guys will pop up for a scare!
Cadaver Dans in Frontierland
The Dapper Dans get all dressed up for Halloween and serve up music and "dead pan" humor for Halloween fun during the party.
Boo to You Parade Happy Halloween at Walt Disney World
There are two Boo To You Parade times, one at 8:30 p.m. and one at 11:15 p.m. This starts off in Frontierland. But regardless of where you view it, you will want to make sure you find a spot about 30 minutes beforehand. We love seeing this from Main Street, which is also the most crowded area. Find the parade route on the map to see which location works best for you.
The first parade is always more crowded, but we love it so much we usually try to watch both. As this is a super popular parade, be sure to get a spot and stay there, potentially 1 hour, to 1/2 hour ahead of parade time. While the crowds for the parades are not as horrible as they are for the fireworks, there are always people that try to get in front of you last minute. So grab a site on the edge of the Main Street Sidewalk and just stay there.
Not So Spooky Spectacular Halloween Fireworks at Magic Kingdom
These Halloween Fireworks at Walt Disney World feature Mickey and Friends checking out a Haunted House! So seeing the digital projections is an important part of the story. The fireworks are typically shown at 10:15 p.m. This can get crazy crowded. But if you move a little further down Main Street and not so close to the castle, you can actually get much better views. Trying to be directly in front of Cinderella Castle will require you to find a seat an hour early. Which we think is just a waste of precious party time. But for some families, this might be a great time to relax and recharge for the rest of the night. The Halloween fireworks show is one of the best fireworks shows you will ever see. It is a 360-degree fireworks show, so there will be fireworks all around you. So beautiful! For the best photos of these, you will definitely want to grab a spot early and use a tripod!
Disney Not So Spooky Spectacular Fireworks Show Dessert Party
Sure you've already paid for the Mickey's Not So Scary Halloween Party ticket, but if you want a front-row seat at the Not So Spooky Spectacular Fireworks Show, you can pay extra to attend the dessert party. Ghoulish goodies, sparkling cider, fruits, cheeses, and treats await. While we wouldn't recommend using precious Halloween Party time for a dessert party, you can check out our dessert party experience here to see if it may work for you.
Hocus Pocus Villain Spelltacular
The Hocus Pocus Villain Spelltacular, on the Cinderella Castle stage, can be viewed at 8:00 PM, 9:15 PM, 10:40 PM, and midnight. If you camp out for the fireworks show, you will catch a showing of this while you wait. The Sanderson sisters are joined by other Disney villains including Oogie Boogie, Maleficent, and others.
Disney Halloween Ride Overlays
Tomorrowland rides will be getting new overlays as Disney starts to heavily promote that area of the park. And new last year these rides got extra spooky with new music and overlays of color. So we're expecting more of the same.
Mad Tea Party Tea Cups. The teacups on the Mad Tea Party will now have a cool new lighting effect for riders during the Party. The light will change colors and you might even too! Sound a bit mad? Nah, we are excited for this fun little addition to this classic ride.
Space Mountain. On Space Mountain, riders will be treated to a new soundtrack. So if you're already a huge Space Mountain fan, you'll definitely want to check that out during the party.
Pirates of the Caribbean. Officially a "Posse" of live pirates, causing a raucous will be part of the Pirates overlay for the Halloween Party.
Monster's Inc Laugh Floor. complete with a Halloween theme, the laugh floor gets extra spooky during the evening's shows.
Haunted Mansion. While the ride itself doesn't change, the cast members get dressed up in their best Halloween garb. and be sure to keep an eye out for Ghostly performers on the lawn of Haunted Mansion throughout the night.
Mickey's Not So Scary Halloween Party Disney Map 2022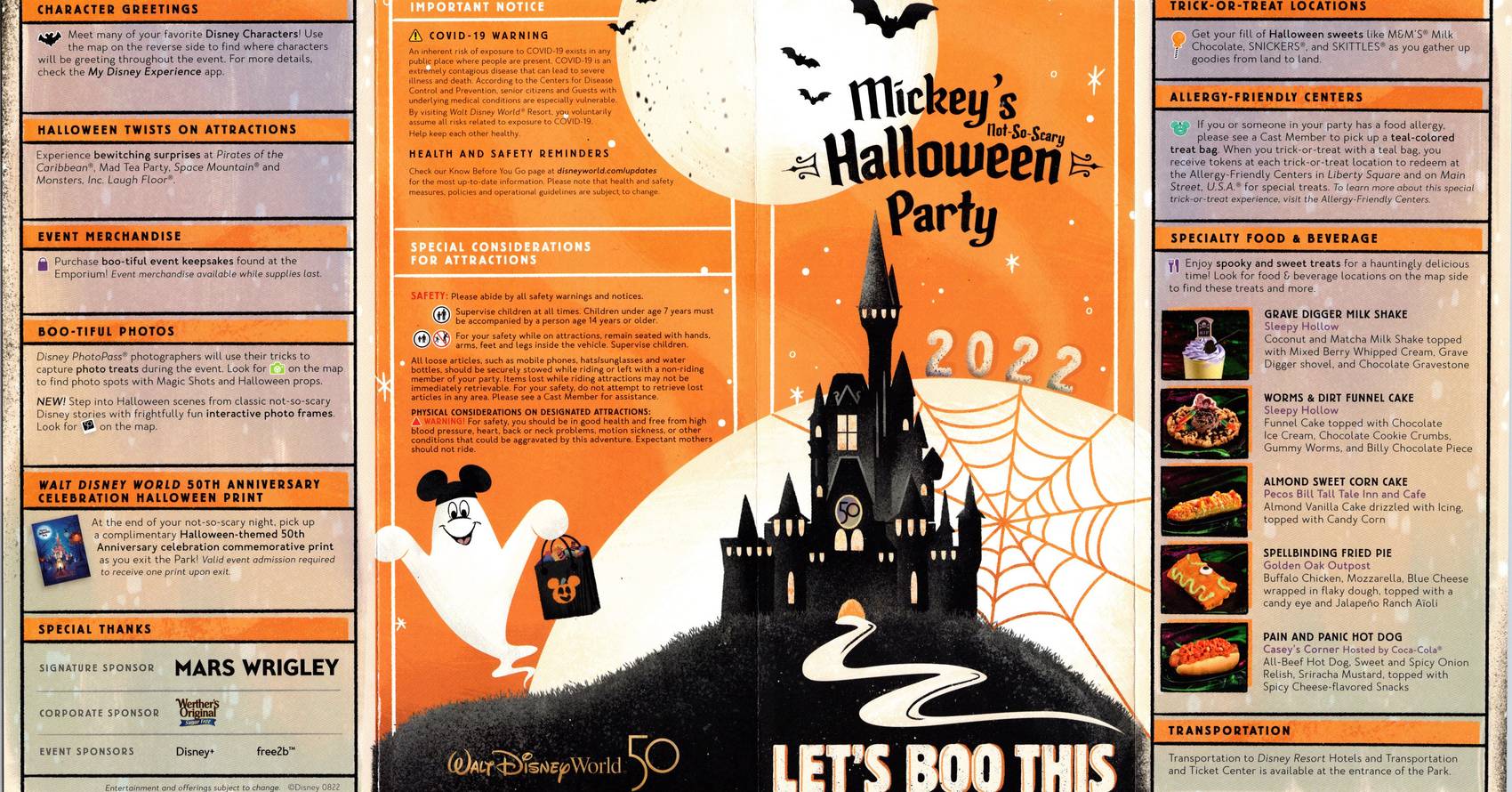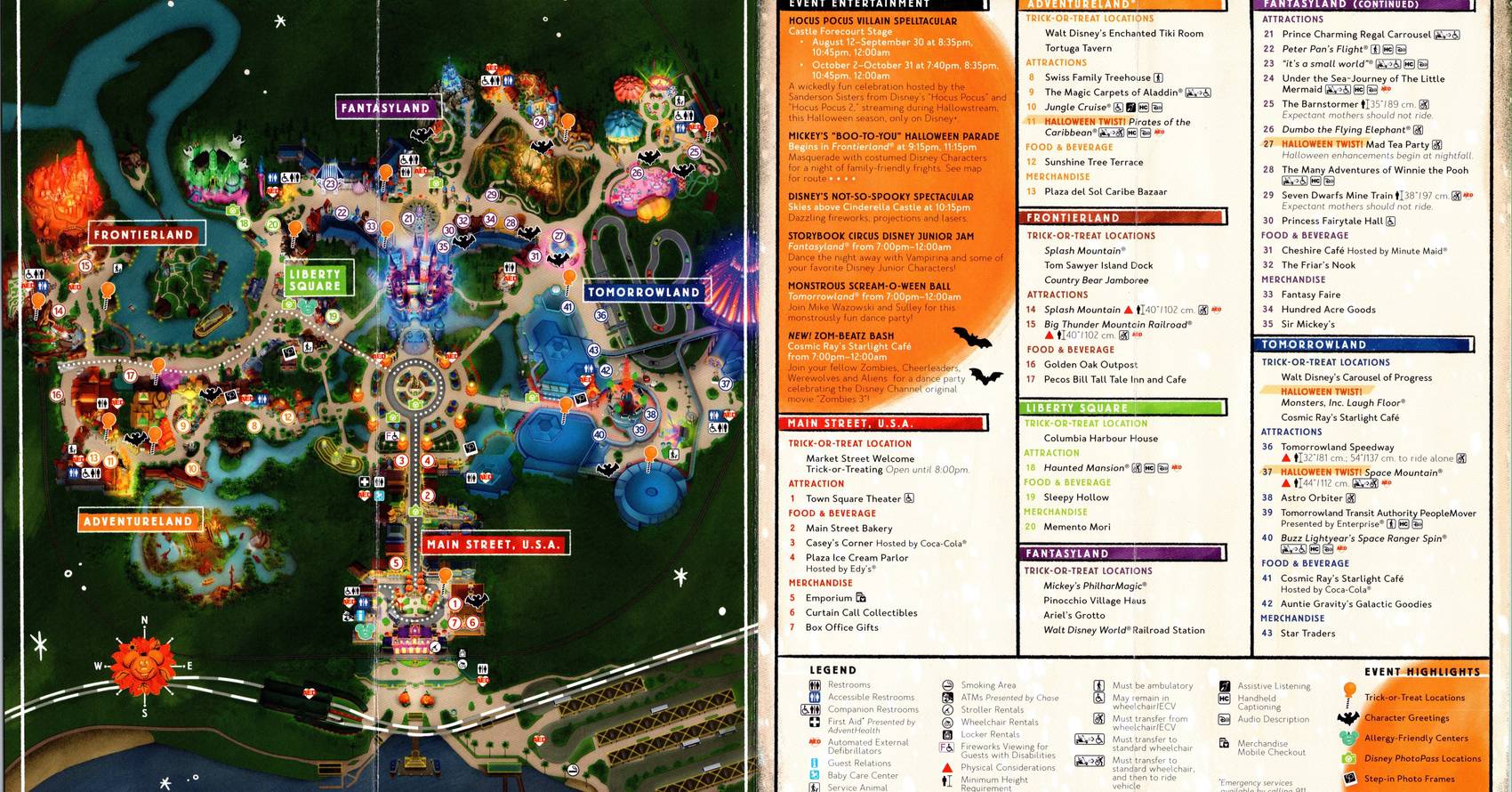 New Halloween Merchandise at Walt Disney World
New Halloween shirts, magic bands, home decor, and more show up on shopDisney.com and in Disney Springs in mid-August. While this may feel early, it's not! Keep in mind that since the parties start early, so does all the Halloween Fun! Check out the Disney Halloween Merchandise Roundup for the latest merch!
Disney Halloween Snacks at Mickey's Not So Scary Halloween Party
Check out all the new Halloween Snacks at Walt Disney World. You can grab things both savory and sweet and some treats are even available outside of the party, so you can grab them everywhere across the parks. Know that many of the Snacks are EXCLUSIVE to the party. so grab them while you can.
Disney Halloween Party TIPS
Dress up! While not everyone dresses up for the party, it's a fun way to celebrate the party. We'd say about 75% of people typically dress up. Make sure to follow Disney's costume guidelines for dressing up. Adults can do more a Disneybound type of costume since Adult costumes are not allowed.
Have a plan. The party can seem pretty hectic once you start to map out the night. Having a plan beforehand will help you maximize your time.
Have dinner before the party starts. We usually like to eat dinner around 4:30. Mainly so we don't spend party time in the restaurant and can enjoy the entertainment and treats available.
Tuesday is the least busy day for the party and the earlier in September, the lower the crowds. If you can swing it, this is definitely the time to go!
Stay late! If you can manage, the party only gets better the later you stay. The crowds die down and you won't be dealing with the crowds heading to the parking lots. And you'll have a better view of the last bits of entertainment of the night.
If there is one ride that you ride during the party, make sure it is The Haunted Mansion. Not only are the cast members dressed a little extra spooky but Lady Carlotta appears outside the castle. She is hilarious.
This is one of our favorite events and highly recommend it for every Disney Family at least once. We will be dreaming of it until next year!