The Grand Floridian Resort and Spa at Walt Disney World is fancy. FANCY! This Disney Deluxe Resort borders Seven Seas Lagoon, just outside Magic Kingdom Park. Rising from the beach with white walls, balconies, and the Victorian-era style of architecture, this resort will help you feel like you're stepping into the golden age. The epitome of Disney luxury, you'll see why this is the resort of choice for serious Disney fanatics. From the beaches of the resort, you can see the fireworks shows at Magic Kingdom, access the Disney Monorail, take the Magic Kingdom walking path, and revel in the fact that Princess Diana too once stayed here in the '90s. But do you really want to stay here? Will the amenities make up for the high price tag? Here is our Disney resort review of the Grand Floridian Resort.
Staying at the Grand Floridian at Walt Disney World
If you were a kid of the 90's one day hoping to visit Walt Disney World you will know that the Grand Floridian Resort was the end all be all as part of a Disney Vacation. Mainly because it was the resort shown in all the commercials. And frankly, it was great marketing. The Grand Floridian promises an elegance that you can't find anywhere else and after this current round of renovations, it's sure to deliver. Especially as we're already seeing the glitz and glamour! New carpets, new color schemes, fresh paint, and fancier rooms. It's all happening.
While our love of this resort was seated in childhood memories, we were interested to see if it would match our adult reality. We had previously had numerous visits to this resort in pursuit of food. Breakfast at the Grand Floridian Cafe, Tea at the Garden View Lounge, Drinks at the Enchanted Rose Lounge and Mocktails at Citricos, newly renovated. We had even done Disney Character Meals here! Both the Supercalifragilistic Breakfast and Cinderella's Happily Ever After Dinner at 1900 Park Fare are some of our favorites. Everything here has always been memorable and enjoyable, so surely staying here would be the same! Right? We confess, that even before we started pouring money into this resort, we had taken many turns lounging about the lobby, listening to the piano, and browsing the fancy shops. This resort had our hearts long before we stayed here.
Disney's Grand Floridian Resort Atmosphere
Sophistication and grandeur from the 19th-century beach resorts of old (namely San Diego's Hotel del Coronado from which it was modeled) can play a nice backdrop to your Disney vacation. The lobby is an excellent place to just relax while listening to the piano player who is often showcasing his grand musical stylings. The elegance, fresh flowers, superb service, and grandeur in every sense of the word simply deter sub-par behavior. It could be considered absolutely perfect for those looking to escape that saccharine Disney Resort feeling.
Disney's Grand Floridian Resort Rooms
The accommodations at the Grand Floridian were wonderful but felt a little worn on our last stay. Thankfully, they're improving them into something new and refreshed. We had a room with two double beds, a couch that could act as a bed, a balcony, and a bathroom that was separate from the double vanity sink. G's favorite element was that robes were provided. So there was definitely some lounging about on the balcony in our robes during our stay. And don't forget the turndown service. Who doesn't love coming back to their room with Disney Resort branded chocolates on their bed?!?! Absolutely loved it.
Are the Rooms Bigger at the Grand Floridian Resort?
Yes, Disney's Grand Floridian Resort and Spa has some of the largest rooms at Walt Disney World.
Are the Disney Grand Floridian Resort Rooms Refurbished?
Yes, slowly but surely, they are all being re-done into gorgeous rooms, with slightly floral theming that matches the latest Mary Poppins Returns theme applied to the Citricos Restaurant. We don't know how this will age, but for right now the colors are beautiful.
Room Types
As far as room layout at the Grand Floridian goes, there are several options. Note that King Bed rooms are typically considered an "upgrade."
2 Queen Beds
2 Queen Beds with 1 Day Bed
1 King Bed
1 King Bed with 1 Double Sleeper Sofa
Grand Floridan Rooms in the Main Building
The rooms in the Grand Floridian Resort that are in the Main Building are dedicated to Club Level Guests only. As such, if you're not staying at Club Level at Disney World, then you will be placed in one of the outer buildings at the resort.
Outer Building Rooms | Sleeps 3-5
Offering Theme Park, Garden, and Lagoon Views. The buildings that flank the main building are considered the "outer buildings." These buildings act like little hotels, with an interior lobby, unstaffed, and hallways of rooms. Nice central seating areas are available, but these buildings DO NOT have drink stations or the amenities that the main building has. Outer Building Rooms at the Grand Floridian Resort can be found at these buildings.
Boca Chica
Big Pine Key
Conch Key
Sago Cay
Sugar Loaf
Of these buildings, Sugar Loaf is also a Club Level building and can be an alternative to the main building, if you're looking for an escape from the Disney Resort Hopping crowds. The Big Pine Key building has been converted to DVC Resort Studios.
Staying in the outer buildings can also sometimes be a good thing, especially during the holiday season when the Grand Floridian Gingerbread Display in the lobby receives nonstop traffic. The same goes for the handcrafted Easter Eggs in the lobby during Easter at Disney World.
Club Level Rooms | Sleeps 3-5
Offering Standard and Theme Park Views. Frankly, there is nothing better than staying at Club Level at Disney World. But, then of course there is also nothing More Expensive. We've stayed Club Level at Animal Kingdom Lodge, Club Level at Disney's Wilderness Lodge, and Club Level at Coronado Springs. All club-level options include a nonstop flow of food in the club lounge throughout the day. As well as access to alcohol that is included with your club-level status. As Disney's Grand Floridian Resort is also Disney's Most Expensive Resort, Club Level starts at about $1300 per night.
Suites | Sleeps 6-8
Offering Main Building and Outer Building options with a variety of views the suites all come with living space of some kind, balconies, and room for 6-8 adults. Note that the suites in the Main Building are generally smaller than those in the outer buildings.
Main Building Suites at the Grand Floridian: The Suites at Disney's Grand Floridian Resort are named and offer amenities unlike any other. They offer a living area with sofas, a work desk, a dining table seating 4, a wet bar, an under-the-counter refrigerator, a coffeemaker, a microwave, and a television. The layout of the Grand Floridian Resort Suite includes a foyer, main living space, master bedroom, bathroom with whirlpool tub, a second bedroom with two twin beds, and a second bathroom.

Grand Suite: 5th Floor. 2200 sq. feet. views of the lagoon and Cinderella's Castle.
Victorian Suite: 5th floor. 1083 sq. feet. views of Cinderella's Castle and Space Mountain.
Walt Disney Suite: 1690 sq. feet. family artwork, views of the courtyard pool, beach, and lagoon.
Roy O. Disney Suite: 1690 sq. feet. family artwork, views of the courtyard pool, beach, and lagoon.

Outer Building Suites:

1-Bedroom Suites: These suites offer two queen beds in the standard bedroom and two full baths. A small living area includes a sleeper sofa, an entertainment center, two chairs, and a 4-person dining table.
2-Bedroom Suites: These suites combine two standard-size guest rooms ( one with a King Bed, and the other with 2 Queen Beds), a living room with a sleeper sofa, two chairs, a coffee table, a desk, a 4-person dining table, and three balconies. All sleep eight with an additional half-bath off the living area.
Deluxe Villas | Standard and Lake Views
Offers Standard and Lagoon Views.
Studio- Sleeps up to 5 people: 374 sq. feet. Including a fold-down single bed, sofa sleeper, and queen bed.
1-Bedrooms- Sleeps up to 5 people: 844 sq. ft. Including a living area with a fold-down single bed, sofa sleeper, and queen bed.
2- Bedrooms- Sleeps up to 9 people: 1232 sq. ft. Including a living area with a fold-down single bed, sofa sleeper, and 2 rooms with queen beds.
3-Bedroom Grand Villa- Sleeps up to 12 people: 2800 sq. ft. Bigger than most houses this villa is one story, and includes just about everything you need, including a dining table that seats 12.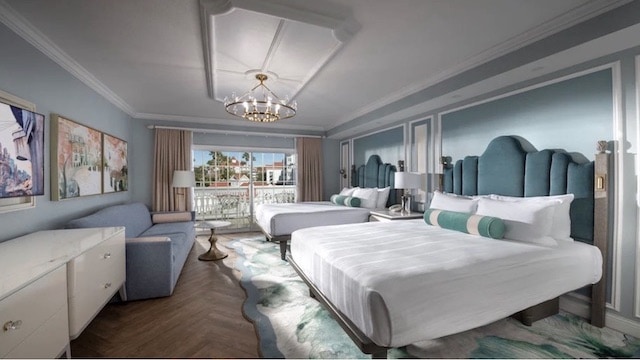 DVC Resort Studios
As part of the renovation to the Big Pine Key building the resort reclaimed rooms to create 200 Disney Vacation Club Villas. Themed to the Mary Poppins Returns color scheme and all things elegant. The main room includes two queen beds, a dresser, a TV, and a sofa with a pull-out bed. Mary Poppins artwork in watercolors is part of the decor. This room also has a work desk area outside of the bathroom. Complete with studios that can sleep up to 5 people, 1, 2, and 3 bedroom suites, there is plenty of space to spread out if you are a DVC Member. At one point we expect these to be up for rent on DVC resale sites as well. Check out everything to know about Disney's Grand Floridian DVC Villas on the website.
Disney's Grand Floridian Resort Restaurants
While you can dine at any of the restaurants at Disney's Grand Floridian Resort without staying there, they are a huge draw for people just looking for in-resort options for their stay. Because, while we love resort hopping, and visiting different restaurants, if you're a family, traveling with seniors, or anyone with mobility issues, having restaurants at your resort is a must. Here is a lineup of the Restaurants at Disney's Grand Floridian Resort.
Gasparilla Island Grill | Quick Service
The Gasparilla Grill is the Grand Floridian's answer to the typical dining hall experience. You can get your quick-service meals, coffees, pizza, artisan sandwiches, and new Disney snacks here. It's open from 6 am to 11 pm and offers Mobile Order. For a Disney Quick Service Restaurant, Gasparilla Island Grill was a super nice atmosphere, small and relatively un-busy.
We got mochas and breakfast croissants ( with egg and bacon) that were large enough in size to share or just be a substantial breakfast. They also had the most adorable cupcakes. If you're a devoted reader you know of our obsession with cupcakes. We sometimes plan our days specifically around where the cupcakes are and when they will be available. Check out the Gasparilla Island Grill Menu.
1900 Park Fare | Disney Character Dining
The Disney Character Dining Restaurant at Grand Floridian Resort is 1900 Park Fare. This Disney Character Dining Restaurant offers both the Supercalifragilistic Breakfast and Cinderella's Happily Ever After Dinner. This buffet restaurant offers buffet dining, and truthfully, it's one of the table service restaurants we book quite regularly. If you're going to pick a Disney character dining experience, we recommend this one. In the mornings you can be lucky enough to have a custom-made omelet at the Supercalifragilistic Breakfast while visiting with Alice, Mad Hatter, and Mary Poppins.
And Cinderella's Happily Ever After Dinner, in the evenings, is the showcase restaurant for Lady Tremaine and the evil stepsisters ( definitely our favorite character trio as the improv acting here is unparalleled). And you can also see Prince Charming and Cinderella. The food is decent and varied and the atmosphere is fun. Check out the 1900 Park Fare Menu.
Narcoossee's | Signature Dining
Narcoossees is a waterfront dining experience specializing in seafood. Offering fine dining at dinner, and brunch on Sundays from 9:30 to 1:30 p.m., Narcoossee's can be enjoyed even if you don't eat there! They have a wrap-around deck that overlooks the lagoon with perfect views of Cinderella's Castle. If you venture out at night you can see the Electrical Water Pageant and the Fireworks at Magic Kingdom as well. Narcoossees counts as 2 dining credits on the Disney Dining Plan, so be aware in case you choose to add it to your Disney Restaurant lineup. Check out the Narcoossees Menu.
Garden View Tea Room
Anytime we go to Disney we usually try to book a tea at the Garden View Tea Room. High Tea, Princess Tea, and Afternoon Tea are available. We usually book the afternoon tea which is offered between 2-5 pm. A little pricey at about 40 bucks a person we forget every time just how filling a whole pot of tea and three courses are! You get an array of cheeses, little sandwiches, and pastries. This is a perfectly calm atmosphere that can be a great break from the crazies in the parks. We love the tea here and would highly recommend it anytime. Check out the Garden View Tea Room Menu.
Enchanted Rose Lounge
One of our favorite things to do for Disney Adults, the Enchanted Rose Lounge features a Beauty and the Beast theme, with an array of small plates, drinks, and mocktails. Various seating places include Belle's ballroom housing the main bar, a green velvet Library area, featuring the wine bar, and a green garden room with access to the balcony. Truly, Enchanted Rose Lounge is one of our favorite Disney Lounges and is a must-do if you're of age. We love the Truffle Fries and Flatbread here, and there are a variety of drinks to be had to fit anyone's preferences. Check out the Enchanted Rose Lounge Menu.
Grand Floridian Cafe | Table Service Restaurant
We are always on the lookout for an amazing Brunch at Walt Disney World and the Grand Floridian Cafe delivers. With omelets, Floridian pancakes, and typical breakfast options including Mickey Waffles, there are things to eat here for everyone. The atmosphere is calm and quiet, with tables overlooking the garden. Check out our full Grand Floridian Cafe Review for breakfast. We love this for a Disney Girls Trip, Disney Bachelorette Party, or Disney Mother and Daughter Trip. The service here was fantastic, and we never felt rushed. A wonderful place to come and have a great meal before a day in the parks. Check out the Grand Floridian Cafe Menu.
Citricos | Signature Dining and Lounge
Recently re-themed to a Mary Poppins Returns decor style, the newly reopened Citricos is a signature restaurant and offers dinner only. Definitely, on the pricier side, this is a good Disney Restaurant for Adults. Limited plant-based options also make this restaurant that warrants checking the menu prior to making a reservation. However, when we recently visited the Citricos Lounge at Disney's Grand Floridian, which is just a small bar area at the front of the restaurant, we were blown away! Not only by the upscale Mocktails at Disney, but also by the food, and, and atmosphere. While it may not be that appealing to kids, the Purple Penguin mocktail is made for kids, in honor of Mary Poppins penguins, and definitely worth the try! Note that Citricos is 2 Dining Credits on the Disney Dining Plan. Check out the Citricos Menu.
Victoria and Albert's | Signature Dining
For the very fancy and sophisticated, Victoria and Albert's provides fine dining at the highest level. A world-renowned and award-winning restaurant, led by Chef Scott Hunnel. The Victoria and Albert Restaurant is also known for its seasonal menu with foods sourced locally, so the menu is in constant flux on purpose. Always sure to impress, this signature dining experience offers a chef table option, and lounge as well. This Disney Restaurant counts as 2 Dining Credits so be aware if you're on the Disney Dining Plan. As one of Disney's most popular restaurants, reservations are required and sometimes hard to get. It is, however, well worth the trouble. Check out the Victoria and Albert Menu.
Pool Bars
Disney's Grand Floridian also has two pool bars. The Beaches Pool Bar and Grill serves lunch and drinks, and the Courtyard Pool Bar just serves drinks. Either way, if you're headed for the pools, libations are nearby.
Disney's Grand Floridian Resort Pools
The splash pad at Disney's Grand Floridian Resort is one of our favorites with an Alice in Wonderland theme, complete with Tea Pot. That said, these pools are not as exciting as Disney's Caribbean Beach Pool or Disney's Beach Club Pool, but they do the job in hot weather nonetheless. There are two pools at the Grand Floridian Resort
Beach Pool
This is the main pool at the Grand Floridian Resort, with cabanas and patios available. It's adjacent to the Alice in Wonderland splash pad play area. And just like any Disney pool, you can count on music, games, trivia, and activities all day long as part of the resort pool happenings. This pool is adjacent to the Beaches Pool Bar and Grill.
Courtyard Pool
This smaller leisure pool is tucked in the courtyard between the outer buildings. Featuring patios, loungers, and a hot tub, this pool is typically more of an adult pool than the main pool. As such there are activities, but they're a bit less kid-focused. This pool is adjacent to the Courtyard Pool Bar.
Disney's Grand Floridian Resort Recreation and Entertainment
If you're looking for more of a resort experience and less of a theme park experience, Disney's Grand Floridian Resort has a variety of specialty experiences on the grounds. You can frequent Senses Spa, visit the Ivy Trellis Salon, or rent a yacht, cabana, or boat. You can also get an inside glimpse of the history of the resort with the resort tour. And dare we mention the shops! You can find high-end shops, regular Disney shops, and specialty shops like Basin all in the resort. Definitely worth a walk even if you're not staying there. And as with all Disney Resorts, there are Movies Under the Stars on the lawn and Pools to capture your attention as well.
This resort also has a Health Club, Arcadia Games Arcade, Specialty Fireworks Cruises, Campfire activities, and the Magic Kingdom Walking Path for evening strolls. Check out all the Recreation at Disney's Grand Floridian Resort.
Electrical Water Pageant
One of the best things about staying at the Grand Floridian Resort is getting to see the Electrical Water Pageant. Typically arriving at 9:00 pm, this nighttime electrical spectacular on the water at Disney World, features floats that light up the night with music and animation. It's simple and fun and can be seen from the beaches of the Grand Floridian every evening. Definitely a perk of staying at this resort. It was one of our favorite parts of the evening a Disney's Wilderness Lodge and Fort Wilderness Campground as well, both of which are also on this water pageant parade route.
Magic Kingdom Fireworks Show
One of the cool parts about staying at Disney's Grand Floridian Resort is that you can watch the Happily Ever After Fireworks Show from the beach. Plus, the music is piped in around the resort speakers each evening. So you can watch from your room balcony as well if you have a lagoon castle view.
Disney Deluxe Resort Perks
One of the perks of staying on property at Disney World is that guests staying here get Early Theme Park Entry allowing them into the park 30 minutes before the official opening every day.
Guests staying at Deluxe Resorts also get Extended Evening Hours to the parks. This means that you have access to the parks after hours on select nights for an hour or so. It also means that you get a 6 p.m. second chance virtual queue for both TRON in Magic Kingdom and Guardians of the Galaxy Sosmic Rewind at EPCOT.
Disney's Grand Floridian Resort Shops
One of our favorite parts about heading to the Grand Floridian is checking out the shops. There are a few at this resort, and they all have fun Disney merchandise, and specialty merchandise to peruse.
Curiouser Clothiers: This shop is upscale, featuring Tommy Bahama, Vera Bradley, Disney Dooney and Bourke Bags, and any fancy clothes you may need for your fine dining experience here.
Basin White: This soap shop features scented bath products and Disney-themed soaps. Perfect for checking out seasonal items, and Disney gift shopping.
M Mouse Mercantile: This little shop is the gift shop on the second floor, just near the Monorail doors. Filled with loads of Disney specialty items, we love this shop for unique ears, dolls, clothes, souvenirs, and pins.
Sandy Cove Gifts and Sundries: The local "grocery" this shop has Once Upon a Vine wines, food items, and quintessential Grand Floridian Resort merchandise, like that highly coveted Grand Floridian Resort Robe.
Disney's Grand Floridian Resort with Kids
If you're thinking of giving your kids a more sophisticated Disney resort experience then the Grand Floridian is the place to be. A pirate boat adventure, a wonderland tea party, and movies under the stars are perfect for the little ones. You can also always count on the amazing family Beach Pool area not only for fun in the sun but also as the location of all the children's programs. The cast members do crafts, dances, and games poolside so if you're taking a day away from the crowds at the parks, be sure to check it out. Of course, if you have tweens, they may just like the idea that there is a spa robe and a balcony to help make you feel extra princess-like.
However, keep in mind that this isn't a Disney Value Resort, and won't have the over-the-top Disney theme that kids may be looking forward to. So if you're looking for a more classic Disney experience for your kids, we'd recommend a different resort; perhaps Disney All-Star Movies, or Art of Animation Resort.
Disney's Grand Floridian Resort Transporation
One of the biggest draws of the Grand Floridian Resort is the location. Right next to the Magic Kingdom makes this resort by far the most sought-after property in all of Walt Disney World. As such, if your Disney Vacation includes any Parties at Magic Kingdom Park, this resort will be a godsend when it comes to easy transportation. So what are the transportation options at Disney's Grand Floridian Resort?
Disney Monorail
The Disney Monorail is accessible from the second floor of the resort and offers transportation to the Monorail Resorts, Magic Kingdom, and the Transportation Center Station ( TTC ). This means you can simply walk through the doors to the Monorial, and through a short security line and be on your way.
From the Grand Floridian, the monorail takes you around a loop, which includes, as follows; Magic Kingdom, Disney's Contemporary Resort, the Ticket and Transportation Center, Disney's Polynesian Resort, and back to the Grand Floridian Resort.
The Ticket and Transportation Center is where you will find central Walt Disney World parking and the EPCOT Park Monorail. so if you're looking to head to Epcot from the Grand Floridian, you simply get off at the TTC and switch monorails.
Walking Path
Connecting Disney's Polynesian Resort, the Grand Floridian Resort, Magic Kingdom Park and Disney's Contemporary Resort is a walking path. From Disney's Polynesian Resort to the Grand Floridian Resort is about a 15-minute walk along this path. This walking path connects the Grand Floridian Resort to the Magic Kingdom and takes about 20 minutes to walk. Once at Magic Kingdom, it takes about another 10 minutes to walk to the Contemporary Resort.
Disney Bus
This resort also offers bus service to Animal Kingdom, EPCOT, Hollywood Studios, Disney Springs, and the Water Parks. One thing we noticed was that the buses took a lot longer to get to the Grand Floridian Resort than any other Walt Disney World hotel we've stayed at. Luckily, you can check Disney Bus arrival times in the My Disney Experience App, so at least you'll have an idea of how long until the next bus arrives.
Boat Transporation
Another perk of the Grand Floridian Resort is that it has boat transportation to Magic Kingdom. While this little boat only brings you to the entrance at Magic Kingdom, once there you can switch boats to some of the other resorts. Both Disney's Wilderness Lodge and the Fort Wilderness Resort and Campground have boat docks here. So you're able to go exploring and Disney Resort Hop with ease.
Disney's Grand Floridian Resort Cost
Disney's Grand Floridian Resort may seem out of reach at the "pretty high" per night cost. Know that simply adjusting your vacation dates can often save you the most money. Of course, the Cost to Stay at Disney's Grand Floridian Resort depends mostly on what time of year you plan to visit. The holidays are the most expensive, the wedding season sees limited capacity, and the Spring and Summer Break often sees groups. As a result Rooms at the Grand Floridian can cost between $400- 3500/ night or higher. The cheapest months to book any Disney Resort are typically January, February, and September. Check out the current Disney Grand Floridian Resort Prices for your best options. Choose wisely.
Fortunately, our best tips to Save Money at Disney are the ones we use over and over to get the best prices. We love third-party Disney hotel providers to get us the best price on Disney Resorts, and we recommend you always check those out first. We stayed here right before our Disney Cruise and were able to stay during one of the Cheapest times to visit Walt Disney World.
You may be asking, is Disney's Grand Floridian Resort worth the cost? If so, know that if you can grab this resort at a cheaper rate we would definitely recommend it. If not, include the Grand Floridian Resort in your Disney Resort Day or Disney Resort Hopping lineup. Especially if you're planning a longer vacation because the resort cost alone could really eat up your budget. While we did love the resort, we wouldn't choose it over the Polynesian Resort, Boardwalk Inn, Disney's Wilderness Lodge, or Animal Kingdom Lodge. ALL of which are cheaper.
What We Really Thought of The Grand Floridian
Disney's Grand Floridian Resort is perfect for a Disney Adult Vacation, but we think it may be lost on your regular Disney kid. And even as Disney Adults, we could only do "sophisticated" for so long. This was a shocker to us. At one point we just wanted to put on our Mickey ears and not feel weird. While we definitely could wander outside in flip flops and pajama pants like we did at the Value Resorts along with all the other poor souls trying to find the hot chocolate, at Disney's Grand Floridian, it just felt out of place. While this didn't hamper our vacation stay we were definitely more aware of our preference to just feel like we were on vacation.
Is Disney's Grand Floridian Resort Worth It?
So, is the Grand Floridian worth the high price tag? If you plan to spend a reasonable amount of time at your hotel, want to be close to Magic Kingdom, and have quick and easy access to the monorail, then YES. And if you love the sophisticated, elegant, and luxurious style and service that only the Grand Floridian provides, then YES!
Personally, if we're spending this kind of money, we love the laid-back style and vibe at the Polynesian Resort instead. But that's just us. While the Grand Floridian Resort truly is grand, we will probably save our Disney dollars for something a little less fancy and a whole lot more fun in the future. Of course, we still plan to resort-hop to the Grand Floridian on every Disney Vacation, but don't necessarily need to stay here to get our fix! Here's hoping this post helped you decide if the Grand Floridian Resort and Spa is right for your next vacation.